News > Business
Met's insurance affiliate sold
Fri., June 6, 2008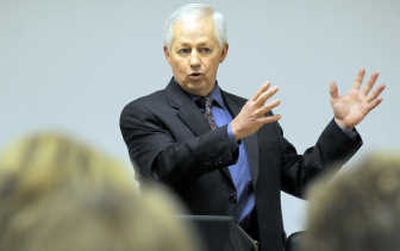 Another chapter of the Metropolitan Mortgage & Securities Co. debacle nearly closed Thursday as the state receiver sold the defunct company's largest asset – insurance affiliate Western United Life Assurance Co.
The roughly $53 million deal calls for Global Life Holdings LLC to purchase Spokane-based Western United, which the state's insurance commissioner seized in 2004 as Metropolitan sought bankruptcy protection. The sale gained court approval last month.
It remains unclear how much of sale proceeds will benefit Metropolitan's former investors, or when they would be paid.
Addressing about 50 Western United employees Thursday, Insurance Commissioner Mike Kreidler lauded their tenacity.
"Today, we have more than a fighting chance, and you're the ones responsible for that," Kreidler said. "I can't say enough for what you've done not just for the taxpayers of the state of Washington, not just for the policyholders, but what you've done for this community; you kept an outstanding insurance company alive and viable here in Spokane."
Western United, which sells tax-deferred annuities, remained solvent during the receivership. But Kreidler's office overhauled the insurer's investment portfolio after finding many of its real estate assets were inappropriate for a state-regulated insurance company. It was important to find a buyer that would keep Western United as a viable company, rather than liquidating its assets, Kreidler said.
"As you well know, there were times when we hit kind of bottom for a while where it started to look like, are we actually going to be able to dig our way out of this situation?" Kreidler said. "We were lucky to find a company in Global Life."
Trustee Maggie Lyons, who oversees the trusts set up to repay Metropolitan Mortgage investors, could not be reached for comment Thursday.
Western United employed 185 after it separated from Metropolitan, compared with 60 today; but more than half of those who left chose to quit, said Senior Vice President Scott Cordell.
For those still employed, "It brings closer in their mind that the issues of the last four years are over, that we can look at a new future, a company that gets to be able to go back to doing the business we enjoy doing," he said.
Under the deal, outstanding shares of Western United stock will be redeemed, and new shares of Global Life will be issued, according to the insurance commissioner's office.
The agreement included about $5 million in cash, an estimated $15 million in real estate that must be sold, and a $33 million reinsurance claim of affiliated company Old Standard Life, according to the commissioner's office. Creditors could receive an additional $2 million upon the sale of property in Texas. Proceeds will go to the creditors' trust, rather than a separate trust as previously proposed, said Stephanie Marquis, a spokeswoman for Kreidler's office.
The deal was formalized in a boardroom of The Davenport Hotel. Kreidler and other officials signed forms laid in about two dozen stacks on an emerald-colored marble table under crystal chandeliers. But while signatures were finished, the money transfer was delayed until Friday morning, Marquis said.
Global Life, a joint venture between Global Secured Capital LLC and DLB Capital LLC, is committed to maintaining and growing Western United, said Richard Kearns, president of Global Life.
"We were looking for a platform with which to really launch an annuity-based business in the United States," he said. "We were impressed at the ability of the company, despite obstacles … to continue to write product and to continue to keep the loyalty of the agent force."
The buyer intends to keep the "bulk of the work force," Kearns said. Any layoffs would "be as minimal as possible."
Local journalism is essential.
Give directly to The Spokesman-Review's Northwest Passages community forums series -- which helps to offset the costs of several reporter and editor positions at the newspaper -- by using the easy options below. Gifts processed in this system are not tax deductible, but are predominately used to help meet the local financial requirements needed to receive national matching-grant funds.
Subscribe now to get breaking news alerts in your email inbox
Get breaking news delivered to your inbox as it happens.
---