Kettle Falls response gives hope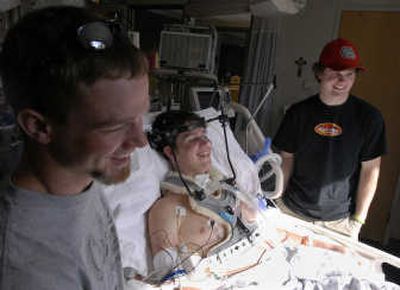 The way the town of Kettle Falls has rallied behind Casey McKern after his swimming accident in Lake Roosevelt three weeks ago says a lot about the regard the community has for McKern and his family.
It also says a lot about Kettle Falls, Wash.
It would be hard to find anybody in the Stevens County town of about 1,600 people who wasn't shocked and saddened by the news that the 20-year-old outdoorsman and former high school athlete was left paralyzed below the neck on May 16.
On the first 90-degree day of the year he dove into a favorite swimming hole in the Columbia River reservoir, which had been drawn down 60 feet to accommodate spring runoff. The water was only knee deep.
Cody Nailor, who graduated with McKern in 2006, was there to pull his friend out of the water. Now, just about everybody in town is lending a hand by giving to a charitable fund in his name at AmericanWest Bank.
"The thing that keeps making you cry over and over is not the sadness but the kindness of the community," said McKern's mother, Val McKern, principal at Kettle Falls Elementary School.
Anybody who has had kids in Kettle Falls knows Val McKern and her husband, David, who works at Boise Cascade and is president of Carpenters Local 1136. Most of them were at the "bribery softball game" at the high school, which raised about $5,000 for their boy.
Then there was the Kettle Falls v. Inchelium alumni football game, which raised $600. McKern, a 6-foot former fullback and basketball center, was sorry he couldn't play in that one, his mother said.
The 600 "Courage for Casey" bracelets that were sold in town brought in far more than their asking price of $3 apiece.
The middle school kids raised $1,300 and the elementary school $900 in competing coin drives.
Students were told to do chores at home to earn the money, and parents were calling the schools to ask what had gotten into their kids, who started cleaning their rooms and taking out the trash without being told, said Donna Ghramm, a middle school secretary and fund organizer.
A pair of first-graders donated $40 raised at their lemonade stand.
"Children were bringing in Tooth Fairy money," Ghramm said. "One 9-year-old boy brought in his entire piggy bank with $100 in it."
So far, Kettle Falls has raised about $10,000 for McKern, but the town isn't through yet.
An auction is scheduled for 4 p.m. June 20 next to the Little Gallea Restaurant in Kettle Falls, said organizer Brian Anderson.
"The people here are some of the best you will ever come across," Anderson said.
Anderson expects the donations to continue in Kettle Falls, despite a median income in 2005 of $26,700, about $300 less than it was in 2000.
"When these tragedies happen, everyone just pulls together, whether it's gathering firewood or raising money for medical care," he said.
Val McKern is not sure how much of her son's care will be covered by insurance. She has been busy helping him fight for his life through pneumonia, a blood clot and stomach problems associated with his paralysis.
She expects Casey to spend at least another week in Sacred Heart Medical Center intensive care, where his room is decorated with hunting and fishing paraphernalia and dozens of pictures drawn by students and the Little Leaguers he helped coach.
Soon Casey will move to rehabilitative care at a specialty hospital. The McKerns plan to remodel their home to make it accessible. They refuse to give up hopeand want to buy electric stimuli exercise equipment.
"It's a very new injury, and we don't know how far he will come," Val McKern said.
---