News > Spokane
Korean War vet fighting a new battle
Sun., June 15, 2008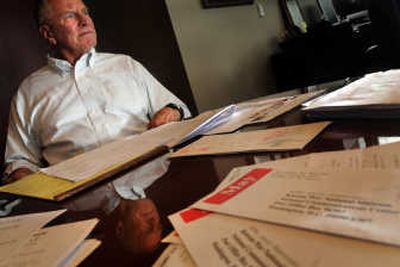 A nationally recognized nonprofit group has collected more than $6 million, promising to build a Korean War museum in Illinois with tax-deductible donations from veterans in Spokane and across the United States.
But after a decade of direct-mail pitches, with endorsement letters from former astronaut Edwin "Buzz" Aldrin and actor James Garner, the nonprofit reported less than $150,000 in assets in its last public financial report filed with the Internal Revenue Service.
The Korean War museum has moved its proposed site four times, and still doesn't have a permanent home.
"It's a scam – flat-out a scam, and it makes me mad. It upsets me," says Spokane Valley businessman John A. "Jack" Pring, a Korean War veteran who previously has donated to the charity.
His suspicions were aroused recently when he received two new solicitation letters, complete with stamped, self-addressed envelopes for donation checks for the Korea War National Museum, using a Washington, D.C., mail drop.
With a couple of phone calls, Pring said he learned the charity collected $2.3 million from him and other veterans in 2006, but spent only $105,000 of that on an existing museum set up in rent-free space on an abandoned Air Force base. The rest went to fundraising costs and overhead.
The nonprofit's executive director said the Korean War National Museum effort is "totally legitimate."
"We are not a scam," Larry Sassorossi, of Highland Park, Ill., said Friday.
Asked about claims that the group has very little to show for the $6 million raised so far, Sassorossi said that "is a concern."
"I'm just sick when I think of it," he said. "But, you know, that is the cost of direct mail, that is the cost of education, that's the cost of marketing. You know, that's startup costs."
He credits the direct mail campaign for producing "people we can (solicit) to raise the rest of the money."
"The startup costs are just unbelievable, but yet we are still sanctioned by all the states that we solicit in," he said.
One direct-mail firm hired by the nonprofit for $30,000 a month, the Compass Group, alleges it was never paid and recently filed a breach-of-contract suit for more than $1 million in U.S. District Court in Illinois.
Pring, a prominent Spokane Valley civic leader, philanthropist and former school board president, said: "When you raise $2.3 million in donations and only $105,000 of that goes to the purpose of the charity, there's something wrong."
Pring said it particularly angers him that the charity has spent 10 years using the Korean War "as a front" to raise $6 million that apparently went to fundraising expenses and salaries of the nonprofit's staff.
"It puts a little tear in my eye, I can't tell you any other way," Pring said. "It makes me mad, it makes me sad to think this group is living off something like this.
"There were a lot of boys that lost their lives over there in Korea."
The last letter Pring received from the nonprofit, in late May, noted it's been more than 55 years since the war in Korea began.
"Please search your heart for the best possible donation you can send," the letter said, urging donors to quickly respond using an "emergency reply form."
Since filing its last financial report in 2006, the Korean War National Museum charity has made a one-third down payment on a $600,000 environmentally contaminated parking lot in Springfield, Ill., Sassorossi said. The charity hopes to eventually build an $18.4 million museum on the site.
Sassorossi's group is asking for $570,000 in government subsidies to clean up the environmental mess on the newly purchased land while it leases temporary headquarters in a former drugstore in downtown Springfield. The walk-in site will be equipped with a flat-screen TV showing videos to attract more donors, Sassorossi said.
When the "Korean War Veterans National Museum & Library" was formed in 1998, then-Illinois Gov. George Ryan promised $40 million in state funds to get the organization going on a 22-acre farm field near Tuscola, Ill. The government funds never materialized before Ryan went to federal prison last year for fraud and racketeering.
As a result, Sassorossi said, the nonprofit group has had to rely entirely on private donations.
He told the Chicago Tribune in 2006 that his group's work was "like those guys in Korea going up Pork Chop Hill. They didn't make it to the top the first time, but they kept trying."
Individual donors, whom he wouldn't identify on Friday, have looked at the organization's $6.01 million in donations and $5.86 million in expenditures over the past decade "and have accepted that" as costs of getting the organization going, Sassorossi said.
"We've put part down on land and we've had some pre-construction costs," the director of the nonprofit said.
"We are moving forward. I mean, whatever money we've had so far we've spent on marketing, trying to get this group off the ground."
The nonprofit's Form 990 for 2007 must be filed with the Internal Revenue Service and the Illinois attorney general's office by June 30. Sassorossi said he couldn't estimate the revenue and expenditure figures for 2007.
The Illinois attorney general's office, which monitors nonprofit groups and charities, has not received any complaints, said spokeswoman Natalie Bauer.
The Better Business Bureau in central Illinois also hasn't received any complaints, said spokeswoman Nancy Poe, and the Korean War National Museum has not registered with the BBB.
Back in Spokane Valley, Pring said he not only won't give another dime, he also intends to pursue the matter with appropriate federal and state authorities, "and anybody else that'll listen."
"I'm not going to let it drop," he said. "It's just that simple."
The 77-year-old businessman acknowledged he and his wife have generously donated in the past to various charities, usually anonymously and particularly to veterans groups. In past years, he has mailed donations to the Korean War museum, before the recent letters sparked his suspicions.
"Intuition, in business or anything else, you got to lead with it a bit," he said last week in his Spokane Valley office. "I set this letter aside for a bit. It just didn't ring right."
Then he called the attorney general's office in New Jersey, which keeps a detailed national database of donations and expenditures. He was told the Korean War National Museum, granted nonprofit status by the IRS, raised $2.29 million in 2006 and spent $2.24 million.
Pring said government regulators haven't been eager to listen to his concerns. When he called the Washington state attorney general's office, he was told to fill out a complaint form that mistakenly was sent to the nonprofit agency instead of Pring's office.
Back on the phone, Pring told the attorney general: "Hey, I'm an old Korean War vet. I take this kind of thing seriously, and I think it's a scam."
When an assistant attorney general responded that it "takes a lot of money to raise money," Pring said he responded that such a ratio of revenue-to-costs was simply a bad business deal.
"Patriotism is a pretty damn good commodity," Pring said. "When we get groups like this and we don't step up and protect our interests a little bit or at least expect a much more fair shake, there's something wrong, don't you think?"
Local journalism is essential.
Give directly to The Spokesman-Review's Northwest Passages community forums series -- which helps to offset the costs of several reporter and editor positions at the newspaper -- by using the easy options below. Gifts processed in this system are not tax deductible, but are predominately used to help meet the local financial requirements needed to receive national matching-grant funds.
Subscribe to the Coronavirus newsletter
Get the day's latest Coronavirus news delivered to your inbox by subscribing to our newsletter.
---
Subscribe and log in to the Spokesman-Review to read and comment on this story