News > Features
Sacred Heart pays tribute to Manz with 'The Pour'
Sun., June 15, 2008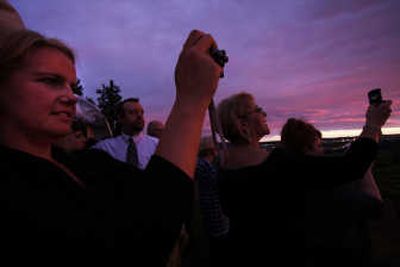 T he threat of a downpour didn't stop The Pour.
Last Saturday's rainy skies and unseasonably cool weather didn't dampen the first annual fundraiser dedicated to the work and memory of Dr. Michael Manz.
At the time of his death in 2006, Manz was associate medical director and attending psychiatrist for Sacred Heart Medical Center's Psychiatric Center for Children and Adolescents.
He also created the Behavioral Education Skills Training program at Sacred Heart Children's Hospital, which continues to provide comprehensive treatment for mentally ill children as well as support for their parents.
Manz, the founder and co-owner of Spokane's Mountain Dome and Grande Ronde Cellars wineries, was an early leader in the local wine industry.
Seated in a large white tent on the manicured grounds of Arbor Crest Winery, guests at The Pour were treated to a spectacular sunset over Spokane when one side of the tent was raised briefly.
Musical entertainment was provided by Six Foot Swing and the four-course gourmet meal was prepared by a team of local celebrity chefs including Romeo Herrara, executive chef for Catered for You, as well as Alexa Wilson from Wild Sage American Bistro and Patrick Fechser from Stilos Seafood and Steakhouse and Hay J's Bistro.
The evening, emceed by KZZU-FM's Molly Allen, included a silent auction and presentations by Julie Young from the BEST program and Peggy Mangiaracina, executive director of Sacred Heart Children's Hospital.
Dr. Harold Mielke, founder of Arbor Crest, presented Pat Manz with the first bottle of sparkling wine produced at her late husband's winery. Son Erik Manz, who took over the title of winemaker at Mountain Dome, also was in attendance.
In addition to the BEST program, proceeds from the event also will benefit the Davenport Arts District and the Washington Wine Education Foundation.
Local journalism is essential.
Give directly to The Spokesman-Review's Northwest Passages community forums series -- which helps to offset the costs of several reporter and editor positions at the newspaper -- by using the easy options below. Gifts processed in this system are not tax deductible, but are predominately used to help meet the local financial requirements needed to receive national matching-grant funds.
Subscribe to the Coronavirus newsletter
Get the day's latest Coronavirus news delivered to your inbox by subscribing to our newsletter.
---