News > Features
Local woman helps sellers, Realtors prep homes to sell
Fri., March 14, 2008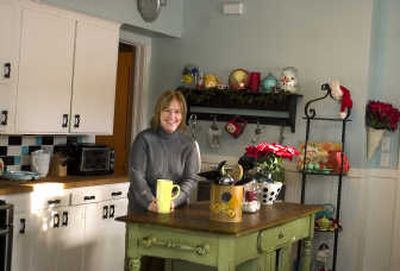 There's a yellow sticky note on my husband's well-worn recliner in our living room. And one on the framed picture from my son's second birthday party.
And there's one stuck on the extra dresser in our bedroom that's taking up too much space near the doorway.
The sticky notes are all Sandra Lambdin's way of saying, "That's got to go."
Lambdin is a stager, a designer hired by real estate agents to transform cluttered houses and get them ready for potential buyers.
She's one of many stagers in the Spokane area. Staging is becoming increasingly popular as homes flood the market and sellers and agents look to do anything to gain an edge on the house down the block.
"We want the house to show better than any other house on the market," Lambdin says.
She's been doing the job, which she says is 80 percent "diplomacy," for the past four years. She averages 10 stagings per month, but often does double that many in the spring.
Lambdin spent more than an hour going over every room in my Liberty Lake home, taking careful notes of what needed to go to storage, what needed to be cleaned and what needed to be repaired.
Put away the photos
First on the list: Take down just about every family photo and every piece of "artwork" on the refrigerator. Books should go, too.
"Depersonalize it," she says, because you want potential buyers to picture themselves in the house, not you.
Edit carefully
Most people simply have too much furniture and too much stuff crammed into each room.
"Make rooms look as big as possible," Lambdin says.
So, we rented a storage unit to house that recliner, the dresser and loads and loads of books, toys and other stuff.
Cutting down on clutter also helps accentuate architectural details that might otherwise be hidden – like pillars or arched doorways, she says.
She urges clients to neutralize colors in the home. Buyers of the "Starbucks generation" might not be wild about your Technicolor palette, she says.
Make it work
Lambdin suggests sellers "give rooms a purpose." Even if you use that extra bedroom to store your skis and your kid's outgrown clothes, it should be presented as a bedroom to potential buyers, she says.
And don't forget the outside of the house, either, she says. Scrape the ice off the walk. Invest in a new doormat. Put some plants and flowers out.
First encounter
"Make a good first impression," Lambdin says.
Lambdin likes to move accessories from room to room to find the most eye-pleasing fit. She transplanted artwork to different walls of our home. She swapped decorative pillows from one couch to another. She even put my everyday dishes on display in the glass cabinet – something I never would've thought to do, but it actually looks pretty nice.
Sellers need to be flexible about all of the changes, Lambdin says, and keep their goal in mind.
Once it's staged, your house may not feel like home anymore. And that's the way it should be, she says.
"You can't cater your house toward your personal needs when you're selling it," she says. "I would have to stage my own house."
It's hard to tell how big of an influence staging has on the bottom line of selling a house. There are so many other variables, of course.
But a little staging probably can't hurt.
After just a few weeks on the market, my house sold.
Local journalism is essential.
Give directly to The Spokesman-Review's Northwest Passages community forums series -- which helps to offset the costs of several reporter and editor positions at the newspaper -- by using the easy options below. Gifts processed in this system are not tax deductible, but are predominately used to help meet the local financial requirements needed to receive national matching-grant funds.
Subscribe now to get breaking news alerts in your email inbox
Get breaking news delivered to your inbox as it happens.
---