News > Idaho
Idaho entrepreneur pledges $40 million in Africa
Tue., March 18, 2008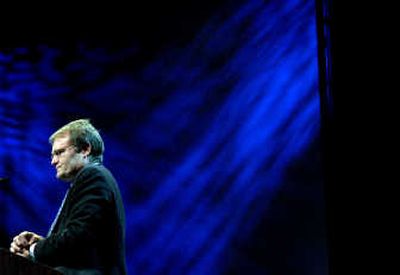 When Greg Carr arrived at Gorongosa National Park four years ago, the scars from Mozambique's 30-year civil war were still glaring.
The Army had slaughtered 20,000 Cape buffalo to feed its soldiers, leaving just a remnant of the vast herds that once roamed the ecologically rich corner of Africa. Only crumbling guesthouses hinted that the 1,525-square-mile park was once a tourist destination for wealthy globetrotters.
"Gorongosa was sort of like Yellowstone National Park for this part of Africa," said Carr, an Idaho native and philanthropist. "Astronaut Charles Duke visited Gorongosa after he landed on the moon. … He said Gorongosa was better."
Today, the park is regaining some of its biological grandeur and tourist traffic thanks to Carr, who has pledged $40 million over the next three decades to restore the park. The ambitious project seeks to integrate conservation with economic development, bettering the lives of 200,000 people who live near the park while restoring herds of elephants, wildebeest and antelope.
Carr was the keynote speaker Monday at North Idaho College's Popcorn Forum, an annual event that seeks to spur community discussion of global issues. He also gave the address at the 11th annual Human Rights banquet Monday night.
An Idaho Falls native, Carr, 48, earned a master's degree at Harvard before starting companies focused on voice mail and early Internet service. According to a Smithsonian article, Carr's net worth reached $200 million by the end of the 1990s, when he left business to focus on charitable causes.
He created the Carr Foundation, which supports human rights, the arts and the environment.
"I got lucky with the Internet," said Carr, the former chairman of Prodigy Inc., who donated $1 million to Coeur d'Alene's Human Rights Institute and helped bankroll the Anne Frank memorial in Boise. "Putting money into philanthropy is more fun than business."
Personable and down-to-earth, Carr confessed to wearing a pair of black dress shoes borrowed from NIC faculty member Tony Stewart for his Monday appearances. Only a disreputable pair of loafers made it into his luggage.
"They look fine in the jungle," quipped Carr, who is leaving this morning for Mozambique, one of eight trips he's planning to the country this year.
Government officials first invited Carr to visit Mozambique in 2002. He was on their radar because of Africa Online, a venture he participated in with Kenyan officials, which provides Internet service in eight countries.
Carr wasn't interested in starting a company in Mozambique, but the tales of Gorongosa fascinated him. Photos from the early 1960s showed the park during its glamour days, when celebrities flocked there to see elephants, lions, 500 species of birds, and some of the largest crocodiles on the African continent. "In the 1960s, it was paradise," he said.
Carr figured that eco-tourism, which brings millions of dollars each year to the nearby countries of South Africa, Kenya and Tanzania, could also benefit Mozambique. But first, the ecological ravage of the Civil War – which ended in 1992 – had to be addressed in Gorongosa. The park also had to benefit thousands of people living at its edges, many of them desperately poor.
"The history of national parks in Africa is not always a great history," said Carr, noting that many of them ignored the communities on their fringes.
Gorongosa lies at the southern tip of the Great East African Rift Valley. In nearby villages, many adults die in their 30s because of HIV. They also rely heavily on Gorongosa's resources, hunting in the park for food and clearing and burning land for subsistence farms.
For locals to give up those practices, they needed an alternate way of earning a living so they wouldn't slip further into poverty, said Frank Merry, the principal investigator for a three-year project examining how park development will affect nearby communities. His work is funded by the National Science Foundation.
Last summer, Merry and his cohorts collected baseline data from 1,700 households. They're just starting to analyze the data. "It's placing the park in the context of the regional economy," Merry said. "It could return to being an iconic place."
Carr's money has put about 500 Mozambique residents to work so far. Subsistence farmers are being paid to grow trees for reforestation.
Others are patrolling parks, protecting the restocked wildlife herds from poachers.
"That's my favorite picture," said Carr, referring to a photo of young women in khaki uniforms holding diplomas. They'd just completed a three-week course that taught them how to be housekeepers for tourist lodges.
Carr makes frequent trips to the villages, working to convince residents that the changes will bring them prosperity.
"If all goes well over the next 20 years," he said, "we'll restore one of the world's greatest natural parks. We'll restore the trees; we'll restore the animals; and we'll create a lot of jobs."
Local journalism is essential.
Give directly to The Spokesman-Review's Northwest Passages community forums series -- which helps to offset the costs of several reporter and editor positions at the newspaper -- by using the easy options below. Gifts processed in this system are not tax deductible, but are predominately used to help meet the local financial requirements needed to receive national matching-grant funds.
Subscribe now to get breaking news alerts in your email inbox
Get breaking news delivered to your inbox as it happens.
---