Sports > Outdoors
Local man makes elk his business
Sun., March 30, 2008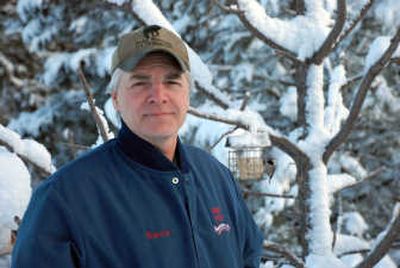 With his heart tugging one direction and his instincts pulling another way, Rance Block tied competing interests into a career that's had a significant impact on wild critters and the people who enjoy them.
"In the late '70s, when I was going to Washington State (University) I bailed out of my biology degree," the Spokane Valley resident said. "I could see there just weren't that many jobs at the time, so I switched and got a business degree."
The result was a good deal for elk, not to mention elk hunters.
Block, 52, recently semi-retired from his job as initiatives director for the Missoula-based Rocky Mountain Elk Foundation, where he had to work as effectively in a sport jacket and tie as he did in a wool shirt and muddy boots.
"My business background served me well," he said, referring to his 19-year association with the foundation, starting as a volunteer.
"You can organize all you want, but nothing gets done without the foundation of a lot of sportsmen willing to donate time and money for wildlife," he said.
The difficulty in getting funding for wildlife projects changes from year to year, depending on the whims of the economy and who's in charge of agencies or legislatures, he said.
"More groups are doing conservation work, which is good, except it means there's more competition for the funding available from state and federal agencies. You're seeing more coalitions forming to address priorities. Officials and legislators like to see different types of groups aligned on a project."
Unfortunately, many good lands projects simply don't get funded, he said.
"That's the hardest thing: not having enough money to do all the work that needs to be done."
Big land deals capture headlines, but less glamorous projects are vital to wildlife, too, he said.
"While they don't have long-term effects, controlled burns can make great short-term improvements in elk habitat in the West, where the fire regimen is significantly out of whack," he said.
"Agencies have the expertise, but often we can partner with them and double the acreage they can treat to mimic nature. Maybe that's how I've grown in this job.
"So many species of plants, birds and animals depend on fire and the succession of trees for survival."
Local journalism is essential.
Give directly to The Spokesman-Review's Northwest Passages community forums series -- which helps to offset the costs of several reporter and editor positions at the newspaper -- by using the easy options below. Gifts processed in this system are not tax deductible, but are predominately used to help meet the local financial requirements needed to receive national matching-grant funds.
Subscribe to the sports newsletter
Get the day's top sports headlines and breaking news delivered to your inbox by subscribing here.
---