Tribe turns to bison to counter diabetes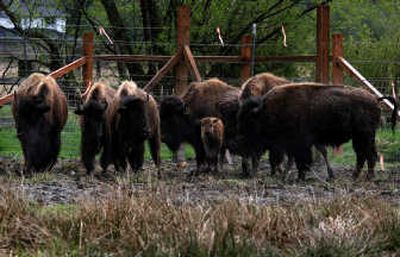 ARLINGTON, Wash. – The Stillaguamish Tribe is attempting a homegrown solution to combat diabetes among its members.
Earlier this month, the tribe welcomed a small herd of bison to graze on its land. The tribe plans to eventually distribute the grass-fed meat to improve the diet of its members.
"This isn't to replace our elk, our deer, our fish," said tribal Chairman Shawn Yanity. Bison aren't native to Western Washington. "This is to celebrate traditional foods."
More than 15 percent of the adult tribal members who are served by Indian Health Services suffer from diabetes, according to the National Institutes of Health. Experts say tribal members are more susceptible to the disease because their ancestors lost access to traditional food sources such as fish and wild game when they were moved to reservations.
Grass-fed bison meat, which is rich in vitamins and low in calories, has been shown to help lower diabetes rates, said Ervin Carlson, president of the Intertribal Bison Cooperative, a South Dakota-based organization that helps start and develop bison herds under tribal management.
"Some of the tribes have gone straight back to buffalo meat, and it has cleaned up their diabetes," Carlson said.
Yanity said he initially hoped to create an elk herd to provide grass-fed meat for tribal members, but other local governments were more supportive of bringing bison to the region.
With help from the Intertribal Bison Cooperative, the Stillaguamish Tribe got three bulls and five cows from the Yakama Nation, which owns a thriving bison herd. The bison arrived at the Stillaguamish Tribe's 56-acre pasture just west of Interstate 5 near Arlington in mid-April. Since then, one cow has given birth to a calf, Yanity said. Another cow is pregnant.
Once the herd is large enough, bison meat will be distributed among tribal members, Yanity said.
---