Sports > Outdoors
The Bike Doctor
Sun., May 4, 2008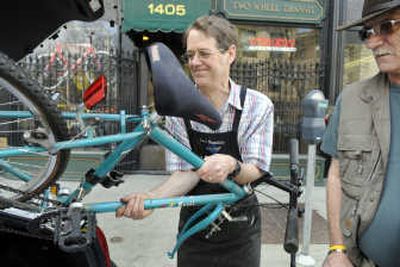 Only the very best physicians look over their patients as thoroughly as Dave Mannino checks out a bicycle that comes into Two Wheel Transit for a tune-up.
He scans, listens, probes, spins, flexes, wiggles and squeezes the bike from tread to derailleur. With more than 31 years of professional experience, his well-practiced hands can diagnose a pit in a bearing, a wobble in a wheel or wear in the Teflon liner of a cable housing and treat the ailment on the spot.
If you haven't pedaled a bike that's been in Mannino's care, you may not know the true meaning of a well-oiled machine.
Background: Mannino's fancy with bicycles began at the age of 5, when his father gave him a used Schwinn Spitfire.
"I couldn't ride it — I wouldn't be big enough to ride a 24-inch bike until I was 10 — but I recognized that it needed a lot of maintenance, so I took apart the coaster brake. I got it all shined up, but I couldn't get it back together.
"I still remember the nice mechanic at the local bike shop who reassembled it for me.
"When I was 15, I got new spokes and built my first set of wheels for that bike. It had a hard life. It did a lot of ghost riding (downhill without a rider), because it went straight real good. I still have that bike.
"In fact, I've collected boys and girls matching pairs in the same color for each of the bike's sizes — 20, 24 and 26 inches. I have five daughters and a son, and we've all ridden our cruisers together to church, the girls in their dresses and all….
"My dad liked to go Riverside Raceway, and he was always working on his own car. But it never caught on with me. I hate crawling underneath cars. With a bike, you just lift it up onto the stand and your tools are all right there. It's more like being a dentist."
First bike job: 1977, hired by Jim Spearman of Selkirk Bergsport in Spokane.
"I had an old Peugeot I rebuilt and rode while I was in college in San Diego. That was my portfolio.
Inspired by: Bruce Gordon, frame builder.
"In 1979, I went to Gordon's frame-building school, camped out in a pasture near Eugene. I realized he was an artist.
"I built a touring bike at the school, but I was planning to ride a lot on dirt roads so I wanted to build a frame that would handle big 650B wheels. The French called them Randonee wheels. Mountain bikes weren't really around yet. Gordon had never built a frame like that, so both student and teacher had to go to the drawing board.
"That's the bicycle I rode across the United States."
Wow factor: "Recently there's been a revival among mountain bikers who are changing from 700C wheels to (smaller) 650B's. I like to say, 'Oh man, I was riding those back in '79.' "
Distractions: At frame-building school, I was fascinated by Gordon's paint shop. I built my own in my basement and started painting. I was the only bike painter in Spokane for about 10 years."
Inside track: "I steered toward being a bike mechanic because of Gordon, who warned all of us at his school that despite being one of the most famous frame builders, he earned less money than the UPS worker who delivered his parts."
Professional insight: Name-brand bikes differ in design from one manufacturer to the next, but they're all pretty equivalent in quality. Department store bikes are a different matter. The quality isn't there. You have to take a different approach to them.
"They're almost never put together properly. A bike mechanic can be a hero just by reassembling and adjusting them properly."
Trade secret: Patience. That's what separates good bike technicians from the great ones. You have to have the attitude that it's a simple machine and it's not out to get you.
Longest employer: REI, 18 years.
"They sent me to the Barnett Bicycle Institute in Colorado. Barnett knew how to do stuff that worked, and he knew how to teach people about it. That was very helpful, because it became a big part of my job to train other bike technicians."
Job security: "Word of mouth."
Job insecurity: "The urban interest in fixed-wheel single-speed bikes. They don't even need brakes. There's a lot less to maintain."
Material matters: "Carbon fiber continues to make dramatic improvements. Nowadays a light bike can still handle well and be stable."
"In the '70s, the most expensive and exotic bikes weighed 22 pounds. That's the weight of today's entry-level bikes. Of course, the entry-level bikes are priced about the same as the most exotic bikes of the '70s, but they're worth it. They're lighter and the components are infinitely better."
Most valuable asset: "Experience. Everything seems kind of obvious to me now.
"None of the books can be specific on all the idiosyncrasies for different parts and combinations. Only experience can tell you that if you do this here, that bolt there will eventually break."
Major advances: "Bicycle fitting is much better, and that's great because it's very important. There's a lot more information about it and shops are learning how to do it. The industry is building bikes in more sizes for men's and women's styles to make sure everybody's properly fit and comfortable."
Also, internal hub gears: "Remember the old three-speeds? They'd just go and go trouble-free. Now they come in eight-speed sealed internal gears."
Consumer tips:
"Learn to keep your chain clean and fix flats: "You'll save a bundle and have a lot more enjoyable riding."
"Don't over-oil the chain. "I don't use spray lubes. They put too much oil on the chain. I just put one drop on each link, work it in and then wipe off the excess."
Claim to fame: Mechanic for Race Across America star Michael Trail of Colville in 1987.
"I built 10 sets of wheels and followed him in a Winnebago. I tuned his bikes whenever he slept, but he slept only 90 minutes at a time, so there was a lot of pressure."
Trail pedaled coast-to-coast in nine days, finishing second.
Deep thinking: "I didn't get a driver's license until I was 18. That was about the time of the Arab oil embargo and long lines at the gas pumps. So I just continued to ride my bike at college. I mostly rode a one-speed coaster bike with drop bars.
"I'd like to say more people are going to start bicycling because of higher gas prices, but it seems as though they're more likely to go to electric cars and alternatives fuels. The world would be a better place if more people used bicycles at least part of the time."
Bottom line: Minor tune-up $55 plus parts, should be done at least annually, depending on mileage. Major tune-up, including deep cleaning of parts, about $90 plus parts.
Where: Two Wheel Transit, 1405 W. 1st Ave. in Spokane; (509) 747-2231.
Local journalism is essential.
Give directly to The Spokesman-Review's Northwest Passages community forums series -- which helps to offset the costs of several reporter and editor positions at the newspaper -- by using the easy options below. Gifts processed in this system are not tax deductible, but are predominately used to help meet the local financial requirements needed to receive national matching-grant funds.
Subscribe to the sports newsletter
Get the day's top sports headlines and breaking news delivered to your inbox by subscribing here.
---
Subscribe and log in to the Spokesman-Review to read and comment on this story