News > Spokane
Voices of War: Doing his duty
Sun., May 25, 2008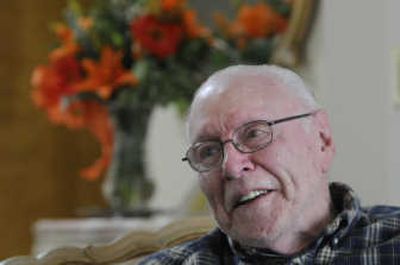 David Sullivan spent parts of World War II aboard aircraft carriers in the North Atlantic and South Pacific, but it's the odd turns of fate and unusual situations that the former flight surgeon remembers more than the tales of battle.
For 18 months he was on an aircraft carrier that spent most of its time hunting Nazi U-boats, and he said the most grueling medical duty was a 25-hour stint treating German sailors from a sub sunk by his ship's planes. He recalls when military doctors were issued a new wonder drug called penicillin that seemed to work for everything. He remembers being asked to take the temperature of a monkey to determine whether it could be let on board the ship.
"There's a serious side to war, but I guess I repress that," said Sullivan, 93 and a retired plastic surgeon who lives in south Spokane. "I never got hurt and never got wounded."
Sullivan had enrolled in ROTC in part to help pay for medical school and enlisted in the fall of 1941. He was in the middle of Navy medical training in Washington, D.C., when the Japanese bombed Pearl Harbor and the United States entered the war. He was in line to be assigned to the battleship USS California, but for a reason no one could explain his orders were changed.
Like most Americans, he didn't find out until later the California had been sunk in the attack.
He was assigned to a small escort carrier as a flight surgeon, which meant he had to take pilot training to understand what aviators faced. He wasn't particularly interested in learning to fly, but it came with the territory, he said.
When he reported to Bremerton, where the so-called "jeep" carriers were built and launched, the Navy assigned doctors alphabetically as the ships were ready. A doctor named Stuart was two spaces ahead of him and assigned to a carrier that was sunk in the Pacific.
Sullivan was assigned to the USS Card, which was sent to the North Atlantic, mainly sailing between Norfolk, Va., and Casablanca, Morocco, to hunt for U-boats.
"We didn't get many at first," he said. The carrier's planes would spot a U-boat on the surface, but the sub would usually dive and get away. Then the Navy gave the Card and another carrier a new weapon, which was so secret only a few members on the ship were allowed to see or handle it.
"We didn't know what it was. It turned out to be a sonic mine," Sullivan recalled. Planes would drop the mines in the area where the U-boat submerged, and it would home in on the sound of the boat's engines before detonating.
To adjust, the Germans stopped diving when the planes arrived and tried to shoot them down with antiaircraft guns. That sometimes resulted in prolonged battles between the sub and the planes or destroyers that accompanied the carrier. In one battle, a destroyer wound up ramming a U-boat. That sunk the sub, but damaged the destroyer so badly it had to be abandoned so it could be sunk by the carrier's planes.
In another, a U-boat was so shot up by a plane that it sunk as the crew abandoned it. Destroyers picked up the wounded German sailors and transferred them to the carrier, where Sullivan, the ship's other doctor and medical crew operated around the clock to save them. U.S. propaganda at the time said Germans were undernourished and in bad physical shape because of the war, but it wasn't true of those sailors, Sullivan said.
He didn't think it was strange to be saving the lives of people the ships were trying to kill: "It didn't bother me a bit. They were injured."
As soon as the German sailors could be moved out of the ship's sick bay, they were put in the brig, which meant American sailors doing time for various infractions caught a break and were released. Eventually they turned the German sailors over to an Army hospital in North Africa.
While on the Card, Sullivan received a shipment of something he'd read about, but never actually seen: penicillin. It truly was a wonder drug for treating everything from venereal disease to pneumonia, he said. "Almost everything we ran into was susceptible to it."
The armed forces were segregated during the war, and the only blacks on board worked in the ship's kitchen, or mess. They mostly kept to themselves and slept in their own compartment. One day Sullivan was brought a black sailor who some of the crew suspected was too young. And they were right; he admitted to being 15.
How'd he get in the Navy? Sullivan asked. The young sailor replied that one day he got on what he thought was the school bus. Turned out it was the Navy recruiting bus. He went through training without anyone checking his age.
Having sailors of any race lie about their age to join the service wasn't uncommon during the war, Sullivan said. But they almost always looked older than their true age. If anything, this sailor looked younger. He was sent home and discharged.
After 18 months in the North Atlantic, Sullivan was rotated to shore duty in California and later assigned to the U.S.S. Saratoga, a much bigger carrier, in the South Pacific in 1945. After the cold Atlantic, the Pacific was nice and warm, and he's never seen so many stars in the night sky, he said.
He didn't see much action on the Saratoga before the war ended, but did serve on the ship as it was transporting troops back home.
One day a sailor in a unit heading home arrived with a monkey. The sailor was told he couldn't bring a monkey aboard ship, but he pleaded with the crew and later the executive officer to keep a mascot that had been with his unit since the start of the war. It'd have to get shots and go into quarantine when it reached the States, he was told; he said he'd pay any cost. Finally, the executive officer called for Sullivan.
Take the monkey's temperature, the executive officer suggested.
"I said, 'What good would that do? Do you know what a monkey's temperature should be? I don't.' " Sullivan repeated the monkey would have to go into quarantine for a month when they reached California, but the sailor didn't care. They let the monkey on board.
"The monkey proved to be an asset," Sullivan said. "It put on shows. The sailors were bored (on the long voyage home) and it was a real entertainer."
Sullivan had never planned to make the Navy his career, so after he was allowed to resign in 1946 he studied plastic surgery for three years in the Midwest and Canada. He'd grown up in Portland and decided to check out the Northwest in 1949 for a place to set up a practice. He and his wife visited Seattle, where it was cold and raining; they visited Portland, where it was cold and raining; they visited Spokane, where it was warm and sunny.
After 18 months in the North Atlantic, the choice was easy. They moved to Spokane, where he worked some 30 years as a plastic surgeon, a practice filled with reconstructive surgeries and repairing cleft lips and palates in young children.
Sullivan said he served with some great pilots and sailors who received well-deserved commendations, but he was merely doing his duty.
"I didn't feel particularly heroic myself," he said. "To be honest, I'm more proud of the cleft lips and palates I repaired."
Local journalism is essential.
Give directly to The Spokesman-Review's Northwest Passages community forums series -- which helps to offset the costs of several reporter and editor positions at the newspaper -- by using the easy options below. Gifts processed in this system are not tax deductible, but are predominately used to help meet the local financial requirements needed to receive national matching-grant funds.
Subscribe to the Coronavirus newsletter
Get the day's latest Coronavirus news delivered to your inbox by subscribing to our newsletter.
---
Subscribe and log in to the Spokesman-Review to read and comment on this story