News > Voices
Ladies, start your shopping
Local businesses participate in Girls Day Out
Thu., Nov. 6, 2008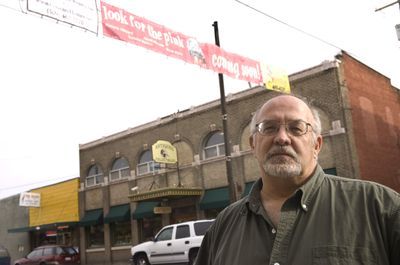 Local businesses are rolling out the pink carpet Saturday for area women during the fourth annual Girls Day Out event.
Antique stores, specialty shops, book stores, coffee shops and other businesses in three neighborhoods are participating in the daylong event.
Girls Day Out is designed as an opportunity for mothers and daughters, sisters and friends to bond over shopping, pampering and exploring new stores. It's also a chance for neighborhood shopping centers to show off what they have to offer.
"Come rediscover your neighborhood businesses," said Luke Tolley, president-elect of the Hillyard Business Association. "We get so caught up with going to Wal-Mart or Fred Meyer that we forget about those neighborhood businesses that we may take for granted."
The Hillyard, North Monroe and East Sprague business districts are participating in Girls Day Out this year, with about 40 businesses taking part. Each district has its own character, Tolley said.
"It's wonderful to go from business center to business center and see the differences," he said.
Businesses will display pink decorations and pink merchandise to identify themselves as participants in the event.
Tolley said that businesses reported in past years that traffic in their stores doubled during Girls Day Out.
United Hillyard Antique Mall owner Jim Solomon said that the mall's sales increased 14 percent during last year's Girls Day Out event. Businesses across Hillyard reported an average sales increase of 18 percent.
Solomon is taking advantage of the event to celebrate the grand opening of the antique mall's newly remodeled second floor.
At Acme TV and the Tin Roof on East Sprague, shoppers will find discounts, cookies and cider, said owner Jim Hanley.
"People are going to be out looking around, and we want them to look at East Sprague, too," Hanley said.
In addition to discovering unique stores, women who shop at neighborhood businesses can also feel good about supporting local businesses, Hanley said.
"That money stays with our community," he said, "whereas with big box stores it just blows out."
Local journalism is essential.
Give directly to The Spokesman-Review's Northwest Passages community forums series -- which helps to offset the costs of several reporter and editor positions at the newspaper -- by using the easy options below. Gifts processed in this system are not tax deductible, but are predominately used to help meet the local financial requirements needed to receive national matching-grant funds.
Subscribe now to get breaking news alerts in your email inbox
Get breaking news delivered to your inbox as it happens.
---