A&E > Food
Barefoot Contessa goes 'Back to Basics'
Ina Garten publishes sixth cookbook, uses same theme in new Food Network episodes
Wed., Nov. 12, 2008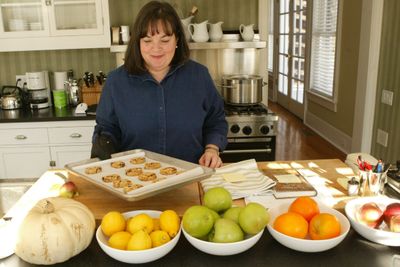 November is the official start of The Cooking Season, when the stress of preparing for Thanksgiving fades into the panic of Christmas and Hanukkah and, ultimately, the resignation to (or reservations for) New Year's.
It seemed like a perfect time to check in with Long Island's own Ina Garten, the doyenne of effortless entertaining. Garten bought East Hampton, N.Y.'s Barefoot Contessa specialty market in 1978. (She sold it to two employees 18 years later.) In 1999, she published her first book, "The Barefoot Contessa Cookbook," and, in 2002, her show premiered on Food Network.
Now she has just published her sixth cookbook, "Barefoot Contessa Back to Basics" (Potter, $35). "Back to Basics" is also the theme of the new episodes on her Food Network show, aired at 1:30 on Saturday afternoons. We chatted with her just as she was embarking on a 12-city book tour.
Q. Why "back to basics" now?
A. I've always thought a lot about basic recipes. At the end of the day, it's what I do: simple recipes for what you want to eat. But I wanted specifically to get back to the nuts and bolts of what makes things taste great. It's not that I'm a great cook – I'm a great taster.
Q. How do you achieve great flavor?
A. Sometimes it's simplicity – the apple tart in the book, it's just pastry, Granny Smith apples, sugar, butter, a little apricot jelly. It's thin and crisp and delicious and the essence of what the book is about.
Sometimes flavor is about pairing things. Like adding a little creme de cassis to a plum crunch. You don't know it's there, but it makes the plums taste great.
Sometimes flavor is about how you cook something. I take supermarket plum tomatoes and roast them to bring out their flavor. The sugars caramelize, and the tomatoes become incredibly delicious.
You know, my background is in science – I worked as a nuclear-energy analyst in the White House Office of Management and Budget – and cooking is a lot like a science experiment, except that at the end of the day you wind up with a Caprese salad.
Q. How do you balance the need to constantly come up with new recipes with your desire to keep life in the kitchen simple?
A. After I wrote my first book I thought, well that's it: I've used every recipe I have. But I've found that I have an endless well of ideas because of the experiences
I have. I don't work on recipes by sitting by myself in East Hampton, N.Y. I travel, I read, I see what my friends are doing. Inspiration comes from all over – from books, from restaurant chefs.
I got the recipe in the book for Mustard-Roasted Fish from the coat-check person where I get my hair done in Paris. It's fantastic and so easy, you've got to make it.
I was in a cab in San Francisco on my way to Judy Roger's Zuni Cafe, and the cab driver said, "you have to order the roast chicken." I did, and it was the most wonderful chicken I ever had. I learned that Judy salts the meat as soon as she gets it, and that's what makes it so flavorful.
Q. What's your advice for cooks who want to economize?
A. Good doesn't mean expensive. It means Hellmann's mayonnaise. When I cook with chocolate, I often use a bit of coffee to deepen the flavor. I've tested the recipes with regular supermarket chocolate and the coffee does more for the flavor than if I'd used Valrhona chocolate. Pork tenderloin, hanger steak – these are not expensive cuts of meat. And I think Costco is a major resource. You can go there and buy a whole fillet of beef and it costs half of what it would be in a butcher shop.
Even when you splurge – I get these little pots of white-truffle butter from D'Artagnan. They cost $6 or $7, but with pasta it's an entire dish for four.
Q. What recipes do you cook most?
A. The ones I know I can nail. I've made that apple tart a million times. Friday night dinner is roast chicken. From this book, the sole meuniere, baked shrimp scampi, celery-root apple puree and that mustard-roasted fish from the coat-check person. It is shocking how easy it is.
Local journalism is essential.
Give directly to The Spokesman-Review's Northwest Passages community forums series -- which helps to offset the costs of several reporter and editor positions at the newspaper -- by using the easy options below. Gifts processed in this system are not tax deductible, but are predominately used to help meet the local financial requirements needed to receive national matching-grant funds.
Subscribe to the Spokane7 email newsletter
Get the day's top entertainment headlines delivered to your inbox every morning.
---