News > Voices
Albi Stadium's Joe a fan for the ages
Thu., Nov. 13, 2008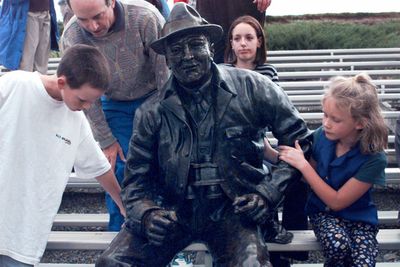 No matter what's happening at Joe Albi Stadium in Spokane, there's always one spectator on hand enjoying the view.
He's Joe Fan, a 600-plus pound, slightly-larger-than-life-size bronze sculpture in the west bleachers, about half-way up, looking over the field, with a few bronze peanuts in hand and binoculars around his neck.
Joe is the creation of Spokane sculptor Vincent DeFelice, who in 1997 was awarded a commission to create a piece of public art – in the form of Joe Fan – when Albi Stadium, which was built in 1950, was renovated.
"He is there to give credit to all fans," said DeFelice. "No matter what the venue, there he is, leaning forward as if to engage the action, but dressed in his overcoat and fedora as a tribute to the fans who have supported events through the decades, and with a bit of a twinkle in his eye."
Even though the name is in honor of the quintessential Everyman, Joe was also intended as a tribute to Joe Albi, for whom the stadium is named. Indeed, Joe Fan bears a loose resemblance to the real-life Joe.
Albi was founder and president of Spokane's Athletic Round Table back in the mid-1900s. A prime mover in the athletic community, he was considered quite a character, and there are many stories to underscore that reputation. Bob Briley, a retired radio broadcaster and KHQ-TV newsman, recalls one.
Buck Bailey, who coached baseball at Washington State University for 32 years, retiring in 1962, was known for tossing his hat on the ground and stomping on it during games when he wasn't pleased, Briley recalled. "So, Joe Albi got a truckload of hats together and took it down to Pullman and had all those hats dumped on Buck's lawn."
Ed Clark, president of The Clark Co., an advertising and marketing firm in Spokane, who headed the selection committee for the Albi Stadium statue, said there was something special about DeFelice's proposal to honor the man and the stadium. "We felt the community needed to know who Joe Albi was and for the stadium's namesake to always be there in some way. Joe Fan was perfect."
Clark and DeFelice said they are pleased, too, that the community has embraced the sculpture. Kids gather around Joe Fan during events and players dress him up in their team colors.
"I like it that kids hang out with him," DeFelice said. "I hope my own kids – Sophia, who is 8, and Antonio, 5 – will do so, and someday, maybe my own grandchildren."
DeFelice, who has completed a number of sculptures in Spokane, including the Louis Davenport sculpture in the Davenport Hotel and the bulldog at Gonzaga University's McCarthey Arena, enjoys stories he hears about Joe Fan.
Once a coach who was holding a private practice on the field spotted someone sitting in the west bleachers. Apparently, he sent a student up to tell the man to get lost, that he couldn't be there. The student returned to the coach chagrined and said that he didn't think the big bronze guy was going to vacate.
"That piece of metal will outlast even the stadium itself," DeFelice said.
Local journalism is essential.
Give directly to The Spokesman-Review's Northwest Passages community forums series -- which helps to offset the costs of several reporter and editor positions at the newspaper -- by using the easy options below. Gifts processed in this system are not tax deductible, but are predominately used to help meet the local financial requirements needed to receive national matching-grant funds.
Subscribe to the Coronavirus newsletter
Get the day's latest Coronavirus news delivered to your inbox by subscribing to our newsletter.
---
Subscribe and log in to the Spokesman-Review to read and comment on this story