News > Spokane
Lawsuit targets animal control laws
New cat euthanasia policy called unconstitutional
Fri., Nov. 14, 2008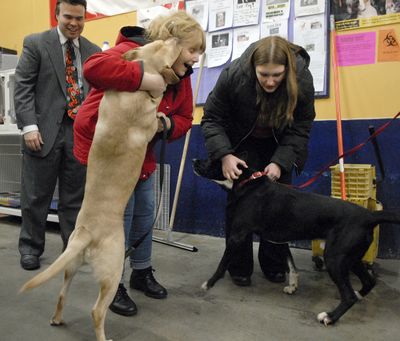 A lawsuit challenging the constitutionality of animal control laws used by Spokane and Spokane County – including provisions allowing for the immediate euthanasia of cats – was filed Thursday in U.S. District Court in Spokane.
The suit was filed by Adam Karp, a Bellingham animal-law attorney, who represents Spokane pet owner Patty Schoendorf, the only plaintiff in the suit.
The suit doesn't seek monetary damages, but asks a federal judge to order the city and county to modify their animal control laws so constitutional protections are followed when dogs and cats are picked up and euthanized.
Unlicensed cats picked up by the city and county now can be immediately killed if animal control officers believe the animal is sick, injured or dangerous. The city law also allows its animal control agency to immediately kill an unlicensed and otherwise unidentifiable domesticated, healthy cat based on such factors as capacity of the facility and the animal's temperament and adoptability.
"It's a property rights case, but the property we're talking about here is a family member – a companion animal," Karp said after filing the suit. "We're not just dealing with government impounding a car."
City and county laws, he said, should allow Schoendorf and other Spokane taxpayers time to recover their pets under due-process guarantees of the U.S. Constitution, which prevent government from taking or destroying a person's property.
Among other challenges, the suit says recently modified provisions of the city of Spokane's new animal control law are "baseless and contain a vague double standard" because they allow for the "instant kill" of unlicensed cats but set a minimum holding period for unlicensed dogs.
The suit also claims the city's animal control contract is illegal because it says all unlicensed cats that are picked up, healthy or otherwise, "will have no holding period" – ignoring the city animal law that says unlicensed cats should be held as long as possible.
SpokAnimal C.A.R.E. is under contract with the city of Spokane for animal control services. The county has its own animal control operation, Spokane County Animal Protection Services, or SCRAPS.
Only the city and county are named defendants in the suit.
The suit alleges the city and county are violating state law by allowing "individuals untrained and unlicensed" to practice veterinary medicine – making the decisions whether a sick or injured dog or cat warrants immediate euthanasia.
"You have animal control workers, who are largely untrained, making life-and-death decisions," Karp said. "I think that violates the law – provisions of the Veterinarian Practices Act."
Karp said he filed the suit after city and county officials refused to talk with him about rewriting the laws. He wrote letters, he said, to Spokane Mayor Mary Verner, City Council President Joe Shogan, County Commissioner Bonnie Mager and County Prosecutor Steve Tucker.
"They ignored me, and I don't know how surprised I should be," Karp said.
"I was truly wanting to work with the city and county attorneys to make the laws less susceptible to legal challenge and fairer to the public," he said.
Karp said he will buttress the suit with two recent appeals court cases, including one that held there is a "private interest" associated with owners' interest in keeping their pets.
"This is greater than a mere economic interest, for pets are not fungible," the state appeals court held, "so the private interest at stake is great."
Karp also cited a federal appeals court case that arose after police in San Jose, Calif., shot and killed a dog during a raid on a Hells Angels clubhouse operated by the outlaw motorcycle club.
The federal appeals court upheld a $1 million award given to the Hells Angels, saying the "emotional attachment to a family's dog is not comparable to a possessory interest in furniture."
Local journalism is essential.
Give directly to The Spokesman-Review's Northwest Passages community forums series -- which helps to offset the costs of several reporter and editor positions at the newspaper -- by using the easy options below. Gifts processed in this system are not tax deductible, but are predominately used to help meet the local financial requirements needed to receive national matching-grant funds.
Subscribe to the Coronavirus newsletter
Get the day's latest Coronavirus news delivered to your inbox by subscribing to our newsletter.
---
Subscribe and log in to the Spokesman-Review to read and comment on this story