News > Spokane
Suspects lived free for years in Arizona
Police seeking son after pair's deaths
Wed., Nov. 19, 2008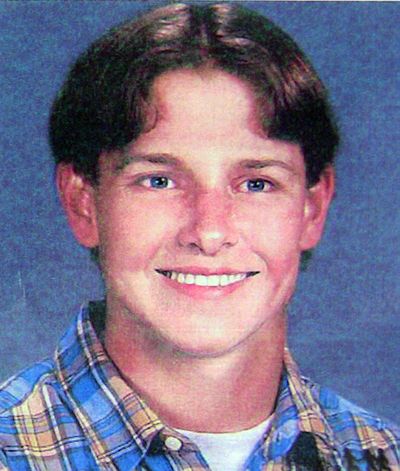 Two women found dead near Tucson, Ariz., shortly after being profiled on "America's Most Wanted" in connection with a Post Falls homicide had been living there for at least eight years.
Tina Loesch and Skye Hanson made a living doing "remodeling and construction-type work," said Post Falls police Chief Cliff Hayes, who was in Arizona to investigate. Hanson also worked as a landscaper.
Arizona authorities said the couple had a suicide pact. The couple left an eight-page suicide note that offered insight into the killing of Barbara Loesch, Tina's mother, but detectives declined to discuss specifics.
Post Falls police said Loesch shot Hanson in the head before turning the gun on herself late Saturday.
Police are still looking for Loesch's 18-year-old son, Kristopher, to ensure that he is safe.
"Finding him is our top priority," said Post Falls police Capt. Scot Haug. "Information we have so far is that he was in the Tucson area in late 1999. He was sent to live with his father about a year after that."
The women sent him to live with his father after the boy exhibited behavioral problems, Post Falls police Lt. Greg McLean said.
Police believe the teenager is in Spokane; authorities are still trying to verify his father's identity.
On Tuesday, Idaho authorities were searching a Tucson home where Hanson and Loesch had lived until about a month ago, when they moved to temporary housing while their home was being remodeled.
Police were also interviewing several Tuscon-area friends of Tina Loesch, aka Katie, and Hanson, who also used the name Dawn. There was no record of the women changing their last names as they eluded Idaho law enforcement.
Persistent mystery
For 10 years, Barbara Loesch's homicide nagged at investigators as they tried to find the two women they say hired a hit man – Brad Steckman – to kill her.
Steckman, convicted in 2001 of murdering an 89-year-old Pullman woman during a robbery, told police he played a role in Barbara Loesch's death as well. Tina Loesch and Hanson offered him $10,000 to kill Loesch's mother, Steckman said, but he was never paid for the job. Until their bodies were found Saturday, police believed the women had fled the country or were living under assumed names.
"When I got the call (from Tucson), I was skeptical," McLean said. "It had been so difficult to find them over years that I didn't think it possible. Once we determined it was them, I had a lot of questions."
Investigators believe the women were responsible for Barbara Loesch's 1998 death and might have had answers about her husband's slaying. Gary Loesch was shot to death two years before his wife's death on his paper route outside Post Falls. That case, investigated by the Kootenai County Sheriff's Office, remains unsolved.
Arrest warrants issued
Arrest warrants were issued in October for Tina Loesch and Hanson after Post Falls police presented evidence in a Kootenai County court linking the women to Barbara Loesch's homicide. Police said the motive was the payout from a $525,000 life insurance policy Tina Loesch had taken out on her mother.
Authorities pursued the warrants after "we hit a dead end. We needed help," McLean said. "Without the warrants, we couldn't get help from the federal government, and 'America's Most Wanted' wouldn't touch the case."
Police said they think the women believed interest in the case would die down, and they'd never be caught. But the media kept the case fresh in people's minds, McLean said.
Both Gary and Barbara Loesch's cases were profiled in January as part of The Spokesman-Review's Cold Case series, which police say generated several tips. "America's Most Wanted" offered a "more global platform," McLean said.
McLean and Post Falls Officer Paul Farina spent hundreds of hours on the case.
"It's persistence that solved this case," Haug said. "Many of us were wondering if this case would ever be brought to an end," he said.
Police said Tuesday that the women's deaths come as a relief for Loesch family members still living in the area.
"They won't have to keep looking over their shoulders," McLean said, "and wondering if these two might be coming back for any of them."
Anyone who knows Kristopher Loesch's whereabouts can call Post Falls police at (208) 773-3517.
Local journalism is essential.
Give directly to The Spokesman-Review's Northwest Passages community forums series -- which helps to offset the costs of several reporter and editor positions at the newspaper -- by using the easy options below. Gifts processed in this system are not tax deductible, but are predominately used to help meet the local financial requirements needed to receive national matching-grant funds.
Subscribe to the Coronavirus newsletter
Get the day's latest Coronavirus news delivered to your inbox by subscribing to our newsletter.
---