News > Features
Borat like big American TV
Thu., Nov. 20, 2008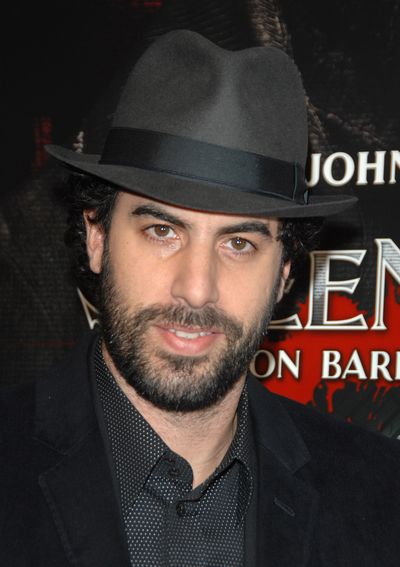 One of the most popular shows on television is "Medium," an NBC drama that features Patricia Arquette as a psychic.
Life, obviously, doesn't imitate art.
Because during a Nov. 7 shooting session for the upcoming season, no one – even Arquette – could figure out what was going on when an extra disrupted the proceedings.
It wasn't until the offending actor had been ejected by security that the truth emerged: The prankster was none other than British actor/comic Sacha Baron Cohen, in character as the outrageous fashion reporter Bruno.
According to Entertainment Weekly magazine's Web site, Cohen somehow gained entry to the set, though it wasn't immediately clear for what purpose.
Prior to the intrusion, Cohen had been shooting other "crash" footage for his new film, a follow-up to his comedy hit "Borat."
As Cohen's character says, "Thank you for watch my film. I hope you like. Dziekuje."
'Diddy' avoids bad rap
Irony is sweet. That's what you call it when hip-hop artists portray members of the legal establishment on television and in movies. The latest to take the step is Sean "Diddy" Combs, who will play a prosecutor in a forthcoming two-episode appearance on "CSI: Miami." Combs' character reportedly won't get along with the detective played by David Caruso.
Maybe the perfume stank, too
Prince is in trouble with a perfume company. The reclusive rock star is being sued by New York-based Revelations Perfume and Cosmetics Inc., which claims that he and his music publisher failed to honor a contract to help market a fragrance named for the album "3121." Revelations says it put $2.5 million into the project.
Next up: 'Biggest Loser'
Mary Delgado may be both a former NFL cheerleader and winner of "The Bachelor" show, but neither clearly is a guarantee of happiness. The 41-year-old was arrested Sunday in a Del Rio, Texas, bar.
After being charged with disorderly conduct, public intoxication, and resisting arrest, she was released. Delgado was arrested last year in Florida for slapping Byron Velvick, "The Bachelor" who proposed to her in 2004.
They drug the truth out of her
Finally, TV star Heather Locklear is facing misdemeanor charges of driving under the influence. The California Highway Patrol said the actress showed "obvious impairment" when an officer noticed her car parked on a highway and blocking a lane in Montecito, Calif., on Sept. 27.
The problem: Not alcohol but prescription drugs. Locklear, divorced from Bon Jovi guitarist Richie Sambora last year, has been in treatment for anxiety and depression.
The birthday bunch
Actress-comedian Kaye Ballard is 83. Actress Estelle Parsons is 81. TV personality Richard Dawson is 76. Comedian Dick Smothers is 70. Singer Norman Greenbaum is 66. Actress Veronica Hamel is 65. Broadcast journalist Judy Woodruff is 62. Musician Joe Walsh is 61. Actor Richard Masur ("One Day at a Time") is 60. Actress Bo Derek is 52. Actress Sean Young is 49. Actress Ming-Na ("ER") is 45. Rapper Mike D of the Beastie Boys is 43. Country singer Dierks Bentley is 33.
Local journalism is essential.
Give directly to The Spokesman-Review's Northwest Passages community forums series -- which helps to offset the costs of several reporter and editor positions at the newspaper -- by using the easy options below. Gifts processed in this system are not tax deductible, but are predominately used to help meet the local financial requirements needed to receive national matching-grant funds.
Subscribe to the Coronavirus newsletter
Get the day's latest Coronavirus news delivered to your inbox by subscribing to our newsletter.
---