News > Spokane
Coe childhood friend testifies
Williams contradicts defendant's videotaped deposition
Tue., Oct. 7, 2008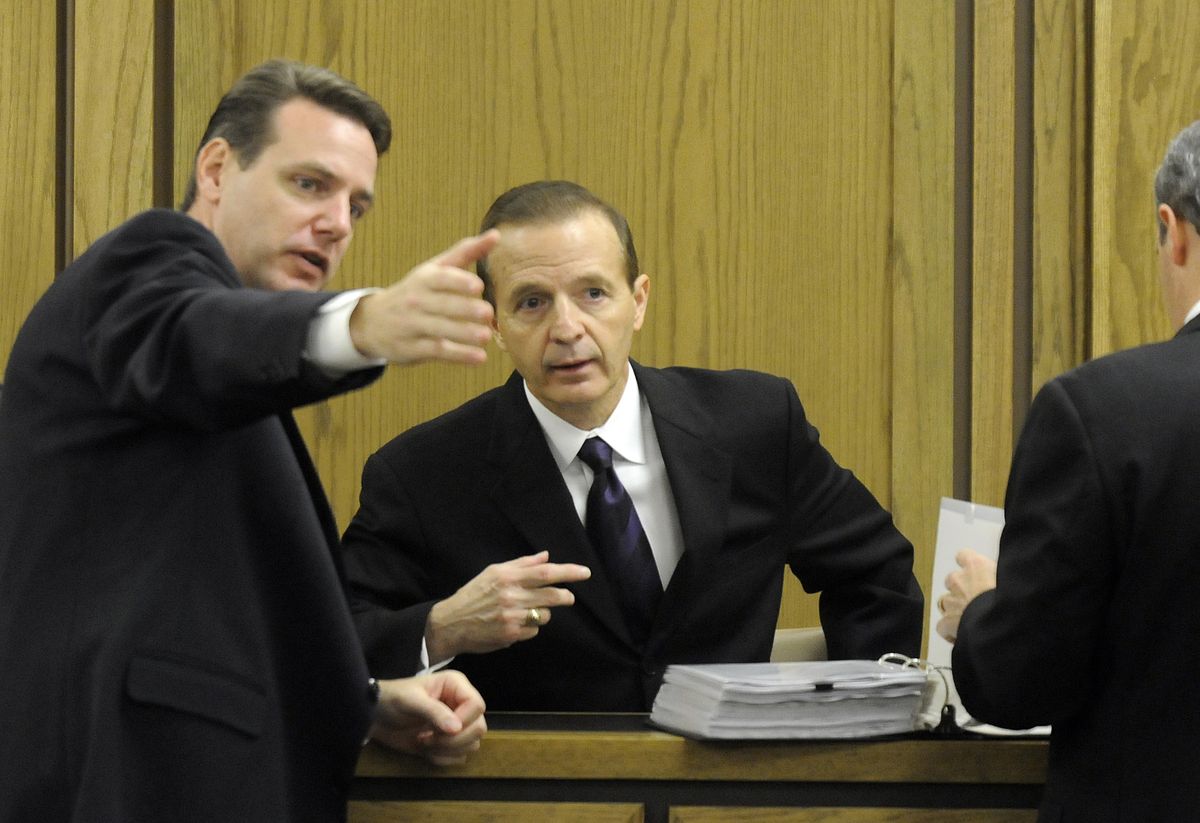 Assistant Attorneys General Todd Bowers, left, and Malcolm Ross, talk with witness Jay Williams, center, during a midmorning break in the civil trial of Kevin Coe on Monday. Williams testified that he was Coe's childhood best friend. (Photos by Dan Pelle / The Spokesman-Review)
Kevin Coe roamed the corridors of Browne's Addition apartment buildings in the 1970s, trying doorknobs as he sought access to the homes of young women, his best friend from childhood testified Monday in Coe's civil commitment trial.
Coe told him about an incident in May 1971 when he gained access to an apartment during the night and tripped over a sleeping woman, who screamed, said Jay Williams, a Spokane Valley resident and former real estate colleague of Coe's.
"Do you recall Coe saying he was disoriented and in some other state?" asked Assistant Attorney General Malcolm Ross.
"No, he didn't say that," Williams said.
That contradicts Coe's videotaped deposition, taken earlier this year and played for the jury last week, that he'd had an allergic reaction to medication, become disoriented and believed he was at a friend's house in Los Angeles at the time of the incident. Coe was chased down by apartment residents and arrested on suspicion of indecent liberties for fondling the woman.
Williams also identified Coe's voice on a pornographic tape Coe allegedly sent to a woman from the Washington State Penitentiary in 1985. He recently reviewed the tape for the Washington attorney general's office, which is seeking to have Coe indefinitely committed as a violent sexual predator.
According to a report by the state's leading expert witness, psychologist Dr. Amy Phenix, Coe corresponded in prison with C.G., a Pullman-area woman whom he sent pornographic letters and a recorded tape.
It was consensual correspondence at first, but she got married and asked Coe to stop corresponding with her, Phenix's report says. Coe continued to write what she called "vulgar" letters and sent a pornographic tape he recorded in 1985 while masturbating in prison, according to her report.
The woman turned over the materials to the Moscow (Idaho) Police Department, which wrote a report June 26, 1985. Police there sent the evidence to the Spokane Police Department.
"The explicit sexual tape Mr. Coe recorded to send to Ms. G. contained significant information about his sexual interests," Phenix said in her report – bolstering the state's contention that Coe suffers from a mental abnormality and is fascinated with urine and feces during sex.
Williams described his lifelong friendship with Coe from when they were 10-year-olds through their careers as real estate agents. In fourth grade, Coe set a goal for the two friends, Williams said.
"We were to become as rich, handsome and healthy as we could – everything else was subjugated to those goals."
In the year before Coe's March 1981 arrest in connection with the South Hill rapes, Coe's personality began to change, Williams recalled. He was more remote, and their old childhood joke lines no longer were amusing to Coe, he said. Coe's work attendance was spotty.
"People started asking me, 'What's wrong with him?' " Williams said.
After his arrest, Coe asked Williams to lie for him and destroy evidence related to the South Hill rapes, Williams said.
"He asked me to go to the police and tell them I'd been working with him to try to catch the South Hill rapist," with Williams acting as a decoy dressed like a woman. "He said, 'I've been trying to catch him. I need you to go and verify that,' " Williams said.
Before Coe's 1981 trial, Williams said his friend asked him to testify as a character witness and gave him a two-page printout of what he was supposed to say. The traits he'd listed came from a book about psychopaths called "The Mask of Sanity," Williams recalled.
"He said these are the traits opposite a psychopath," Williams said.
While some actually applied to Coe, he said, others didn't, including a "joie de vivre" – an overall love of life.
"I told him I'd be unable to testify and attribute all those traits to him … . I told him I couldn't do it" because it would imply he agreed Coe was innocent, Williams said over objections from Coe's lawyers.
Williams said Coe also expressed disappointment that his sister's husband wouldn't testify on his behalf. He said Coe told him. "Curiously, my brother-in-law has some principle against lying."
Williams also told the jury that Coe instructed him to retrieve and destroy a dildo and a jogging jacket from an unoccupied house that had been for sale when Coe had hid the items in the basement.
"He said the police could construe these articles as evidence (Coe is) a rapist," Williams said.
Coe said he wanted the dildo "cut up into 100 pieces and spread over 100 lots," he added.
Williams entered the house and retrieved the dildo, which he described "as large as a loaf of French bread."
He said he tried to hide it under his sport coat and left the house.
"I was very uncomfortable with this. I tossed it in the first Dumpster," Williams said.
Also Monday, retired Spokane police Detective Roy Allen described his efforts to find the perpetrator of the South Hill rapes in the early 1980s.
Allen interviewed the 51-year-old woman raped at Hart Field on Feb. 15, 1981, and another woman raped the same year. Both have testified in the civil commitment trial.
Based on their descriptions, Allen said the perpetrator appeared to be a white male in his late 20s, about 6 feet tall and 170 pounds with a squarish jaw.
The methods used in the rapes were similar, Allen said. They both occurred early in the morning and both were outdoors. In both, the perpetrator was a stranger who rammed a gloved hand down the victims' throats and used "vulgar and obscene" words when he talked to the women, Allen said.
"After his arrest, and before you retired, did you learn of any other rapes that had those distinct MO features?" asked Assistant Attorney General Malcom Ross.
"No," Allen replied.
Allen said he tracked Coe's silver  Citation to Coe's house on 29th Avenue. In recent weeks, Coe had been identified by a young woman jogger as he flashed a large dildo at her near Avista's headquarters.
"It was felt we could not allow him to run free, so we decided to arrest him" on March 10, 1981, Allen said.
Staff writer Rick Bonino contributed to this report.
Local journalism is essential.
Give directly to The Spokesman-Review's Northwest Passages community forums series -- which helps to offset the costs of several reporter and editor positions at the newspaper -- by using the easy options below. Gifts processed in this system are not tax deductible, but are predominately used to help meet the local financial requirements needed to receive national matching-grant funds.
Subscribe now to get breaking news alerts in your email inbox
Get breaking news delivered to your inbox as it happens.
---