News > Features
Flood of evidence
Cheney author's book tells story of J. Harlen Bretz and his theory on our local scablands
Sun., Oct. 19, 2008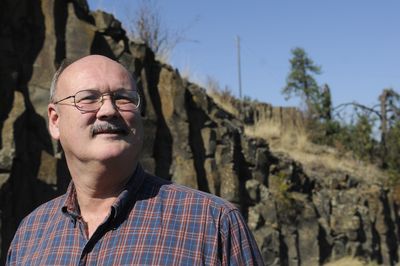 The story of J. Harlen Bretz is a story of the scientific process itself.
It's a tale of a man who believed what he saw, not what he was told, and made a case for a geological theory that went against the accepted notions of his day.
What makes Bretz unique is that he lived to see his eventual triumph – and redemption.
Cheney author John Soennichsen will present Bretz's story, which he tells in his book "Bretz's Flood: The Remarkable Story of a Rebel Geologist and the World's Greatest Flood," at 7:30 p.m. Wednesday at Auntie's Bookstore.
And the story that the 56-year-old Soennichsen (pronounced Sonic-son) tells is, to him, particularly gratifying.
"Typically when we hear stories of someone who has a theory and everyone rejects it, that person usually dies in poverty and never realizes that people are eventually going to come along to understand that he was right," Soennichsen says. "Here's one guy who, finally, during his lifetime it was realized that he was correct."
Bretz's triumph involved the now widely held theory that the so-called channeled scablands of Eastern Washington were caused by massive floods occurring between 12,000 and 18,000 years ago.
Though he lived a long life (1882-1981), it was in 1922 that Bretz first explored the scablands, a unique geological landscape that ranges from just west of Spokane to the Quincy Basin. It extends south from the confluence of the Spokane and Columbia rivers to the Wallula Gap, which sits near the intersection of the Columbia and Walla Walla rivers.
Here is how Bretz described what he saw: "Like great scars marring the otherwise fair face of the plateau are these elongated tracts of bare, or nearly bare, black rock carved into mazes of buttes and canyons. … The scablands are wounds only partially healed – great wounds in the epidermis of soil with which Nature protects the underlying rock."
At the time, most geologists adhered to a theory called uniformitarianism, a theory that held that slow natural processes were what formed the shape of the Earth. The idea of a great flood was just too close to a biblical prophecy for some scientists to accept.
"Rather than look at the signs and ask, 'What could have caused this?' as Bretz did, they said, 'We have to have some sort of theory that fits our formula,' " Soennichsen says. "So rather than look at the signs, and start thinking what could have caused this, as Bretz did, they did the opposite."
Soennichsen says that, at least at first, Bretz didn't want to accept the idea of a flood either.
"If you read some of his early documents, he tried very hard to convince himself that he was wrong," Soennichsen says. "That's probably why he did research as thoroughly as he did, because he didn't want to be right about this."
But Soennichsen persisted because what he saw over the course of years suggested something different. As Seattle Post-Intelligencer reporter Tom Paulson wrote in a 2006 story, "The evidence for this sudden, violent flooding is everywhere – lake-size potholes created by the mortar-and-pestle grinding of rocks in whirlpools, steep basalt cliffs bordering wide, flat channels, thousands of 'foreign' granite boulders that floods carried here from hundreds of miles away, and the megaripples."
Bretz's theory, which he put forth originally in a 1923 paper, was, at first, ridiculed. Part of his problem was that he could provide no source for the water that would cause such a catastrophic flood. It wasn't until J.T. Pardee, a geologist working for the U.S. Geological Survey, showed that the water could have come from a glaciated Lake Missoula, that people started listening.
By the 1950s, Bretz's theory had become the accepted version. By then, Soennichsen says, Bretz had become a professor at the University of Chicago and had gone on to other projects.
"I think after 10 or 12 years, he finally said, 'Hey, I've convinced myself, and I've got a small cadre of people who believe in me. That's enough. I can't spend my whole life on this,' " Soennichsen says.
It was shortly after finishing his first book, 2005's "Live! From Death Valley: Dispatches from America's Low Point" (Sasquatch Books, 192 pages, $22.95), that Soennichsen took the path that would lead him to tell Bretz's story.
All Soennichsen knew was that he wanted to work again in the nonfiction genre that he calls "landscape writing."
"It's sort of the literary equivalent of a landscape painting," he says. "I look at an area and write about its features, maybe it history and geology, maybe open up an area to people's imagination. That way, even if they don't go to it, they can maybe picture it."
Creating a picture is what Soennichsen wanted to do for the scablands. He'd read a couple of books that had mentioned Bretz's ice-age flood controversy, but, he says, "I didn't get a feel from either of what it was like to stand in a scabland channel at noon and it's a hundred and two degrees."
At his agent's suggestion, though, Soennichsen decided to concentrate on Bretz, which set him on a course of research that included poring over Bretz's own writings. It also involved his interviewing contemporary geologists, Bretz's students and even Bretz's relatives so he could find out "what they would say about him as a person."
Mostly, though, Soennichsen put his efforts into finding the right way to tell Bretz's story.
"I'm one of those nonfiction writers who thinks that a good nonfiction book has to have all the same elements as good fiction," Soennichsen says. "So that was the next step: What was the story? Is there a good setting for this thing? Is there a good storyline? Are there good characters?"
It doesn't take a scientist to see that he found gold lying there in those scablands, the kind of precious story that most Inland Northwest residents are completely unaware of.
"Here was this huge battle being waged, and the average person in those days wouldn't even had known that it was going on," Soennichsen says. "The extension of that is there is still a great proportion of people who actually live in this area where this geology happened who haven't a clue. So it's fun to be able to reveal something."
John Soennichsen is author of the online novel "Valley of the Shadow," which can be found at http://www.spokesmanreview. com/blogs/shadow.
Local journalism is essential.
Give directly to The Spokesman-Review's Northwest Passages community forums series -- which helps to offset the costs of several reporter and editor positions at the newspaper -- by using the easy options below. Gifts processed in this system are not tax deductible, but are predominately used to help meet the local financial requirements needed to receive national matching-grant funds.
Subscribe now to get breaking news alerts in your email inbox
Get breaking news delivered to your inbox as it happens.
---