News > Voices
Neighborhoods' inside man
Jonathan Mallahan is Spokane's new liaison officer
Thu., Oct. 23, 2008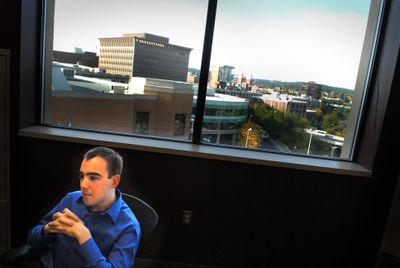 Spokane's neighborhood organizers are now calling on a new city liaison for help with traffic-safety projects, neighborhood cleanups, crime prevention and other activities.
The Spokane City Council last week confirmed Mayor Mary Verner's appointment of Jonathan Mallahan to the post of Neighborhood Services director.
It's a job that Mallahan said he is humbled to accept and one in which he sees himself as the employee of the hundreds of neighborhood activists in Spokane.
"My job is not to direct the neighborhoods. I don't set agendas for them," he said. "My job is to support the neighborhood councils and to put our neighborhood councils in touch with the people in City Hall they need to talk to to get things done."
Verner said she chose Mallahan because of the qualities he displayed working for the department.
"I'm very pleased that a young professional with the skills Jonathan exhibits is willing to stay in Spokane and take on this role of leadership in the Neighborhood Services Department," Verner said.
"What I bring to this job that may be different than others is an excitement about what we do here," Mallahan said.
Mallahan was born and raised in Birch Bay, Wash., near Bellingham and the Canadian border. He graduated from Gonzaga University in 2007 with a bachelor's degree in political science and a minor in philosophy.
He met his fiancée, Alison Moerschell, at Gonzaga. The pair will marry in Spokane next June at St. Aloysius Roman Catholic Church on GU's campus.
Gonzaga's Logan Neighborhood was Mallahan's first taste of urban life.
"I've always been a fan of the architecture in Spokane and the older homes," he said.
Mallahan has been serving as the interim Neighborhood Services director since July.
He first started working in the department as an intern in 2006 and was later hired as the local coordinator for the upcoming Neighborhoods USA Conference, which will be held in Spokane next year.
"The conference is just a phenomenal opportunity for Spokane," he said, adding that neighborhood leaders from across the country will be in town to share how they organize and improve their communities.
Many neighborhood council leaders said they haven't had direct dealings with Mallahan, but those who have were complimentary.
"He was always really, really helpful, and seemed very good at his job," said Claudette Ganger with the Balboa/South Indian Trail Neighborhood Council. "I just call him and bother him when I need something."
Colleen Dennis said she worked with Mallahan when she and other Lincoln Heights Neighborhood Council members were working to change the speed limit on 29th Avenue and on a street fair.
Dennis described Mallahan as a conscientious, hard worker.
"I know he has some pretty big shoes to fill," she said, "but we have high hopes."
Local journalism is essential.
Give directly to The Spokesman-Review's Northwest Passages community forums series -- which helps to offset the costs of several reporter and editor positions at the newspaper -- by using the easy options below. Gifts processed in this system are not tax deductible, but are predominately used to help meet the local financial requirements needed to receive national matching-grant funds.
Subscribe now to get breaking news alerts in your email inbox
Get breaking news delivered to your inbox as it happens.
---