News > Business
Officials promote University District
Fri., Oct. 24, 2008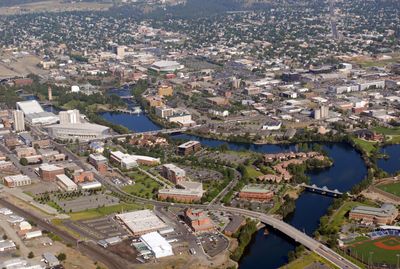 Even in tough economic times, the University District will be at the center of economic growth in Spokane, representatives of local government, universities and businesses asserted Thursday.
Officials touted recent efforts to implement a four-year-old strategic plan for the district, which they envision as a melting pot of academia and entrepreneurship. Avista Corp. has loaned an executive to serve as project manager, prioritizing potential projects and seeking sustainable funding. Both the city and Greater Spokane Inc. have pledged tens of thousands of dollars.
"It is precisely these times that challenge us to focus on our strengths and build the economic engine that will pull us out," state Sen. Chris Marr said at a news conference at Gonzaga University.
The roughly 600-acre zone encompasses the Riverpoint Campus, Gonzaga and private land near Gonzaga and south of Sprague Avenue.
Marr encouraged organizers "to engage in this arduous collaborative process that comes with dreaming big, and we know that there will be a lot of frustrations that come with that; we've already experienced that."
Officials hailed construction of buildings and additions to academic programs and a growth in students; the schools in the district serve more than 10,000 students.
"They are crossing the streets and walking everywhere," said the Rev. Robert Spitzer, Gonzaga's president. "And when they walk, they are purchasing."
In the near term, projects could include extending and rerouting Riverside Avenue as a pedestrian-friendly street and designing a footbridge linking the district to the area south of the tracks that sit north of Sprague. Organizers envision the bridge as a link to future private development across the tracks, possibly including student housing.
Officials hope to land $500,000 in federal money to pay for the bridge, said Melissa Wittstruck-Eadie, a city economic development planner.
The first phase of the Riverside realignment, expected to cost $5.7 million, is funded and should be done by 2010, said Gerald Gemmill, deputy director of the city's Public Works and Utilities Division.
The city will offer $30,000 a year for the next three years toward the district, and Greater Spokane Inc. has pledged $25,000 annually, said Spokane Mayor Mary Verner.
Kay Bachman, a former project management analyst in Avista's electrical engineering department, will serve as project manager for at least a year.
Local journalism is essential.
Give directly to The Spokesman-Review's Northwest Passages community forums series -- which helps to offset the costs of several reporter and editor positions at the newspaper -- by using the easy options below. Gifts processed in this system are not tax deductible, but are predominately used to help meet the local financial requirements needed to receive national matching-grant funds.
Subscribe to the Coronavirus newsletter
Get the day's latest Coronavirus news delivered to your inbox by subscribing to our newsletter.
---