News > Spokane
Black USO was hoppin'
Historical recognition sought for Division Street building
Tue., Oct. 28, 2008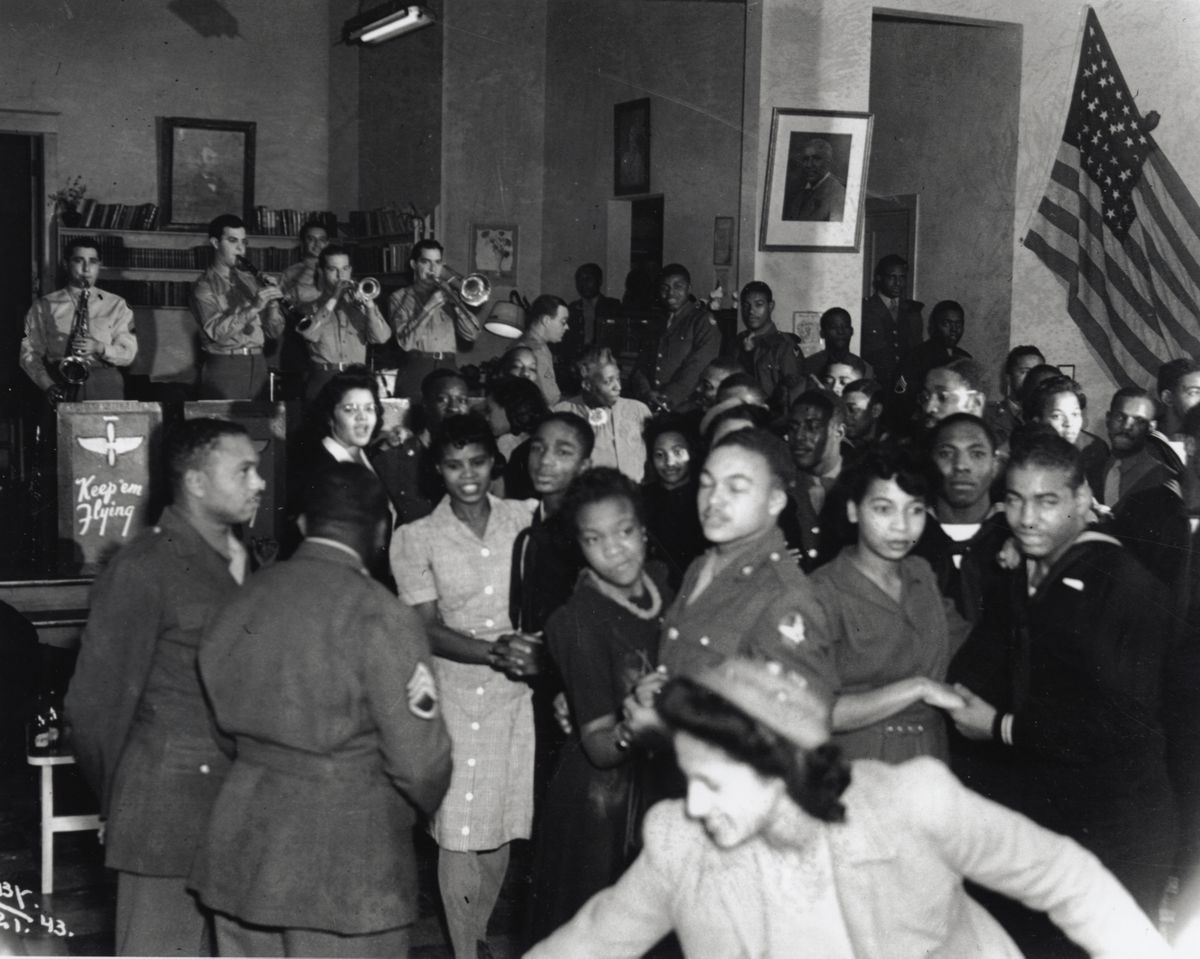 Eastern Washington Historical Society/Northwest Museum of Arts and Culture Guests dance to live music during the first year of the Carver USO in 1943. (Eastern Washington Historical Society/Northwest Museum of Arts and Culture / The Spokesman-Review)
During World War II and the years immediately after the war, minority soldiers in Spokane had few choices for entertainment.
But they could count on Spokane's black USO club as a place to go for a break from military life.
"They were young, but they weren't a rowdy bunch … really nice men to be around," recalled Doris Brown Aaron, one of the local girls who helped entertain the servicemen and -women in those years.
Mostly, they jitterbugged or Lindy-hopped to records and played penny poker or whist, a popular card game of the day. "The GIs used to love to play cards," Aaron said. On special occasions, they might have a live band.
Organized in 1943, the George Washington Carver USO at 101 S. Division St. hosted thousands of black and other minority service personnel.
Today, the building that housed the black USO stands empty. Washington Photo, a longtime business in Spokane that occupied the former USO building, closed its doors in August.
A leader in Spokane's black community wants the history of the building recognized and preserved, and has called for having it listed on the national or local registers of historic places to acknowledge the contributions of blacks and other minorities to the war effort.
"Nobody knows that much about the black contributions in this area," said Jerrelene Williamson, president of Spokane Northwest Black Pioneers. "A lot of people don't know about a second USO here."
The Carver USO was founded by Rosa D. Malone, a graduate of Alabama's Tuskegee Institute, who came to Spokane during the war as an employee of the federal Works Progress Administration. The club operated under the women's division of the National Catholic Community Service.
Williamson said she has memories of the club when she was a child. Often she would walk by it after church on Sundays and peek through the fence and see the uniformed men and their hostesses having fun in the yard.
"What went through my mind is they were out there fighting a war for us, and it was nice to see them up close," she said. "It was nice to see them and know we were being protected by them."
News accounts of the day focused on white troops, so having black soldiers at a USO in Spokane had the effect of confirming the contributions of blacks to the war, she explained.
Williamson recently contacted the president of the Spokane Preservation Advocates organization about preserving the history of the city's black USO, but SPA's role would be limited to working with the property owner, said its president, Gary Lauerman, in an e-mail to Williamson earlier this month.
Rob Leland, owner of the adjacent First Avenue Pharmacy, purchased the building last week. He said he plans to renovate the interior to accommodate his business, but that he had not yet considered any historic preservation efforts.
"We haven't dug into it for the pros and cons of it," he said of a possible historic listing.
According to newspaper accounts, the Carver USO had more than 85,000 visits in 1947. White soldiers had their own club in an era of segregation in the military. The white USO logged 170,000 visits in 1947.
Aaron said she and her two sisters, Peggy and Erma, would dress up in costumes like the Andrews Sisters, a popular white singing group during the war, and perform for the soldiers at the Carver USO Their father, Ernest J. Brown, operated the popular Harlem Club in Spokane, a nightspot from 1929 until it burned down in 1951.
Aaron, who now lives in Northern California, said she was 14 the first time she went to the club, which was well chaperoned and offered a safe environment for teenage girls. "They were very courteous," she said of the service personnel, which included a handful of women. "They hated to go back they were having such a good time."
Local journalism is essential.
Give directly to The Spokesman-Review's Northwest Passages community forums series -- which helps to offset the costs of several reporter and editor positions at the newspaper -- by using the easy options below. Gifts processed in this system are not tax deductible, but are predominately used to help meet the local financial requirements needed to receive national matching-grant funds.
Subscribe now to get breaking news alerts in your email inbox
Get breaking news delivered to your inbox as it happens.
---