Sports
No longer coaching, but happily involved
Tue., Sept. 9, 2008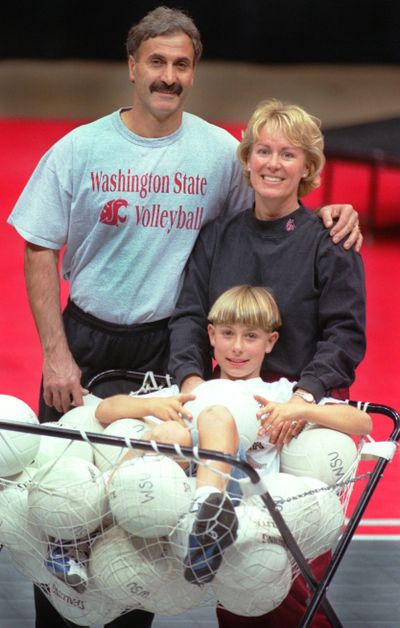 For someone who went from knocking on the door of the penthouse to, well, the outhouse – and then was displaced from her house – Cindy Fredrick sounds completely at ease.
Sure, she misses Washington State, which she took to within one match of a berth in the NCAA women's volleyball final four in 2002, and has second thoughts about going to Iowa for a dismal four seasons before she resigned last December.
"I'm back home," Fredrick said recently, "my home town, Waverly, Iowa."
Home where she can visit with her 83-year-old mother and drive 20 miles to see her son play college basketball – and move in with her brother when the floods came.
As the college volleyball season neared first serve, the former WSU and Iowa coach was busy in her office at the "W," the Wartburg-Waverly Sports and Wellness Center.
The facility serves Wartburg College as well as Waverly and surrounding Iowa communities. Fredrick is in charge of the community recreation program, which provides just enough stress to help her transition from big-time volleyball. If there is a youth sport to be played, she's trying to get kids to play it, along with coaches to coach it.
"The only pressure is making sure we get kids signed up, coaches signed up," she said. "For me, the reward is teaching college students how to be good instructors, good coaches, and working to give kids a good experience."
Fredrick left Pullman after the 2003 season with record of 278-192 and nine NCAA appearances in 15 years. The University of Iowa experience was different, to say the least. The Hawkeyes went 46-82 in four seasons, 9-71 in Big Ten play. Fredrick threw in the towel after a 1-19 league season.
"I think Washington State gives you more of a personal, family atmosphere than Iowa," she replied when asked to sum up the Iowa years. "The Big Ten seems to be a little more uptight. Volleyball in the Pac-10 is such an important sport and at Iowa it was not."
Had she known then what she knows now … "I may not have gone to Iowa," she added. "Now, looking back, my husband said it was not his favorite place."
But the move put her closer to home, where she is now perfectly content.
"I'm really surprised, but I don't (miss coaching)," she said. "It's been very enjoyable. After 34 years of something you'd think I'd really miss it. I always thought that was odd (when other ex-coaches said that) until now."
Her brother, who works at Wartburg, insisted she check out her present job.
"I was trying to figure out what I wanted to do, where I wanted to go," Fredrick said.
She looked at the position tied into the school where her father had worked for almost a quarter of a century and everything fell into place.
The only negative has been the devastating floods that hit Iowa this spring, forcing her family to move into her brother's house for an extended period.
"It gave us a tremendous appreciation for everything you have and what friends and family do for you," she noted.
Fredrick's husband and long-time assistant coach, Mashallah Farokhmanesh, is an assistant for the Wartburg Knights' volleyball program, and son Ali, a 6-foot point guard and junior college All-American basketball player, signed with Northern Iowa, 20 miles away in Cedar Falls.
"When I got into coaching I said I love this, this is what I want to do, but I always said I won't coach other people's kids at the expense of my own," Fredrick said. "I'm not willing to give up watching him. That was the driving force. Who knows, in two years I may make another decision."
If she looks for another coaching job, she'll compare it to her time in Pullman.
"We have great, great memories of Washington State," she said. "Pullman was a unique place; Washington State is a special place. That was a marvelous time. … Everybody was just wonderful; the people were the best."
But until it's time to make a decision, Fredrick is content to be a homebody.
Local journalism is essential.
Give directly to The Spokesman-Review's Northwest Passages community forums series -- which helps to offset the costs of several reporter and editor positions at the newspaper -- by using the easy options below. Gifts processed in this system are not tax deductible, but are predominately used to help meet the local financial requirements needed to receive national matching-grant funds.
Subscribe to the sports newsletter
Get the day's top sports headlines and breaking news delivered to your inbox by subscribing here.
---