News > Features
Filmmaker details worldwide water woes
Films aim to publicize the growing crisis of a lack of potable water
Sat., Sept. 13, 2008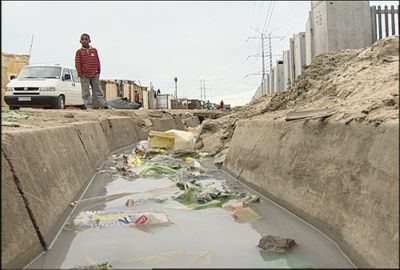 There's a problem with a liquid shortage that affects everyone in the world.
And we're not talking about oil.
According to documentary filmmaker Jim Thebaut, the problem is water. Thebaut will make his case in film, and in person, Monday and Tuesday at Gonzaga University's Martin Centre.
Thebaut will introduce his documentary "Running Dry," which is narrated by actress Jane Seymour, at 7:30 p.m. Monday. He'll do the same with his film "The American Southwest: Are We Running Dry?" at 7:30 p.m. Tuesday.
The showings are free and open to the public, though donations will be accepted (portions of the proceeds will go to The Chronicles Group and the "Running Dry" project). Thebaut, the films' writer, producer and director, will stick around to answer questions after each screening.
Thebaut's thesis is straightforward: The Earth is running out of potable water, and humankind is already suffering from the problem. In an interview with the Web site ecorazzi.com, Thebaut said, "Every six seconds a child dies due to a lack of clean water."
"If the United States understood what is happening globally, there would be a greater United States response," said U.S. Rep. Ed Markey, the Democratic chairman of the Energy Independence and Global Warming Committee. Markey made his statement while introducing the film during a Washington, D.C., screening in May.
"Our job is to raise the awareness, to educate the public, and I am very confident that we can pass the funding that can begin to guide the solutions," Markey told Roll Call, a newspaper that covers Capitol Hill.
According to Roll Call, Thebaut was prompted to make his documentaries after reading the late U.S. Sen. Paul Simon's book "Tapped Out." Simon's book, reported Roll Call, made Thebaut realize both how important the potential water shortage is and "that we need to have a massive public information program regarding this incredible issue."
A graduate of the University of Washington, Thebaut has produced other documentaries (including the 1992 HBO film "The Iceman Tapes: Conversations with a Killer").
For further information about the GU screenings, call (509) 313-6504. For more information about Thebaut, go online at www.runningdry.org.
Local journalism is essential.
Give directly to The Spokesman-Review's Northwest Passages community forums series -- which helps to offset the costs of several reporter and editor positions at the newspaper -- by using the easy options below. Gifts processed in this system are not tax deductible, but are predominately used to help meet the local financial requirements needed to receive national matching-grant funds.
Subscribe now to get breaking news alerts in your email inbox
Get breaking news delivered to your inbox as it happens.
---