News > Spokane
Albert Wilkerson Jr.
Sun., Sept. 21, 2008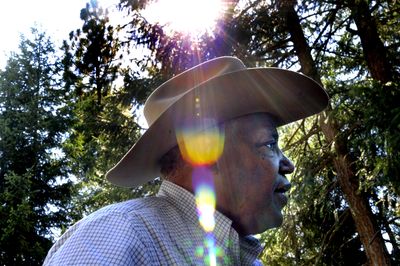 Horses first brought Albert Wilkerson Jr. to North Idaho.
The people, he says, made him want to return.
Wilkerson, 69, moved to North Idaho six years ago, shortly after the demise of the Aryan Nations. It wasn't long after he had visited the region for a horse clinic and had become acquainted with some of the area's civil rights leaders.
"When I first came here, my wife warned me," he said. "She said, 'You know where you're going? … You're going right into the home of the Aryan Nations.'
"I said, 'OK. That's OK with me. I've been around them all my life.' "
They often went by different names – the Ku Klux Klan or Night Riders – or by no names at all. Over the course of Wilkerson's life as a black man in America, he says, he encountered racism at every stage and all over the country. It's ironic, then, that the place he said first made him feel fully welcome is a place that's among the least diverse places around – Kootenai County, where 96 percent of the population is white.
"For the first time in my life, I felt that I was being treated as an equal," he said.
This year, Wilkerson has gotten involved for the first time in presidential politics – and he finds the candidacy of Barack Obama particularly inspiring. Wilkerson, who became active in Democratic politics, said he was a Dennis Kucinich supporter until he was persuaded by a fellow Democrat that Obama was the right candidate.
Wilkerson represented Idaho at the Democratic National Convention, which he calls one of the highlights of his life.
"I thought given the history of our country between the two races, this was just meant to be and we're ready for change," he said. "You're witnessing history here, and I'm witnessing history, and my 90-year-old mother – she's witnessing history."
Born in segregated Birmingham, Ala., Wilkerson left for the North with his family at age 6 after his father had a confrontation with a police officer. He grew up in Chicago and Detroit, and was well-versed in the kinds of bigotry he could expect when he enlisted in the recently desegregated Marines in 1953.
He served in Vietnam, and after leaving the service went into law enforcement and teaching over the next three decades. Throughout his life, though, he'd had an interest in horses – which stemmed partly from his father's interest in them during Wilkerson's childhood.
As a teenager in Detroit, Wilkerson had managed to buy and stable a horse. While serving in the Marines, he often rode horses from the stable at his base – though he was told by one sergeant that "colored folks don't ride horses."
"And I thought to myself, 'Boy, what a dummy,' " said Wilkerson.
Wilkerson's love of horses followed him through job changes and homes, until he moved to a wooded spot near Silverwood Theme Park in North Idaho. He's now got two horses and is looking into creating a riding program for children with terminal illnesses.
And he continues to admire the people who worked hard to send the neo-Nazis packing.
"I thought the people here were outstanding and brave and community-oriented," he said. "They didn't want this kind of stuff in their backyard."
Local journalism is essential.
Give directly to The Spokesman-Review's Northwest Passages community forums series -- which helps to offset the costs of several reporter and editor positions at the newspaper -- by using the easy options below. Gifts processed in this system are not tax deductible, but are predominately used to help meet the local financial requirements needed to receive national matching-grant funds.
Subscribe now to get breaking news alerts in your email inbox
Get breaking news delivered to your inbox as it happens.
---