News > Features
Spokane Garry
Chief Garry left a legacy in Spokane as a leader, peacemaker and educator. His life, though, devastated by outside forces and beaten down by age, was sadly tossed aside – much like his statue a century later
Sun., Sept. 21, 2008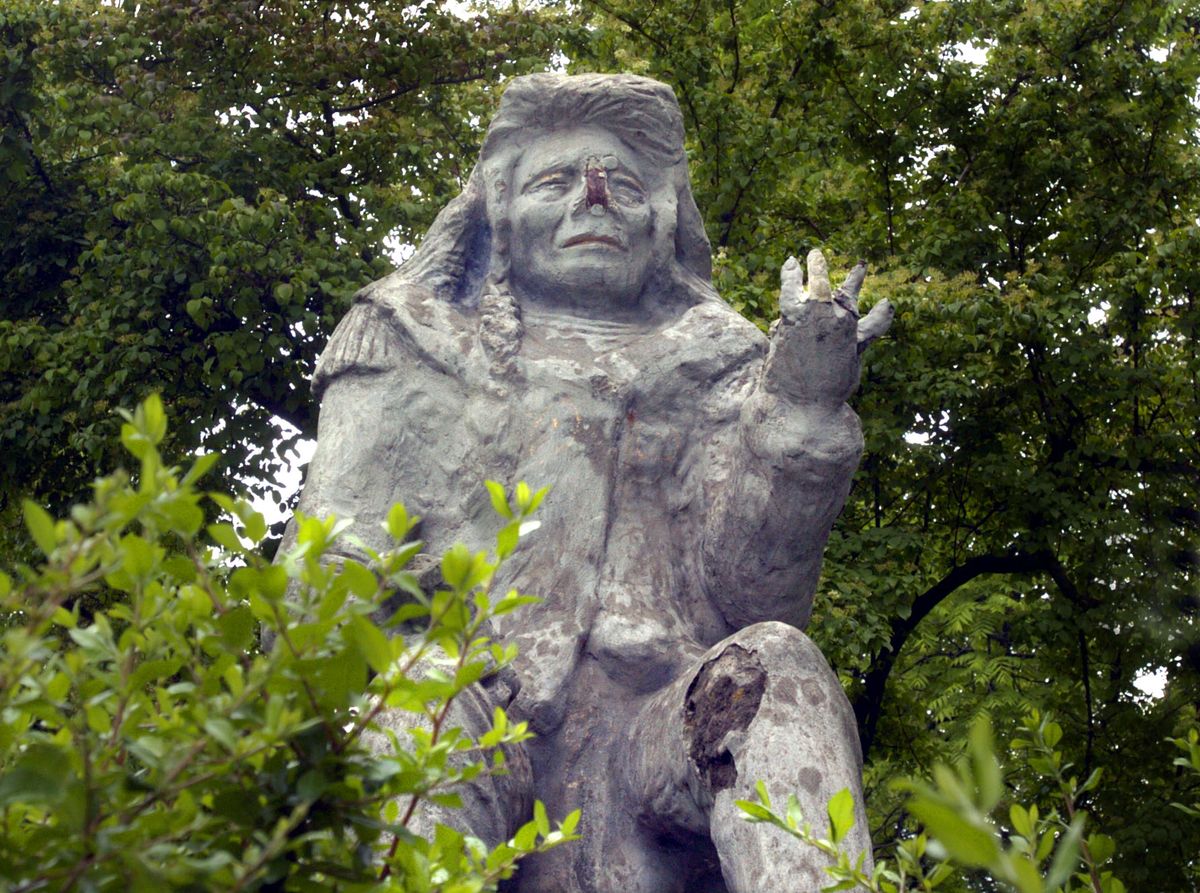 The statue of Chief Spokane Garry was taken down in May. (File / The Spokesman-Review)
Most of us  know exactly one thing about Chief Garry: His crumbling statue in Chief Garry Park was hauled away in May. Maybe you picked up a few other details as well: Spokane Garry, as he was also known, was a leader of the Spokane tribe through most of the 19th century; he spoke and wrote English fluently; and was a powerful advocate for peace and for a fair allocation of his tribe's ancestral lands along the Spokane River.
Yet who, exactly, was Chief Spokane Garry? Here's his remarkable, yet ultimately tragic story:
Spokane Garry was born around 1811, the son of Chief Illum Spokanee (sometimes spelled Illim or Illeeum), who gave his name to a tribe, a river and a city.
As for Garry, his original tribal name has been lost to time; he acquired this English name when he was only 14, through a remarkable set of circumstances.
Hudson's Bay Co. Governor George Simpson called all of the tribal chiefs together at Spokane House during an 1825 visit. He told the chiefs he wanted to send some Indian boys to be educated at the Red River Settlement's Anglican missionary school near present-day Winnipeg. Simpson's plan was that the boys would later return to their tribes and spread the ways of white civilization.
Illum Spokanee and a Kootenai chief surprised Simpson with an especially generous offer. They each offered to send one of their own children.
"You see, we have given you our children, not our servants, or our slaves, but our own," said one of the chiefs, quoted by a Hudson's Bay employee. "We have given you our hearts – our children are our hearts – but bring them back to us before they become white men."
So the chiefs' boys were baptized a few days later and given Christian names that would serve them well in their new lives. One was named Kootenai Pelly, after another Hudson's Bay governor and the other was named Spokane Garry, after Nicholas Garry, a director of the company.
They survived cold, floods and homesickness across the Canadian Rockies and the prairies. They arrived at the Red River Settlement and learned English and French, as well as math, agriculture and Christianity.
Noted botanist David Douglas (for whom the fir is named) visited Garry at the school and reported that Garry spoke English well and had "nearly forgotten his mother tongue."
Garry returned to the Spokane country in 1830, about 19 years old, having acquired habits that set him apart from many of his tribesmen.
"Throughout his life, Garry dressed in the costume of the whites, although preferring a blanket to an overcoat for wear in cold weather," wrote his early biographer William S. Lewis. "His family also dressed in the costume of the whites, and in the early days lived in considerable comfort, keeping on hand supplies of tea, coffee, sugar and flour, commodities which some few of the first white settlers in the vicinity did not always possess."
Yet Garry soon became influential among the Middle and Upper bands of the Spokane tribe. He was probably not the chief in the sense that his father had been – the chieftainship had passed to a different relative – but he was undoubtedly an important leader. He was especially crucial to the tribe's dealing with whites, because he spoke English and French so well.
He also tried to fulfill his obligation to spread Western civilization in the tribe. He taught new farming techniques and the tribe soon developed a reputation for being agriculturally advanced. He built a rough pole-and-mat schoolhouse near Drumheller Springs and taught some of his people to read and write English.
He also tried to spread Christianity, using the Bible and Book of Common Prayer he brought back from Red River. This met with less success. He later said he quit his religion teaching because the other Indians "jawed me so much about it."
In 1841, Simpson visited again and claimed that Garry had "relapsed into his original barbarism," although Garry remained a Protestant all of his life.
Most visitors were more generous in their assessment. Territorial Gov. Isaac I. Stevens met Garry in 1853 and reported that he was a "man of judgment, forecast and great reliability" as well as a man of "education, strict probity and great influence over his tribe."
Yet soon, he would find his relationship with the whites sorely tested. In 1855, Gov. Stevens called a meeting of tribal leaders at Antoine Plante's cabin on the Spokane River. Stevens was anxious to make peace because the Yakimas, Cayuse, Umatillas and Walla Walla were clashing with miners and settlers to the south and west. The Spokanes were disposed to peace, but alarmed over the encroachments by settlers and soldiers. Garry stood up at the council and said, "When I heard of the war, I had two hearts and have had two hearts ever since," said Garry. "The bad heart is a little larger than the good."
One of Stevens's proposals particularly alarmed Garry.
"When you first commenced to speak, you said the Walla Wallas, Cayuses and Umatillas were to move onto the Nez Perce reservation and the Spokane were to move there also," said Garry. "Then I thought you spoke bad. Then I thought you would strike to the Indians to the heart."
Garry and the Spokanes were deeply attached to their own land – they were not interested in being moved hundreds of miles to some other tribe's land. Garry put his displeasure in no uncertain terms, concluding with this request: "If you take the Indians for men, treat them so now."
Stevens backed off of the idea. Yet relations between the Indians and the soldiers continued to deteriorate. In 1858, soldiers under the command of Col. E.J. Steptoe crossed the Snake River and approached the spot near present-day Rosalia where Garry's band and several other tribes were digging camas roots. Garry rode up to Steptoe and told him his visit was deeply provocative.
Steptoe decided to withdraw, but before he could, hundreds of warriors from various tribes attacked. Some Spokanes attacked as well, despite Garry's apparent efforts to deter them. Garry himself later wrote, "They would not listen to me, but the boys shot at him; I was very sorry."
Garry lost stature in his tribe by, first, being unable to prevent an attack in the first place, and second, refusing to join his warriors once it started. Garry wrote angrily to Stevens that "like the fire in a dry prairie, it (war) will spread all over the country, until now so peaceful."
He was right about that. The Army launched a punitive expedition under Col. George Wright in late summer of 1858, striking deep into Spokane country. Wright defeated warriors at the Battle of Four Lakes between present-day Spokane and Cheney and a few days later in the Battle of the Spokane Plains.
Garry, by most accounts, did not take part in the fighting. He had gone on a supply trip to Fort Colville at the time. He told a white doctor at Fort Colville, "My heart is undecided. I do not know which way to go. My friends are fighting the whites. I do not like to join them, but if I do not, they will kill me."
In defeat, however, the tribe once again counted on Garry to try to make peace. Garry held a conference with Wright in which Wright demanded that all of the Spokanes lay down their arms and "trust to my mercy." A few days later, Wright rounded up between 800 and 900 horses belonging to various tribes and slaughtered them, as a way to render the Indians powerless.
Garry, by some accounts, watched somberly from the nearby hills. About two weeks later, Garry and another Spokane chief, Big Star, signed a peace treaty, which was more like a surrender. The war was over.
Garry spent most of the next three decades of his life farming on his own plot of land and patiently attempting to secure the only outcome that would preserve the culture and life of the tribe: A substantial reservation on their own ancestral lands.
His advocacy was so persistent that Gen. O.O. Howard said that Garry spoke like a lawyer and "knew how to filibuster like a congressman."
When the government established the small Spokane Reservation in 1881 on the far western edge of the tribe's territory, Garry, like many of the other members of Middle and Upper bands, had little interest in moving there.
"My tribesmen may go, but as for me, I will die first," Garry told a governmental commission.
In 1887, he made one last-ditch proposal: A reservation on both sides of the Spokane River, from the city of Spokane to Tum Tum. He was turned down.
Garry eventually signed a treaty which sent many members of the Upper and Middle bands to the Coeur d'Alene Reservation. Yet Garry himself stayed put on his farm, at the bottom of a hill just east of present-day Hillyard.
He was about 76 years old, but the final indignities still awaited. In 1888, when he went down to the Spokane River to fish for a few days, he returned to find a white settler had taken his farm. He ordered Garry to get out.
Garry had no choice but to load up his possessions and leave. When he came back to get a second wagonload, the settler had burned down the cabin, saying he "couldn't wait" because he wanted to plow the field.
He and his longtime wife, Nina, and his tiny band moved to Latah Creek, below today's Sunset Bridge. Young boys made sport by throwing rocks down on the old man's tepees.
Tired of the harassment, they moved to Indian Canyon, where a kindly landowner allowed him and his little family to camp. After a long decline, he died there on Jan. 12, 1892.
His estate consisted mostly of his Bibles and other religious books, some of which are now housed at the Northwest Museum of Arts and Culture. He also had a few cayuse ponies, which were stolen before the estate could be settled. He was buried in a pauper's grave at Greenwood Cemetery.
The Review eulogized him in high-flown terms: "Alas poor Garry! The story of his life, interwoven with that of the death of his people, might well be made a theme of poetry to endure long after the last Spokane has vanished from the land."
Yet the Spokanes did not vanish and neither did Garry's legacy.
"His legacy is that he was a peacemaker," said Jeanne Givens, a descendant of Garry, a former Idaho legislator and now an educator in Bellevue, Wash. "He always came down on the side of a peaceful resolution."
Part of his tragedy stems from being born at the most difficult of times.
"Buildings were going up all around him, and faster than he could imagine," said Givens. "I've often wondered what that was like for him."
Meanwhile, Garry's name lives on in the Chief Garry neighborhood, Chief Garry Park and in Garry Middle School.
That ill-fated statue in Chief Garry Park was erected in 1979, but it soon suffered the indignities of age. The concrete began to crumble and vandals broke off the fingers. In the process of removal this spring, it was reduced to a pile of rubble.
Chief Garry himself, like his statue, was ravaged by outside forces, beaten down by age, and ultimately tossed aside. Yet recently a grassroots drive – spurred by both the tribe and the Chief Garry neighborhood – has sprung up to commission a new, permanent monument in Chief Garry Park, to honor him as a leader, peacemaker and educator (see box on page D1).
If successful, Chief Garry will once again gaze out over the Spokane country.
This article was condensed from a longer essay written by Jim Kershner for HistoryLink.org, The Online Encyclopedia of Washington State History. Jim Kershner can be reached at (509) 459-5493 or by e-mail at
jimk@spokesman.com
.
Local journalism is essential.
Give directly to The Spokesman-Review's Northwest Passages community forums series -- which helps to offset the costs of several reporter and editor positions at the newspaper -- by using the easy options below. Gifts processed in this system are not tax deductible, but are predominately used to help meet the local financial requirements needed to receive national matching-grant funds.
Subscribe now to get breaking news alerts in your email inbox
Get breaking news delivered to your inbox as it happens.
---