A&E > Entertainment
Was it all a dream?
'La Traviata' unlike any other
Fri., Sept. 26, 2008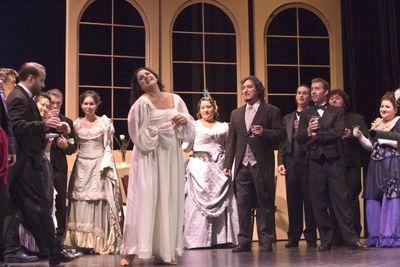 Coeur d'Alene's homegrown opera organization, Opera Plus!, tackles one of the most famous and most produced operas of all time this weekend – Verdi's "La Traviata."
And the director, Todd Robinson, promises that "you've never seen a 'Traviata' like this one."
Robinson said he is staging the first two acts as an extended dream sequence. Violetta, the beautiful courtesan, is on her death bed.
"Everything is a recollection and a dream," said Robinson, who is the Opera Plus! general director. "It's her last night on earth and she is dreaming about all of the good things and all of the bad things that have happened in her life."
Then in the third act, the action snaps back to reality.
"I'm really trying to focus on her as a human," said Robinson. "I don't like the celebration of her as a courtesan or prostitute, but we love her because she is human."
The sets will also contribute to the dreamlike feel. Huge windows are actually mirrors, reflecting the feeling that she is "trapped in her own mind and can't get out."
The story is archetypal (and later used in the films "Pretty Woman" and "Moulin Rouge," although loosely). A beautiful courtesan, Violetta Valery, and a respectable gentleman, Alfredo Germont, fall in love. They give in to their love, but she is forced to break off the affair because of the scandal it causes in Germont's family.
He believes she doesn't love him anymore. Romantic tragedy ensues.
In the Opera Plus! production, Christina Major sings the role of Violetta and Percy Martinez sings the role of Alfredo. Major and Martinez are a married couple, who have sung for opera companies all over the country. Jason Detwiler sings the role of Giorgio.
"La Traviata" was first performed in 1853 in Venice and although it wasn't quite as wildly popular as Verdi's previous "Il Trovatore," it was an immediate hit. It has since gone on to become one of the most frequently produced operas of all time, second only to Verdi's "Aida."
"And on smaller stages, it outstrips even 'Aida's' record, for it requires neither elephants nor brass bands to produce, but just fine singing," reports "The New Encyclopedia of the Opera,"
A free pre-opera lecture will be presented by Fred Glienna one hour prior to each performance.
Local journalism is essential.
Give directly to The Spokesman-Review's Northwest Passages community forums series -- which helps to offset the costs of several reporter and editor positions at the newspaper -- by using the easy options below. Gifts processed in this system are not tax deductible, but are predominately used to help meet the local financial requirements needed to receive national matching-grant funds.
Subscribe to the Spokane7 email newsletter
Get the day's top entertainment headlines delivered to your inbox every morning.
---