News > Features
Rock of aged
Young at heart and AARP-eligible, elderly performers still strut their stuff
Sun., Sept. 28, 2008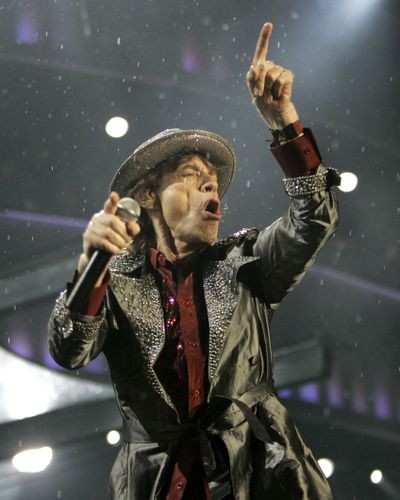 So there I was a couple of weeks ago, sitting in the office of my editor, when something on his desk caught my eye.
It was an ad for the show that the band Foreigner performed on Friday at Northern Quest Casino.
Actually, it wasn't the ad that attracted my attention so much as it was the group that was listed as a sponsor.
Perhaps you've heard of it. It goes by the initials AARP.
Or as it was known in its previous incarnation, the American Association of Retired Persons.
As in, the organization for persons age 50 and over.
And just that fast, I started laughing.
A rock-'n'-roll show being sponsored by an organization for grandparent-age people? Are you kidding me? Isn't that kind of like Pig Out in the Park being sponsored by Weight Watchers? Or the movie "Death Race" being underwritten by NASCAR?
Then I began to think about it: Hey, I'm AARP age. Why the hell am I laughing?
At that, I laughed even harder. Who says we baby boomers can't take a joke?
Fact is, rock wasn't intended for the gray-haired among us. It may have been exploited, but it certainly wasn't invented, by anyone close to collecting Social Security.
From the beginning, whether we're talking about Chuck Berry and Bill Haley or Little Richard and Elvis Presley, rock 'n' roll has represented the sound of youth. It's the sound of rebellion, of the rage that comes when surging hormones and a growing sense of personal power conflict with rigid authority.
Think of Eddie ("Summertime Blues") Cochran "gonna raise a fuss, gonna raise a holler" about demanding parents and abusive bosses. Or Presley who, along with "everybody in the whole cellblock, was dancin' to the jailhouse rock."
That feeling of rebellion continued into the 1960s, during the first British Wave, when bands such as The Rolling Stones, The Animals and later The Who brought their own sense of outrage to the American music scene – whether it was Mick Jagger singing about some woman being "under my thumb" or Roger Daltrey singing "I hope to die before I get old."
Rage and even revolution has lived on through other musical genres, too, from Motown (Marvin Gaye to Edwin Starr) to hip-hop (Public Enemy to Eminem), from country (Merle Haggard for rage, The Dixie Chicks for rebellion) to women singer/songwriters (Joan Jett to Alanis Morissette).
And folk music, of course, offered up its own blend of protest – with Bob Dylan leading the way toward creating a bridge between the folkies and rockers.
Rock, though, always has existed in its own unique environment. It, more than any other musical genre, is more closely tied specifically to youth. And therefore to sex.
And if there's something that we don't like to mix up in America, it's age and sex.
Take what Village Voice critic Camille Dodero wrote about the music documentary "Shine a Light," Martin Scorsese's coverage of a pair of 2006 Rolling Stones concerts. Her comments centered on lead singer Mick Jagger's trademark physicality.
The same Jagger who was born way back in 1943.
"Mick's cheek crevices may look like they could swallow a truck, and his 'Sympathy for the Devil' woooo-hooo may now sound like a dying crow, but that bafflingly tight stomach is a wondrous relic, impressive for any man of any age," Dodero wrote.
Imagine that.
Two recent documentaries focus on the idea of elderly types performing to music as if they were teenagers. "Young@Heart" and "Gotta Dance" both operate on a single conceit: Aren't these old people cute, trying to act so young?
The fact that both films have won mostly positive reviews demonstrates both their respective abilities to rise above the cliché and the contention that rebellion, in spirit if nowhere else, is hardly sole property of the young.
As Chicago Sun-Times film critic Nell Minow wrote, "It shows that no one has more reason to stick it to The Man with rock music than people who are most defiantly not going gently into that good night."
Yet aging rockers continue to be the targets of jokes. George Jartos' online cartoon "Aging Rockers" features a power trio of geriatrics standing on stage, instruments in hand. The lead guitarist points backstage and says, "And on backup …"
And there, in the spotlight, stands a trio of – hardy-har-har – nurses.
One thing is easy to see: Such comedy typically is expressed with a sense of unease. Few of us, it comes as no surprise, like to admit that we're getting old.
Steve Peake, a North Carolina-based writer who blogs about '80s music for the Web site About.com., commented on the AARP-Foreigner partnership with all the walking-past-the-graveyard humor of someone who was just reminded of something foreboding.
"The nonprofit lobby," Peake wrote about AARP, "which previously focused on American retirees, now seeks to represent all people over the age of 50, and yes, '80s music lovers, that group will soon include us all if it doesn't already."
That's especially true for Foreigner fans. The group, which is touring with Mick Jones as the only original member, released its first album in 1977. If you were 19 then, you are close to being 50 now.
That's plenty of incentive for AARP, which along with the overall tour is sponsoring an air-guitar and lip-sync competition as part of its own 50th-anniversary celebration.
"At AARP, we always try to connect with our members in fun and exciting ways, and this air guitar contest certainly fits the bill," said Emilio Pardo, AARP's Chief Brand Officer, on the group's Web site. "This is a great opportunity for our members and their families to unleash their inner rock star and celebrate our 50th anniversary with us in style!"
What constitutes style, of course, is always open to debate. And to members of my generation – the group that popularized, if not invented, the very notion of youth culture with '60s-era chants of "Never trust anyone over 30!" – that debate now feels a bit discomfiting.
Yet it doesn't stop us – shouldn't stop up – regardless of our ages, from moving with the music. And, clearly, for many it doesn't. Mary Lien, entertainment coordinator for Northern Quest Casino, says the casino books acts that "cater to our clientele." And that clientele, she adds, is mostly age "45 on up."
Which is why Foreigner rocked the place on Friday.
"Their music is timeless," Lien said. "I think if we didn't have an age limit on this (18 and older only), anyone would come in and enjoy it."
The same likely is true for many of the older performers who have appeared at either the casino or the Spokane Arena over the past couple of years. From former Beatle Ringo Starr to former Doobie Brother Michael McDonald, from Rick ("Jesse's Girl") Springfield to Donna ("She Works Hard for the Money") Summer, from Journey to Heart to Joan ("I Love Rock 'n' Roll") Jett.
"She just turned 50," Lien said of Jett. "Joan Jett just turned 50!"
Yeah. She celebrated her birthday on Monday.
Think she got a call from AARP?
Feel free to laugh.
Local journalism is essential.
Give directly to The Spokesman-Review's Northwest Passages community forums series -- which helps to offset the costs of several reporter and editor positions at the newspaper -- by using the easy options below. Gifts processed in this system are not tax deductible, but are predominately used to help meet the local financial requirements needed to receive national matching-grant funds.
Subscribe now to get breaking news alerts in your email inbox
Get breaking news delivered to your inbox as it happens.
---