News > Features
Hilton and pals have a birthday
Wed., April 1, 2009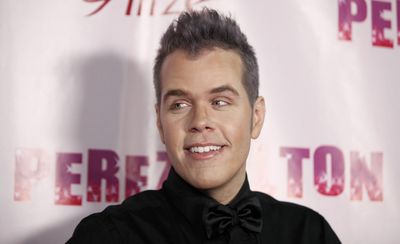 You have to wonder how gossip-slinger Perez Hilton does it. His site, perezhilton.com, regularly mocks celebs such as Jamie Kennedy and Jennifer Love Hewitt.
Yet when he threw his own 31st birthday party, a lot of famous people showed up, among them Christina Aguilera, the Jonas Brothers, Paris Hilton and Kim Kardashian.
Those were among some 200 well-wishers who attended Hilton's party Saturday night at the Los Angeles Viper Room nightclub.
"I'm not thrilled with the number 31," Hilton, whose real name is Mario Lavandeira, said on the pink carpet in front of the club. "But I am super excited that, right now, I'm happier in my life than I ever have been before."
Hilton bragged that the first gift he received was from "High School Musical" heartthrob Zac Efron.
"He sent me a bottle of champagne to my hotel room, which made me squeal like a little schoolgirl," he gushed.
As for conspicuously missing Kennedy and Love Hewitt, who recently announced that they're a couple, Hilton wrote this about Kennedy's recent bout with kidney stones:
"Somehow we blame the kidney stones on Love Hewitt. You know it's her fault one way or the other!"
Rourke back on the market
Continuing its Mickey Rourke watch, the New York Post reports that the Oscar-nominated star of "The Wrestler" is attracting mucho renewed attention from various hotties. First up was Bai Ling, and now comes Russian "model/pop star" Irson Kudikova. Seems Kudikova, 26, met Rourke during his Moscow shoots for "Iron Man 2," in which he plays a Russian gangster. Kudikova claims they're dating and about to be engaged.
Tough way to get street cred
Rapper T.I. (real name Clifford Harris) was sentenced in Atlanta Friday to a year and a day in prison on felony federal weapons charges. Harris, 28, was arrested in October 2007 and eventually pleaded guilty to attempting to buy unregistered machine guns and silencers. As part of his plea deal, he already has done more than 1,000 hours of community service (of about 1,500 required).
Caruso stalker heading home
David Caruso, star of "CSI: Miami," can breathe a little easier today. Heidimarie Schnitzer has been sent back to Austria. She was charged in 2007 with stalking (allegedly sending Caruso 100-plus letters) and threatening murder (he wouldn't sign an autograph). She skipped court back in Austria – and was arrested last month in Mexico.
Quotable quote
"As far as ghosts and the paranormal, something is happening to millions of people around the world, and you can't just write it all off as imagination." That's Virginia Madsen, star of the horror film "The Haunting in Connecticut," getting all theological about her new paycheck.
The birthday bunch
Actress Debbie Reynolds is 77. Actress Ali MacGraw is 71. Reggae singer Jimmy Cliff is 61. Jazz keyboardist Gil Scott-Heron is 60. Actress Annette O'Toole is 57. Country singer Woody Lee is 41. Rapper-actor Method Man is 38. Filmmakers Albert and Allen Hughes are 37. MSNBC host Rachel Maddow is 36.
Local journalism is essential.
Give directly to The Spokesman-Review's Northwest Passages community forums series -- which helps to offset the costs of several reporter and editor positions at the newspaper -- by using the easy options below. Gifts processed in this system are not tax deductible, but are predominately used to help meet the local financial requirements needed to receive national matching-grant funds.
Subscribe to the Coronavirus newsletter
Get the day's latest Coronavirus news delivered to your inbox by subscribing to our newsletter.
---
Subscribe and log in to the Spokesman-Review to read and comment on this story