News > Features
'Adventureland' all about amusement
Mottola's latest film centers on fictitious park in mid-1980s
Fri., April 3, 2009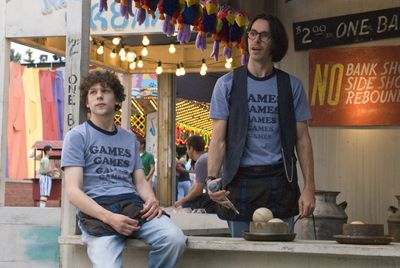 If you ever visited Adventureland amusement park in Farmingdale, N.Y., in the mid-1980s and failed to win that giant plushy prize, Greg Mottola – whose 1984 summer job there inspired his new film, "Adventureland" – may have an explanation.
"I remember vividly getting my training at the job and being shown how all the games are rigged," says Mottola, 44. "There was a sense like a magician's code: You're not supposed to give it away."
In the film, which opens today, idealistic college graduate James Brennan (Jesse Eisenberg, "The Squid and the Whale") finds himself reduced to working at a seedy amusement park where things aren't quite what they seem.
The basketball hoops have been hammered into subtle ovals, making it all but impossible to sink a ball, while at another game, bowler hats are firmly glued to the heads of dummies for guaranteed resistance to softballs.
Likewise, the heart of his co-worker Em Lewin (Kristen Stewart, "Twilight") proves difficult to win.
"Adventureland" is set in a fictitious park in Pittsburgh. Mottola notes that the Farmingdale location has been so dramatically renovated that it bears little resemblance to the place he remembers from the summer of 1984.
"Adventureland has changed completely, there's almost nothing left from when I was there," Mottola said. "It's a much more family-friendly place now."
That's one reason Mottola chose to shoot mostly in Kennywood, a historic Pennsylvania amusement park that has retained its yesteryear ambience.
He also fudged the year, setting the film in 1987 so he could include cherished songs like The Cure's "Just Like Heaven" and Falco's "Rock Me Amadeus." (Music for the original score was composed by the indie-rock trio Yo La Tengo.)
Fans of Mottola's first two films may recognize the blend of bittersweet autobiography and broad teen comedy that marks "Adventureland."
His 1996 debut, the satirical drama "The Daytrippers" (featuring Hope Davis, Liev Schreiber and Parker Posey), followed a dysfunctional Long Island family on an eventful drive into Manhattan.
His second, more famous film, "Superbad," was a super-crude comedy starring then-unknowns Jonah Hill and Michael Cera.
In a way, "Adventureland" strikes a middle ground between the two.
Mottola wrote the script after swapping "worst job" stories with a group of writers on Judd Apatow's short-lived show for Fox, "Undeclared" (Mottola directed several episodes).
"All the stories got laughs," he recalled, "and one of my friends said, 'You should really write about this.' "
The result is a gently satirical, ultimately affectionate portrait of a park and its people.
Bill Hader and Kristen Wiig, both of "Saturday Night Live," play the cheesy but good-hearted husband-and-wife managers; Ryan Reynolds stars as a handsome maintenance man with an eye for young girls; Martin Starr ("Superbad") plays an overeducated academic resigned to underemployment – the ghost of James' future.
Mottola also captures the cliques and hierarchies that develop among the young staff.
The cool girls wear acid-wash jeans and dance to Expose's "Point of No Return" while the outcasts chug fifths of liquor in the parking lot. A social divide separates the good-looking "rides guys" from the nerdier "games guys."
There are after-work parties, drunken hookups and the first stirrings of love in abandoned roller-coaster cars. Meanwhile, the customers come and go, unaware of the dramas raging behind the tent flaps.
To play Mottola's alter ego, Eisenberg said he spoke with the writer-director not only about his real-life experiences but about creating a sense of location.
"The park is really emblematic of this faded glory," Eisenberg said. "There's this extravagant public display, but right behind it is the gritty underbelly of the park, where the more romantic scenes take place. That's where the characters feel more at home."
Amusement parks are "a great metaphor," Mottola said. "They can be these really stupid, boring places – and then the sun can go down and a breeze can be blowing and an attractive girl can be talking to you and flirting a little bit.
"And a great song can come on, something you really love, on the loudspeaker. And with the twinkling lights, it can be a really beautiful place."
Local journalism is essential.
Give directly to The Spokesman-Review's Northwest Passages community forums series -- which helps to offset the costs of several reporter and editor positions at the newspaper -- by using the easy options below. Gifts processed in this system are not tax deductible, but are predominately used to help meet the local financial requirements needed to receive national matching-grant funds.
Subscribe to the Coronavirus newsletter
Get the day's latest Coronavirus news delivered to your inbox by subscribing to our newsletter.
---
Subscribe and log in to the Spokesman-Review to read and comment on this story