Former 'Psychic Network' Miss Cleo content with life away from TV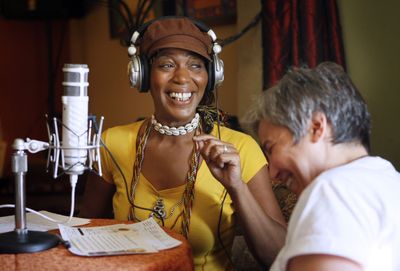 At a tiny, earth-toned coffeehouse in Lake Worth, Fla., the fliers advertise mediums and meditations. Wind chimes ring and dream catchers spin.
Seated at a table, a silver snake earring dangling from one ear, Miss Cleo says she couldn't be happier.
"I'm a proud voodoo woman," she says in the thick Caribbean accent that many late-night television viewers can well recall. "And I make no apologies to anyone."
Around the turn of the millennium, Miss Cleo was the face and voice of the Psychic Readers Network in TV commercials and infomercials across the country, many of which still live on at Web sites like YouTube.com.
Draped in colorful robes, she urged nighthawks to call in because "the cards never lie."
That lasted until the Florida-based Psychic Readers Network succumbed to a storm of lawsuits from consumers who said they were grossly overcharged.
Cleo, a spokeswoman but never the boss, was sued, too. But she was not found liable.
Since then, Cleo has found a new life. The woman also known as Youree Dell Cleomili Harris came out as a lesbian, released a spoken-word CD and started a radio show.
She is still recognizably Miss Cleo. It is the name people call out on the street when they see her and the name she uses in public, including on her Web site, www.the-real-mscleo.com.
During a recent interview, Cleo had moments much like those in the commercials, minus the incense. Her laughs were long and loud, and she peppered her sentences with "How delicious!" and "What a kick in the pants!"
She is taller than she seemed on TV – 6 feet, plus a few extra inches from her high-heeled shoes.
She has walked in the Florida AIDS Walk in Fort Lauderdale and emceed the PrideFest 2008 of the Palm Beaches.
At PrideFest, Cleo mocked her Psychic Readers Network past, said Julie Seaver, capital campaign manager with Compass Community Center in Lake Worth. (But she also made a donation to the PrideFest raffle – free readings for 10 people.)
Occasionally, Seaver said, she gets an e-mail Cleo sends to friends and clients, reminding them when dangers lurk in the cosmos – and that they should get their oil and tires checked.
"I love spending time with her," said Seaver. "I wish I could hire her, but she's too busy."
The same goes for Mother Earth coffeehouse owner Patti Lucia.
"As a person, when she is in the coffeehouse people feel that there is a comforting presence," Lucia said. "She is like a mom."
While Cleo is no longer on TV, she has managed to remain before the public.
She provided the voice for gang leader Auntie Poulet in the video game "Grand Theft Auto: Vice City"; released a spoken-word CD in 2007; and issued New Year's Eve predictions for the Chicago-based podcast Windy City Queercast.
And she still offers readings, priced from $75 to $250, although she doesn't call herself a psychic. Rather, she says, she is a voodoo priestess.
She talks at length about her life before "Miss Cleo," although some details remain shrouded in mystery.
She will not reveal her age, although a birth certificate for Youree Dell Harris uncovered during the Psychic Readers Network lawsuit indicates she was born in 1962 in Los Angeles.
As Cleo tells it, she was one of 10 siblings, many of whom had "the gift of sight."
She says she has been in three long-term relationships. The first, she says, was to a gay man who later died of AIDS. Together, they had two daughters, both now grown and on their own.
Two serious relationships with women followed. The second, in Seattle, where she produced local theater, turned abusive, Cleo says. She escaped it by moving to Florida in 1998.
Before long, she took a job as a call-taker for the Psychic Readers Network. She began as reader No. 16153.
"I did me," Cleo said, "And, apparently, it did very well for them."
When the state of Florida took the network to court, it also sued Cleo herself under a provision of the law that allowed spokespeople to be held liable. Dave Aronberg, at the time a lawyer with the Florida Attorney General's Office, led the state's case against her.
Aronberg, who went on to be elected to the Florida Senate, said his successor dropped the charges.
Of all the topics he brings up with constituents, he said, the Miss Cleo lawsuit remains a crowd favorite.
"Our names will always be joined in history," Aronberg said. "But I have a feeling her name will probably always be better known than mine."
---