Sports
Stockton headed for Hall of Fame
Mon., April 6, 2009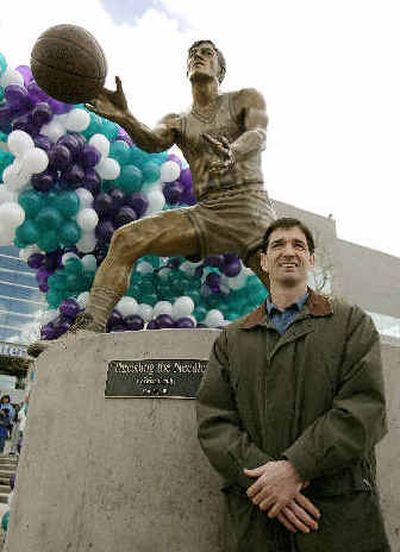 John Stockton completed a remarkable journey Monday – from the sometimes vicious driveway games with his brother Steve at the family's Spokane home on North Superior to the Basketball Hall of Fame. The 47-year-old Spokane native was part of a five-person Hall of Fame class announced in Detroit, site of the NCAA men's Final Four, that also included his long-time Utah Jazz coach, Jerry Sloan, and another somewhat well-known basketball figure – Michael Jordan. Former San Antonio Spurs center David Robinson and longtime Rutgers women's coach Vivian Stringer complete the 2009 class. The official induction is Sept. 10-12 in Springfield, Mass., home of the Naismith Memorial Basketball Hall of Fame. A standout player at both Gonzaga Prep and Gonzaga University, Stockton retired in 2003 as the National Basketball Association's all-time leader in assists and steals – and acclaim as one of the best pure point guards in basketball history. "There is nobody that can distribute the ball, plus lead his team, like John Stockton," said former Los Angeles Lakers great Magic Johnson when Stockton was on the verge of breaking the assists record in 1994. "He is the best at it." Stockton spent his entire NBA career – 19 seasons – with the Jazz, finishing with 15,806 assists and 3,265 steals, and coming up just shy of 20,000 points with 19,711. He also holds NBA records for most assists in a season (1,164 in 1991) and highest assist average in a season (14.5 in 1990). He remains more than 5,000 assists ahead of the next player on the NBA career list, Mark Jackson. And yet he was a "Who's that?" pick in the 1984 NBA draft, when the Jazz made him the 16th selection of the first round. "The best thing about the draft," he said that day, "was watching the guys on TV flipping through their notes trying to find out something about me." At Gonzaga, he had been the West Coast Conference player of the year in 1984 and later that year was one of the final players cut by coach Bobby Knight from the roster of the U.S. Olympic team — a void in his resume he would fill by playing on the first two Dream Teams featuring professional players that won Olympic gold in 1992 and 1996. Stockton appeared in 10 NBA All-Star Games and in 1996 was selected one of the 50 greatest players in history as part of the league's anniversary celebration, and yet somehow managed to keep a relatively low profile – due in part to playing in a smaller media market like Salt Lake City and on a team with another, more voluble superstar, Karl Malone. He'll even go into the Hall of Fame in something of a shadow, with Jordan headlining the 2009 class. Jordan's soaring dunks, Nike commercials and "Air Jordan" nickname helped stamp him as one the most recognizable athletes around the world. He finished a 15-year career with the Chicago Bulls and Washington Wizards with 32,292 points — the third-highest total in league history, behind Kareem Abdul-Jabbar and Karl Malone. His final career average of 30.12 goes down as the best, just ahead of Wilt Chamberlain's 30.07. The five-time NBA MVP won six championships with the Bulls and another in college with North Carolina. The Tar Heels play Michigan State in the national championship game Monday night. Jordan retired twice during his career. He first came back to the Bulls in 1994 and won three more championships before retiring again in 1998. He then had an ill-fated two-year stint with the Washington Wizards before calling it quits for good in 2003. Robinson, who earned the nickname "The Admiral" from his college career at Navy, joined Stockton and Jordan as members of the NBA's 50th anniversary team. He had a stellar 14-year career with the San Antonio Spurs that included two NBA championships, an MVP season, a rookie of the year award, 10 All-Star selections, a scoring title and two Olympic gold medals. Sloan is the longest tenured head coach in major league sports with a single franchise. A two-time All-Star during his playing days with the Bulls, Sloan is the only NBA coach to win more than 1,000 games with a single team. He has the Jazz in seventh place in the Western Conference standings going into Monday night's games. Stringer has led three separate teams to the Final Four in her 38-year career and has an 825-280 mark spanning four decades. She trails only Pat Summitt and Jody Conradt on the victories list. Stringer guided Rutgers to its fifth straight regional semifinals trip this season.
The Associated Press contributed to this report.
Local journalism is essential.
Give directly to The Spokesman-Review's Northwest Passages community forums series -- which helps to offset the costs of several reporter and editor positions at the newspaper -- by using the easy options below. Gifts processed in this system are not tax deductible, but are predominately used to help meet the local financial requirements needed to receive national matching-grant funds.
Subscribe to the sports newsletter
Get the day's top sports headlines and breaking news delivered to your inbox by subscribing here.
---
Subscribe and log in to the Spokesman-Review to read and comment on this story