Sports
Bone accepts WSU offer
Portland State coach will replace Bennett
Mon., April 6, 2009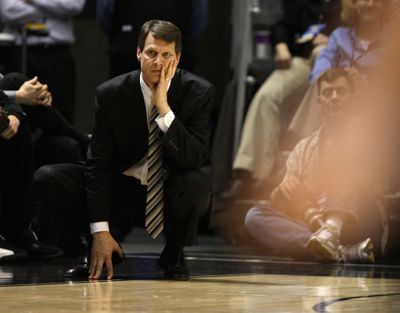 PULLMAN – The last time Washington State University went searching for a basketball coach, athletic director Jim Sterk shocked everyone by plucking Dick Bennett out of retirement in the Midwest. When it came time to hire someone to replace Bennett's son Tony, Sterk went in the other direction, literally and figuratively, hiring Portland State's Ken Bone, seemingly the frontrunner from the moment Tony Bennett announced he was leaving for the University of Virginia. "He's the right guy for us," said a WSU source that asked for anonymity because he was not authorized to speak on the hire. "He's a good fit here." Bone will be formally introduced as the 17th men's basketball coach in WSU's history at a 1:30 p.m. press conference today in Pullman. But his pursuit was obvious from last Monday, when Bennett shocked the campus with his decision to leave. At a press conference that night, Sterk admitted he had already contacted PSU for permission to talk with Bone. Earlier this week, WSU senior-to-be Nik Koprivica praised Bone. "I like their style, definitely," Koprivica said then. "They went to the NCAA Tournament this year which tells me that program is really good. They've gone to the tournament two years in a row so that says their coach is really good. "Their players love him and I think he's a great coach." The Cougars will return two freshmen that were named to the Pac-10's All-Freshmen team in guard Klay Thompson and forward DeAngelo Casto. The two, along with freshman guard Marcus Capers and Koprivica were part of the main rotation in the 17-16 season. Washington State also has inked four recruits, including Xavier Thames, a 6-foot-3 point guard from Elk Grove, Calif. "We had a feeling going in that he was a real strong candidate," Thames' dad Ray said of the selection. "Xavier is looking forward to talking with coach Bone and exploring his options." Thames also said the status of assistant coaches Ron Sanchez and Ben Johnson would play a part in his son's decision whether to ask out of his letter of intent to WSU. Sanchez and operations assistant Ronnie Wideman have been offered positions with Bennett at Virginia, though their decisions have not been officially announced. And the future status of current assistants Johnson, Matt Woodley and operations director Mike Heideman is still unsettled. "Given the success of the program I think there's a good chance some of the assistants will be retained," Sterk said earlier this week. Bone, 50, is a Northwest native who has spent almost his entire playing and coaching career in the region. Since being named the head coach at Portland State of the Big Sky Conference prior to the 2005-06 season, Bone's Vikings have posted a 77-49 record. The past two seasons have been especially productive for PSU, with 23 wins in each – setting a school record – and both culminating in NCAA Tournament berths. The Vikings lost in the first round each season. Last season they posted the school's first upset of ranked foe, stopping No. 7 Gonzaga 77-70 in Spokane. Before taking over at Portland State, Bone spent three years as an assistant at the University of Washington under coach Lorenzo Romar. During Bone's stint at UW the Huskies won a Pac-10 title and reached the Sweet 16. A majority of Bone's career was spent at his alma mater, Seattle Pacific University, a Division II school. In his 12 years as head coach at SPU, his Falcons posted a 253-97 record, won six Pacific West Conference titles and appeared in the NCAA Tournament eight times. Before coming to Seattle Pacific as an assistant, Bone worked at Bremerton's Olympic Junior College, Cal State Stanislaus and at Shorecrest High, where he attended high school. His brother Len was the head coach at University High in the Spokane Valley and is now at Snohomish High. With Bone's hire, Sterk has dipped into the Big Sky Conference for his last two major hires, having plucked football coach Paul Wulff from Eastern Washington University in Dec. 2007.
Local journalism is essential.
Give directly to The Spokesman-Review's Northwest Passages community forums series -- which helps to offset the costs of several reporter and editor positions at the newspaper -- by using the easy options below. Gifts processed in this system are not tax deductible, but are predominately used to help meet the local financial requirements needed to receive national matching-grant funds.
Subscribe to the sports newsletter
Get the day's top sports headlines and breaking news delivered to your inbox by subscribing here.
---