News > Business
Airplane storage yards filling
Drop in passenger numbers have airlines reducing their fleets
Tue., April 7, 2009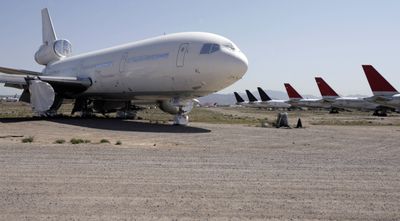 MARANA, Ariz. – Old jets come here, empty engine pods shrink-wrapped in white, tall red tails fading to pink in the desert sun. More will come soon. Some will never fly again.
Airlines have announced plans over the past year to take 1,700 planes out of service as fewer people fly. United Airlines is retiring all 94 of its Boeing 737s by the end of this year, and Northwest Airlines has cut its old DC-9 fleet by about a third.
The number of planes in storage has jumped 29 percent in the past year to 2,302, according to aerospace data firm Ascend Worldwide. That includes 930 parked by U.S. operators alone.
Eventually, some will be sold, some scrapped, some will sit at desert facilities in Southern California, Arizona and New Mexico. But at the moment, their number is growing faster than expected. The banking crisis has made it very difficult to get loans to buy aircraft, and the drop in commodity prices has gutted their scrap value.
That makes for busy times at facilities like Evergreen Maintenance Center near Marana. Its super-sized hangar fits a 747, and there are plenty of active planes on hand, including one 747 used to test Pratt & Whitney engines and another converted to fight forest fires.
But outside there's a ghost fleet of 204 parked planes. Some of Northwest's retired 747s are here. Planes from defunct ATA Airlines, 767s from Air Sahara and MaxJet, and a hodgepodge of other airlines from around the world are here, too.
The people who run these facilities chafe at the idea that they're groundskeepers in a graveyard. While Evergreen scraps roughly 15 planes a year, most of the stored planes still get checks, extensive record-keeping and federally mandated maintenance that will let them return to service if travel demand and the price of jet fuel cooperate in the future. Storing a 747 with the required maintenance checks costs $60,000 a year at Evergreen, half that for a smaller jet.
Steve Coffaro, vice president of marketing and sales at Evergreen, points all this out with pride as he drives around the airfield here, focusing on the company's ability to return these planes to the air safely. Out the left window: planes that could fly again. Out the right: the scrap area, with the lower half of a fuselage standing upright, 20 or so rows of seats exposed, tray tables dangling open.
The deserts in the U.S. Southwest have become one of the top destinations for airliner storage because of the perfect combination of cheap land as far as the eye can see and a dry climate that preserves the planes. Planes deteriorate quickly in high humidity.
While the airline downturn is bringing some relatively new planes to the desert, most are old workhorses.
Northwest Airlines DC-9 No. 9918 is one of those. The plane was delivered new to Minnesota-based North Central Airlines on Oct. 25, 1973, according to Ascend. It stayed in the fleet when North Central was swallowed by rival Republic Airlines in 1979, which was absorbed by Northwest Airlines in 1986.
No. 9918 made 47 flights in the first 10 days of July 2008 to destinations from Grand Forks, N.D., to New York's LaGuardia. On July 10 at 7:21 a.m. it took off from Traverse City, Mich., and flew its last paying passengers to Minneapolis, according to FlightAware. By the end of that day it was parked at Marana.
Now, like all the stored planes here, its two engine pods are empty so they can be wrapped separately and preserved for resale. The windows are covered to keep out the sun.
Inside, the plane looks ready for paying passengers again. Clear plastic sheets shield the blue seats from dust. Two blue blankets are still in the overhead bins. In the cockpit, orange tags dangle from some of the instruments and electronics, noting what has been removed and when they were last checked.
Mechanically speaking, the only thing standing between the Wild Blue Yonder and No. 9918 are new engines, some cockpit electronics and a thorough inspection. Coffaro says planes like this can be used for short-haul flights in Venezuela or Brazil. But the old red-tailed workhorse could also bleach like a cattle skull in the desert until it's turned into soda cans or iPod cases.
An airliner that's been stripped of valuable parts like the cockpit, the landing gear, and the doors can still yield as much as 80,000 pounds of aluminum.
Local journalism is essential.
Give directly to The Spokesman-Review's Northwest Passages community forums series -- which helps to offset the costs of several reporter and editor positions at the newspaper -- by using the easy options below. Gifts processed in this system are not tax deductible, but are predominately used to help meet the local financial requirements needed to receive national matching-grant funds.
Subscribe to the Coronavirus newsletter
Get the day's latest Coronavirus news delivered to your inbox by subscribing to our newsletter.
---
Subscribe and log in to the Spokesman-Review to read and comment on this story