News > Nation/World
In Turkey, Obama reassures Muslims
President says U.S. 'not at war with Islam'
Tue., April 7, 2009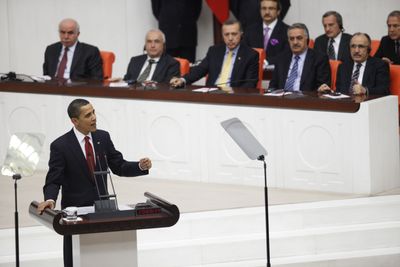 ANKARA, Turkey – President Obama made his most direct outreach to Muslims around the world Monday, telling Turkey's Grand National Assembly that the United States "is not and never will be at war with Islam."
"Our partnership with the Muslim world is critical in rolling back a violent ideology that people of all faiths reject," Obama told the assembly. "The future must belong to those who create, not those who destroy. That is the future we must work for, and we must work for it together."
Obama's speech focused primarily on the U.S. relationship with Turkey. But he also used it as a chance to continue his outreach to Muslims and to signal an approach to the region based more on pragmatism than ideology.
During his campaign, Obama consistently downplayed connections to Islam, rarely mentioning his middle name, Hussein, or his childhood years in an Indonesian state school. The tactic helped fuel false Internet-driven rumors that Obama, a Christian, had once been Muslim. But in his appearance Monday, the president noted the contributions that Muslim Americans have made to the United States, saying that many Americans "have Muslims in their family, or have lived in a Muslim-majority country."
"I know," Obama said, drawing applause from the lawmakers, "because I am one of them."
Obama's message to Muslims echoed President George W. Bush, who frequently praised Islam as a religion of peace and humanitarian values that had been distorted by extremists who killed in its name. But Bush's invasion of Iraq, imprisonment of Muslims at Guantanamo Bay, isolation of Iran, and support for Israel in its relations with the Palestinians and in the war with Hezbollah made many in Islamic nations believe that his administration was hostile to their religion.
Obama has reached out to Iran, ordered the closing of the military prison at Guantanamo Bay, and taken an early interest in resolving the Israeli-Palestinian conflict with the appointment of a Middle East envoy. His aides have outlined a new approach to Muslim countries that would reach beyond confronting terrorism to include a set of mutual interests on trade, education and health care.
Local journalism is essential.
Give directly to The Spokesman-Review's Northwest Passages community forums series -- which helps to offset the costs of several reporter and editor positions at the newspaper -- by using the easy options below. Gifts processed in this system are not tax deductible, but are predominately used to help meet the local financial requirements needed to receive national matching-grant funds.
Subscribe now to get breaking news alerts in your email inbox
Get breaking news delivered to your inbox as it happens.
---