News > Spokane
Local legend makes national Hall of Fame
Tue., April 7, 2009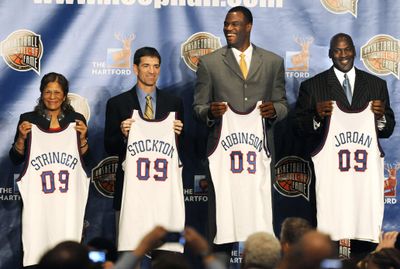 John Stockton completed a remarkable journey Monday – from the sometimes vicious driveway games with his brother Steve at the family's Spokane home on North Superior to the Basketball Hall of Fame.
The 47-year-old Spokane native was part of a five-person Hall of Fame class announced in Detroit, site of the NCAA men's Final Four, which included another slightly known basketball contemporary: Michael Jordan.
Their selection by the hall's Honors Committee in their first year of eligibility was widely expected, and yet neither admitted to any sense of anticipation.
"You and I would look at Michael as a shoo-in," said Stockton in a telephone interview from Detroit, "but he said he hadn't thought about it, and really it doesn't strike home until you're standing here. It's not why any of us play. It wasn't a goal, but here it is.
"It's a tremendous honor, but at the same time it's not as immediate or tangible as winning."
Joining Stockton and Jordan in the Class of 2009 was a fellow member of the original U.S. Olympic "Dream Team," David Robinson, and two revered coaches – C. Vivian Stringer of Rutgers and Stockton's long-time Utah Jazz coach, Jerry Sloan.
"I think it's great he's being honored, period, independent of the fact that I'm there with him," said Stockton, who remains close with the man who has the longest current tenure as a head coach with a single franchise in any of the major league sports. "I have such great respect for him and what he's stood for and what he does for the game on a daily basis still."
The official induction is Sept. 11-12 in Springfield, Mass., home of the Naismith Memorial Basketball Hall of Fame.
A standout player at both Gonzaga Prep and Gonzaga University, Stockton retired in 2003 as the National Basketball Association's all-time leader in assists and steals – and acclaim as one of the best pure point guards in basketball history.
"There is nobody that can distribute the ball, plus lead his team, like John Stockton," said former Los Angeles Lakers great Magic Johnson when Stockton was on the verge of breaking the assists record in 1994. "He is the best at it."
Stockton spent his entire NBA career – 19 seasons – with the Jazz, finishing with 15,806 assists and 3,265 steals, and coming up just 289 points shy of 20,000. He also holds NBA records for most assists in a season (1,164 in 1991) and highest assist average in a season (14.5 in 1990).
He remains more than 5,000 assists ahead of the next player on the NBA career list, Mark Jackson.
And yet he was a "Who's that?" pick in the 1984 NBA Draft, when the Jazz made him the 16th selection of the first round – long before Gonzaga registered on the national basketball radar.
"The best thing about the draft," he said that day, "was watching the guys on TV flipping through their notes trying to find out something about me."
At Gonzaga, he had been the West Coast Conference player of the year, and later in 1984 was one of the final players cut by coach Bobby Knight from the roster of the U.S. Olympic team – a void in his resume he would fill by playing on the first two Dream Teams that won Olympic gold in 1992 and 1996.
Stockton appeared in 10 NBA All-Star Games and in 1996 was selected one of the 50 greatest players in history as part of the league's anniversary celebration. The Jazz never had a losing season with him in the lineup and reached the NBA Finals in 1997 and '98, falling both times to Jordan's Chicago Bulls.
"He wasn't just a great player," said former Jazz coach Frank Layden, who drafted Stockton, "he was the catalyst for what this organization was going to be."
Yet somehow Stockton managed to keep a relatively low profile – a combination of his own reticence, playing in a smaller media market like Salt Lake City and sharing leadership with another, more voluble superstar, Karl Malone.
And maybe his Spokane roots played a part in it, too.
Upon his selection, Stockton said that his first thoughts were of "all the people who have played a part in helping me throughout life – family, coaches, teammates, everyone. That's a debt I can't repay."
Except in most respects, he already has.
"For all his ability and as great a player as he became," said his high school coach, Terry Irwin, "his mental makeup and the work he put in were such a reflection of his upbringing. He was so darned competitive, which was something he learned at an early age – playing against his brother in the driveway.
"The shocking thing was that he was able to play better at every level as he went along, to where he was playing with the best in the world. I don't think anyone could predict that would happen."
Stockton becomes the third sports figure born and raised in Spokane to be inducted into one of the three major halls of fame, joining Ryne Sandberg (baseball) and Ray Flaherty (football). Racing great Tom Sneva is a member of the Motorsports Hall of Fame.
Local journalism is essential.
Give directly to The Spokesman-Review's Northwest Passages community forums series -- which helps to offset the costs of several reporter and editor positions at the newspaper -- by using the easy options below. Gifts processed in this system are not tax deductible, but are predominately used to help meet the local financial requirements needed to receive national matching-grant funds.
Subscribe to the Coronavirus newsletter
Get the day's latest Coronavirus news delivered to your inbox by subscribing to our newsletter.
---
Subscribe and log in to the Spokesman-Review to read and comment on this story