News > Nation/World
New Air Force tanker competition slated for summer
Tue., April 7, 2009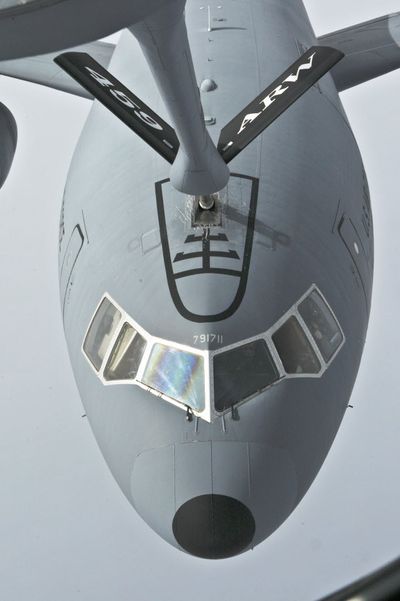 WASHINGTON — Defense Secretary Robert Gates plans to try again this summer to pick a defense contractor to build a badly needed replacement for the Air Force's 50-year-old fleet of aerial refueling planes. But after nearly a decade of failed attempts, many of the factors that hobbled previous tries persist: There's heavy influence from members of Congress worried about jobs in their districts and a fierce rivalry between plane makers Northrop Grumman Corp. and Boeing Co. over the $35 billion contract for 179 planes. In releasing his fiscal 2010 spending plan Monday, Gates indicated he is wary of pitfalls that doomed past contracts, saying he plans a fair competition that could withstand the legal challenges that overturned an award last year. Some powerful lawmakers have proposed splitting the job between Boeing and Northrop to speed up production. And with the current fleet of KC-135 jets entering old age, the pressure to start building new planes, also known as tankers, has grown more intense. "It has got to work," said Todd Harrison, a defense budget analyst at the Center for Strategic and Budgetary studies in Washington. "The tankers have got to be replaced." Gates canceled the last competition between Boeing and the team of Northrop and Airbus parent European Aeronautic Defence and Space Co. in September, saying he wanted to let a new administration decide the politically thorny issue. That decision was the latest delay in the tortured life of the tanker replacement program. A plan to lease planes from Boeing was halted in 2003 and a top Pentagon official went to jail for favoring the Chicago-based company. A contract award to the Northrop-EADS team last year was overturned after the Government Accountability Office concluded the Air Force unfairly penalized Boeing's smaller plane. Gates imposed a "cooling off" period in the fall to quell the rancorous dispute in Congress and the defense industry. Under his plan, the Pentagon would issue guidelines for a new plane and solicit bids this summer. A Pentagon spokesman on Tuesday said there was no timeline yet for the new bidding. Gates said Monday that a decision could withstand a legal challenge if "we structure this fairly and we carry out the process by our own rules." He also rejected a proposal to split the contract between the two teams, an idea pushed by Rep. John Murtha, D-Pa., chairman of the House Appropriations subcommittee that oversees defense spending. Murtha says two assembly lines could speed production to 24 planes per year. But Gates said the same could be done with just one supplier. A Murtha spokesman said Tuesday a split contract is still an option despite Gates' opposition. There are other signs that lawmakers will be heavily involved in a new contract award. Alabama Republican Sen. Richard Shelby last week held up President Barack Obama's nomination for the top Pentagon weapons buying post because he wanted assurances a new tanker won't be awarded on price alone. Northrop's aircraft, which would be assembled at a new factory in Mobile, Ala., is bigger but also costs about $30 million more per plane than the Boeing jet. Boeing supporters in the company's industrial base of Washington state and Kansas also are mobilizing after Gates' announcement. Sen. Patty Murray, D-Wash., spoke with Air Force Secretary Michael Donley Monday to again raise concerns about size that handicapped Boeing's bid last year, said Murray spokeswoman Alex Glass. "We need to have a fair and transparent competition," Glass said. Both Los Angeles-based Northrop and Boeing welcomed the new competition. Northrop spokesman Randy Belote said the company would likely offer the same proposal based on the Airbus A330 passenger jet frame. Boeing will wait until the Pentagon issues its contract guidelines before discussing its bid, said company spokesman Dan Beck. Some analysts have suggested Boeing may propose a bigger plane after the Air Force indicated last year it wants a larger jet that can carry more fuel. Loren Thompson, a defense analyst with the Lexington Institute, said the Pentagon was repeating some if its previous mistakes by not consulting the companies enough as it drafts its requirements. That will leave the new competition vulnerable to more protests from losing companies who claim they were treated unfairly. "I think we are looking at years of delay until any planes are bought," Thompson said.
Local journalism is essential.
Give directly to The Spokesman-Review's Northwest Passages community forums series -- which helps to offset the costs of several reporter and editor positions at the newspaper -- by using the easy options below. Gifts processed in this system are not tax deductible, but are predominately used to help meet the local financial requirements needed to receive national matching-grant funds.
Subscribe to the Coronavirus newsletter
Get the day's latest Coronavirus news delivered to your inbox by subscribing to our newsletter.
---
Subscribe and log in to the Spokesman-Review to read and comment on this story