Hanging up the police collar
Spokane K9 Var passes the torch to rookie patrol pooch Rav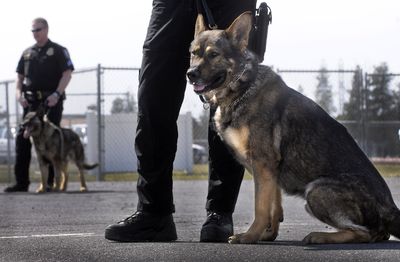 This a tale of two type-A personalities, both with tails.
One is entering retirement; the other is just beginning his career. The retiree could share stories of catching bad guys throughout his eight-year career. But the two are housed separately on the same property. It takes time to introduce such domineering personalities, their owner explained.
They are Var and Rav, German shepherds owned by Spokane police Officer Dan Lesser.
Ten-year-old Var suffered two bullet wounds and a bullet fragment to his leg March 17 when a Deer Park man who ran from police fired at him before being shot by Lesser, a senior patrol officer, according to police.
Johnnie L. Longest III, 22, died at Deaconess Medical Center shortly after, and Var was treated at a pet emergency clinic. Var won't return to patrol, but his legacy will live on: Rav is named in his honor.
It's Var's second retirement.
He left the department shortly after catching a suspect in a stabbing death in January, but returned after Lesser determined his replacement wasn't working out.
"He'd only been on the street a week and a half before he got shot," said Sgt. David Overhoff.
Lesser picked up Rav, a 3-year-old bred in Holland, at the airport about two weeks ago.
He expects the dog to be ready for patrol in about a month. Lesser learned a few Dutch words to train Rav – it's quicker than teaching the dog new commands in English.
Both dogs live with Lesser and his family, but are housed separately for now to prevent territorial fights.
It'll take time for them to figure each other out and decide who's in charge, Lesser said.
Var recovered well from his injuries and likely could have returned to police work, but Lesser opted for retirement "to preserve some quality of life in retirement."
It took about a week for Var to walk again after the shooting. Lesser took three days off after the incident, he said Wednesday.
He was with Sgt. Brent Austin when the two confronted Longest in an alley in north Spokane after a traffic stop near Division Street and Longfellow Avenue the night of the shootings.
Longest had been out of jail less than a month after pleading guilty to taking a motor vehicle without the owner's permission in exchange for the dismissal of three felony theft charges, according to previously published reports.
As Rav prepares for a career of tracking suspects and working by Lesser's side, Var is spending his days at Lesser's home, running in the backyard and playing with Lesser's children.
His bullet wounds are visible, but "he's running around like it really never happened," Lesser said.
Var will receive a Purple Heart from the Spokane City Council, a police committee decided Wednesday, joining four officers injured in the line of duty.
No date for the awards ceremony has been set.
---