Sports
'I'm fighting to win my sixth major'
Golfing great has resolve
Thu., April 9, 2009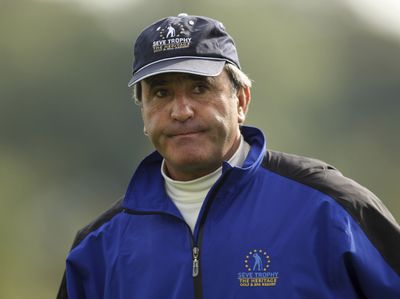 MADRID – Seve Ballesteros says he's been give the mulligan of his life.
He has lost 33 pounds since being admitted to Madrid's La Paz hospital in October. The 51-year-old golf great has had four operations and chemotherapy to destroy a malignant brain tumor.
"This is the most important shot of my life. I'm fighting to win my sixth major," the five-time major winner told the sports daily Marca. "Life has given me a second chance."
Marca said Ballesteros was frequently overcome by emotion as he talked about his fight toward recovery, which continued recently with the start of his fourth round of chemotherapy.
"I'm not called Seve Ballesteros, I'm called Seve Mulligan because I've had the luck to be given a mulligan, which in golf is a second chance," he said. "I've been given the mulligan of my life. The proof is that I'm alive, that I can do things, that I speak, I'm perfectly able to reason. I've had a lot of luck, which is the truth."
Ballesteros fainted on an escalator at Madrid's International airport Oct. 5. He was to meet his nephew at the time and rebuffed requests by airport personnel to get medical attention. His nephew took him to the hospital after he collapsed again.
Ballesteros recalled the moment doctors confirmed what the scans discovered.
"They were clear with me, they told me: 'It's a tumor, the luck is that it's on the right side so we'll do a biopsy to see what it is,"' he said. "In that moment it hit me, the shock of it. You're well and suddenly they tell you this, can you imagine? I was going to eat (lunch) with my son."
Ballesteros checked into hospital under the alias Antonio Dominguez Sota. He said he remained upbeat most days, cracking jokes with staff and patients and trying to keep his spirits up. The operations all occurred within 15 days.
"The worst was the post-operations, which were difficult, very difficult! There were many inconveniences, and it's not that I had any pain. The pain … was interior," Ballesteros said.
Ballesteros was touched by the get-well cards and wishes from across the world, which he numbered at 300,000.
"During all of these years I was always very centered on my work. I knew they admired me, what I didn't know is that the people loved me so much," Ballesteros said before breaking down into tears, the newspaper reported. "It's like you're living in a bad dream. But I know it's only a question of time."
Ballesteros said his brother Baldomero told him that after waking up from one operation his first words were: "British Open. Must win it Saturday."
Ballesteros won a record 50 times on the European tour. He also has three British Open trophies and two Masters titles, becoming the youngest winner at Augusta before Tiger Woods trumped his record.
Ballesteros had a 20-12-5 record in eight appearances at the Ryder Cup. He was European captain for the victory in 1997, 18 years after he forced the competition to expand to include continental Europe.
Along the way, Ballesteros earned many admirers for his swagger and imaginative play, especially in Britain and the United States. He retired at a tearful news conference at Carnoustie before the 2007 British Open.
Ballesteros said his daily workout routine included light sessions on the rowing machine, exercise bicycle and in the pool, with a traditional siesta usually preceding an afternoon walk.
"Sometimes I have rebelled, when I had two lower back pains that kept me in bed," Ballesteros said. "That was a relapse."
Ballesteros is on a diet consisting of only fish and vegetables. He now weighs 165 pounds, the same as when he won his first Masters at age 23. He is not concerned about the public's reaction to his physical image.
"Nothing worries me," he said. "That the least! These wounds, they are wounds of war."
Local journalism is essential.
Give directly to The Spokesman-Review's Northwest Passages community forums series -- which helps to offset the costs of several reporter and editor positions at the newspaper -- by using the easy options below. Gifts processed in this system are not tax deductible, but are predominately used to help meet the local financial requirements needed to receive national matching-grant funds.
Subscribe to the sports newsletter
Get the day's top sports headlines and breaking news delivered to your inbox by subscribing here.
---