News > Spokane
Budget cuts rekindle faculty group
AAUP advocates shared governance, protection of rights for members
Sat., April 11, 2009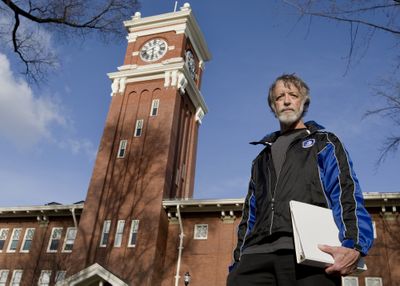 Concern about budget cuts at Washington State University has prompted a resurgence of a national faculty rights organization on campus.
The American Association of University Professors, active in Pullman in the 1950s and 1970s, is recruiting members from among WSU faculty fearful of how the administration will respond to state spending cuts, according to applied statistics professor Rich Alldredge, president of the local chapter of the AAUP.
Alldredge and others said that if recent program changes made by the administration of WSU President Elson Floyd are an indication, faculty will have little say in much more significant cuts to come.
English professor Richard Law, director of general education, said he has resigned as a result of the program's transfer to the College of Liberal Arts, which he said came without warning or consultation.
"I never got any official notification other than the termination letters for faculty," said Law, who has worked at WSU for 39 years. His resignation is effective at the end of June.
Law said eight colleagues were "let go" by the department of history as a result of the transfer of the general education program.
"I thought it was unfortunate that I never had a chance to play a role in that decision or advocate for the program," Law said. "As upsetting as it was, what's coming down the pike in the next few weeks is going to make this look like nothing."
WSU Provost and Executive Vice President Warwick M. Bayly said the decision to transfer the general education program was made in the fall as part of recommendations that came from a general review of academic priorities.
"There was no impact on curriculum," Bayly said, and therefore no need to consult with faculty.
Bayly said he knew nothing about the terminations Law cited. "They may have been temporary employees, but I don't know," he said.
As for pending cuts, Bayly said, "No final decision has been made. It's hard to make a decision when you don't know what the budget is going to be."
The Legislature, which remains in session, has proposed cutting as much as $683 million from all of the state's four-year institutions. Gov. Chris Gregoire has proposed to offset cuts by raising tuition as much as 28 percent over two years.
Alldredge said he was particularly concerned about vulnerable faculty members, those not on a tenure track but who have worked for the university for several years.
He said there is a gap between AAUP standards and those in WSU's Faculty Manual, which outlines policies and procedures governing faculty rights and responsibilities. The manual is passed by the Faculty Senate and approved by the university president and Board of Regents.
The Faculty Manual says the administration will make a reasonable effort to place a faculty member whose position has been terminated into another suitable position, Alldredge said. AAUP standards say the institution will make every effort to do so.
He called on the administration to bear the cost of retraining, relocating or otherwise compensating terminated employees.
The university is required to give tenured professors 12 months notice when their programs are discontinued and faculty working on contingency as little as three months notice.
The AAUP president also is concerned that "due process may not be observed" during expected program discontinuations. Though it is the role of the Faculty Senate to provide "shared governance," Alldredge said, "a number of us felt at some level our voice was not being heard."
The local chapter, with fewer than 20 members, is not a collective bargaining unit, although the national organization, with its 45,000 members, has authorized chapters to act as such. The national organization advocates academic freedom and shared governance and has censured institutions of higher education that have not adhered to its written standards.
"We are not proposing to recommend that," Alldredge said. "We have every faith we will be in a collaborative mode with the administration and working toward a common goal."
Local journalism is essential.
Give directly to The Spokesman-Review's Northwest Passages community forums series -- which helps to offset the costs of several reporter and editor positions at the newspaper -- by using the easy options below. Gifts processed in this system are not tax deductible, but are predominately used to help meet the local financial requirements needed to receive national matching-grant funds.
Subscribe to the Coronavirus newsletter
Get the day's latest Coronavirus news delivered to your inbox by subscribing to our newsletter.
---
Subscribe and log in to the Spokesman-Review to read and comment on this story