Sports
Cavaliers clinch home-court edge in the East
Sat., April 11, 2009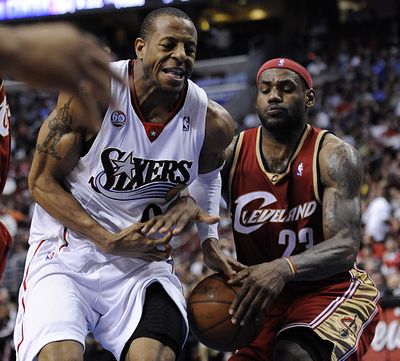 The road to the NBA Finals in the East has to go through Cleveland.
LeBron James had 27 points and 10 assists, Wally Szczerbiak scored a season-high 18 and the Cavaliers beat the struggling Philadelphia 76ers 102-92 in Philadelphia to clinch the No. 1 playoff seed and home-court advantage in the Eastern Conference.
No team has played better at home this season than the Cavs (64-15). They're 38-1 at Quicken Loans Arena, with the loss coming against the Los Angeles Lakers on Feb. 8.
Andre Iguodala led Philadelphia with 26 points. The Sixers (40-39) have lost four straight since clinching a playoff berth. They came in one game behind Miami for fifth place in the East.
•Blazers own Lakers at home: Brandon Roy had 24 points and eight assists, and the Portland Trail Blazers held off the visiting Los Angeles Lakers 106-98.
It was Portland's eighth straight victory over the Lakers at the Rose Garden.
The Lakers fell 11/2 games behind Cleveland for the best record in the NBA and home-court advantage throughout the postseason.
Meanwhile, the Blazers said forward Martell Webster will miss the playoffs because of a lingering foot fracture that has kept him out for most of this season.
•Knicks pull surprise on Magic: Al Harrington scored 27 points and the New York Knicks dealt a crushing blow to Orlando's hopes of getting the Eastern Conference's second seed with a 105-95 victory over the Magic at Orlando, Fla.
Orlando fell two games back of Boston for the East's No. 2 spot.
•Hawks clinch fourth seed: Josh Smith scored 30 points to help the Atlanta Hawks clinch the fourth spot in the Eastern Conference with a 122-118 victory over the visiting Indiana Pacers.
•Pistons make playoffs: Will Bynum scored 20 points as the Detroit Pistons clinched a playoff spot with a 100-93 win over the New Jersey Nets at Auburn Hills, Mich.
•Thunder rain on Bobcats: Kevin Durant had 20 points and 10 rebounds, and the Oklahoma City Thunder knocked the Charlotte Bobcats out of playoff contention with an 84-81 home victory.
•Rockets hang on to third: Dikembe Mutombo had 10 points and 15 rebounds and the Houston Rockets maintained their slim hold on the third seed in the Western Conference with a 113-109 victory over the Golden State Warriors at Oakland, Calif.
College basketball
Oklahoma's Griffin captures Wooden Award
Blake Griffin keeps picking up trophies on his way to the NBA.
The Oklahoma sophomore won the John R. Wooden Award as college basketball's top player only three days after he announced that he would turn pro. Pittsburgh's DeJuan Blair and North Carolina's Tyler Hansbrough, two other finalists, did not show up for the ceremony, which was held at the Los Angeles Athletic Club.
The award gave Griffin a sweep of this season's individual honors. The forward won the Associated Press College Basketball Player of the Year earlier this month as well as the Naismith award. He was also picked by the Sporting News as Player of the Year.
"It means a lot to me to represent my state and represent my school. It's really very humbling," Griffin said.
Griffin has a solid shot of being the No. 1 pick in the upcoming draft.
NHL
Wild's offense goes wild but playoffs slip away
Jacques Lemaire watched his Minnesota Wild deliver "one of the best games we've played all year" in the most crucial of moments.
He soaked in the roar of the St. Paul, Minn., home crowd approving of an inspiring performance, and couldn't help but think of what might have been.
Marc-Andre Bergeron scored twice and Minnesota set a season high for goals in an 8-4 victory over the Nashville Predators, but the Wild were eliminated from playoff contention a few hours later when Anaheim made the postseason by advancing to overtime against Dallas en route to a shootout victory.
Nashville dropped out of the playoff race when St. Louis beat Columbus earlier in the night.
•Oilers' win helps Chicago: Shawn Horcoff and Sheldon Souray each had a goal and two assists and the Edmonton Oilers beat the Calgary Flames 5-1 at Edmonton, Alberta, giving Chicago the No. 4 seed in the Western Conference playoffs.
Horse racing
Famous breeder charged with animal cruelty
A prominent thoroughbred breeder who once owned a Kentucky Derby favorite was charged with cruelty to animals, two days after authorities seized 177 malnourished horses at his Hudson Valley farm.
Ernie Paragallo was charged with 22 counts of violating New York's Agriculture and Markets law that prohibits torturing or injuring an animal or failing to provide sustenance, New York state police dispatcher Terri Gallagher said.
The 51-year-old Paragallo was arraigned before Coxsackie Town Justice Thomas Fori and sent to the Greene County Jail in lieu of $5,000 cash or $10,000 bond bail.
He did not immediately return a message left on his cell phone after his arrest.
Paragallo, the owner of 1996 Derby favorite Unbridled's Song, who finished fifth, was arrested after driving upstate from his Long Island home to be questioned by investigators about the malnourished horses found Wednesday on his Center Brook farm. The farm is in Greene County, 20 miles south of Albany.
"It wasn't knowing neglect," Paragallo told the Associated Press earlier Friday. "Did I try and harm any of those horses? Absolutely not. Did some of them come up skinny? Absolutely. Was it mismanagement? Absolutely. I'm not shying away from it. But I didn't abuse them."
Motorsports
Castroneves' tax evasion case goes to jury
Jurors in Miami began deliberating on tax evasion charges against race car driver Helio Castroneves and two advisers after prosecutors said in closing arguments that the driver enjoyed ample wealth but defrauded the government to get more.
"This case is about people who had everything, but for them, for some reason, everything wasn't enough," Assistant U.S. Attorney Matthew Axelrod told the jury, which is weighing charges that Castroneves, his sister and business manager Katiucia Castroneves, and Michigan attorney Alan Miller conspired to evade millions in taxes.
Jurors deliberated for about 21/2 hours before adjourning until Monday morning.
Prosecutors allege that Castroneves and the others tried to conceal his control of a Panamanian shell company, called Seven Promotions, and lied to tax lawyers and accountants about his true income. They say documents and witnesses back up claims that Castroneves knowingly dodged millions in U.S. taxes over a five-year period.
Boxing
De La Hoya will announce career plans Tuesday
If Oscar De La Hoya had dodged Manny Pacquiao's punches as well as he deflected questions about his future, the next step in the Golden Boy's boxing career wouldn't be in doubt.
De La Hoya will announce whether he'll fight again on Tuesday afternoon – and not a moment earlier, he insists – during a news conference in Los Angeles at Staples Center, where a statue of him stands watch outside.
During a lengthy chat in Las Vegas on the day before his promotions company stages Winky Wright's middleweight fight with Paul Williams, De La Hoya insisted he has firmly made up his mind about his future.
Local journalism is essential.
Give directly to The Spokesman-Review's Northwest Passages community forums series -- which helps to offset the costs of several reporter and editor positions at the newspaper -- by using the easy options below. Gifts processed in this system are not tax deductible, but are predominately used to help meet the local financial requirements needed to receive national matching-grant funds.
Subscribe to the sports newsletter
Get the day's top sports headlines and breaking news delivered to your inbox by subscribing here.
---
Subscribe and log in to the Spokesman-Review to read and comment on this story