Sports
Divac paved way for foreign players
Only one in Class of '89 enjoyed long career
Sat., April 11, 2009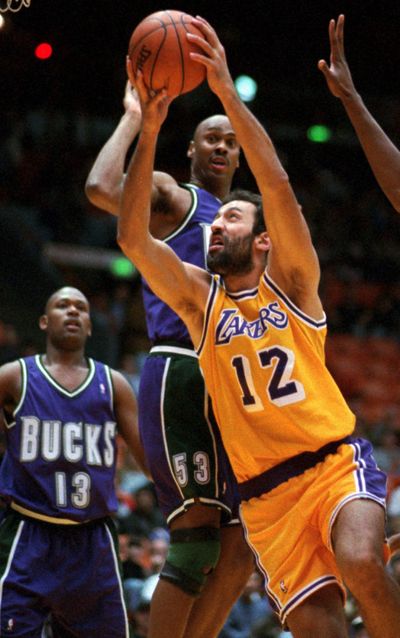 SACRAMENTO, Calif. – There were five of them, five Eastern European stars who dreamed like boisterous, boastful schoolboys, believing they could board an overseas flight, communicate while speaking little English, join their respective teams, shred stereotypes and enjoy long, productive NBA careers.
One of them did. Vlade Divac did.
For different reasons – one of them tragic – only the youngest of the bunch, who also happened to be the tallest member of that Class of 1989, retired with a bow and to rousing applause.
Lithuania's Sarunas Marciulionis, signed by the Golden State Warriors after a vigorous recruiting battle with Atlanta, suffered a series of injuries that reduced him to journeyman status.
Ukraine's Sasha Volkov broke his wrists shortly into his stay with the Hawks.
Montenegro's Zarko Paspalj clashed with disciplinarian Larry Brown during their one-season pairing in San Antonio.
And Croatia's Drazen Petrovic, whom Reggie Miller, Larry Bird and Chris Mullin regard as their equal as a shooter, died in an auto accident weeks after being named to the 1992-93 all-league third team.
"That was the group that demonstrated that (foreign) players could play at the highest level," NBA commissioner David Stern said. "They're the ones who broke through, who became the precursors for what you see today."
Twenty years ago, the notion of a Petrovic, Divac, Marciulionis, Paspalj or Volkov becoming a legitimate NBA player – a possibility long championed by the league – was greeted with a collective roll of the eyes. Drazen who? Yet at the start of the current season, 75 players from 32 countries were listed on NBA rosters, the vast majority having never played for an American high school or college.
Imagine the Spurs without Tony Parker and Manu Ginobili? The Los Angeles Lakers without Pau Gasol and Sasha Vujacic? The Houston Rockets without Yao Ming and Luis Scola?
Imagine the Kings without Peja Stojakovic, Hedo Turkoglu and Divac?
While the influx of foreign-born players shows no sign of abating, Divac's imprint lingers. Now head of the Serbian Olympic Committee and a government adviser on housing for refugees, he not only is regarded as one of the game's greatest passing big men, at an imposing 7-foot-1 and 260 pounds. With his dark beard and ferocious stares, he also is remembered for gliding graciously through life, defusing tense political situations as well as locker room feuds.
"Such a sweet man," said Miami Heat president Pat Riley, Divac's first NBA coach. "He just wanted to please."
During her first visit to Sacramento, Divac's mother, Rada, speaking through an interpreter, said her good-natured son occasionally would deliberately lose games because he felt badly for dominating his smaller opponents. But, oh, how he loved the game. The scent of the locker room. The banter on the bus. The ball in his hands. Those intuitive, incredible passes.
At age 14, with a professional career in mind, Divac received permission from his parents to move from his hometown, Prijepolje, to Kraljevo, a larger southern Serbian city that offered a more competitive basketball environment.
Soon, the lanky, long-limbed prodigy was named to Yugoslav junior and senior national teams that at various times featured future NBA players Petrovic, Toni Kukoc and Dino Radja, and was coached by the renowned Dusan Ivkovic.
"Ivkovic clearly had an impact on Vlade as far as understanding how to play basketball," Bill Walton said. "He taught Vlade how a team game flows through the center, the way to move as a unit, and how what happens away from the ball is so important.
"Americans think that whoever has the ball has to shoot it. That was never Vlade."
During the late 1980s, with the Balkans on the verge of civil war and the Soviet empire collapsing, Divac caught the attention of Warriors general manager Don Nelson – through his son Donnie, who was scouting overseas – and Spurs assistant Gregg Popovich.
"Donnie begged me to draft Vlade," Nelson said, "but we were signing Rooney (Marciulionis), and I was afraid to have two rookies who didn't speak English.
"How dumb was I?"
Popovich recalls the Spurs desperately trying to obtain an additional first-round draft pick to take the slick-passing center. Instead, Divac fell to the Lakers at No. 26.
While his NBA career evolved, with the Lakers and Charlotte Hornets, and reached a pinnacle with Sacramento, the Kings icon endured personally trying, traumatic times, including the shattered relationship with his close friend Petrovic. The Croat ended the relationship because of the war and died before the bond could be repaired.
Then in 1999, during the spring of Divac's first season with the Kings, NATO forces bombed sites throughout Serbia.
Divac would arrive at games and practices with red-rimmed eyes, exhausted from all-night vigils trying to contact relatives back home.
He remembers something else from that period, though.
The night the bombing started, he says, he fought tears because he was cheered during pregame introductions at Arco Arena.
He received the same reaction two nights later at the Forum. One fan held up a sign that read, "Vlade, we worry about you and your family."
"You think everybody hates you," he said. "But people give me such support. It was overwhelming."
Local journalism is essential.
Give directly to The Spokesman-Review's Northwest Passages community forums series -- which helps to offset the costs of several reporter and editor positions at the newspaper -- by using the easy options below. Gifts processed in this system are not tax deductible, but are predominately used to help meet the local financial requirements needed to receive national matching-grant funds.
Subscribe to the sports newsletter
Get the day's top sports headlines and breaking news delivered to your inbox by subscribing here.
---
Subscribe and log in to the Spokesman-Review to read and comment on this story