News > Washington Voices
Grandsons dig up a lesson from the past
Sat., April 11, 2009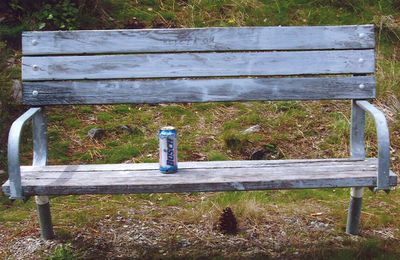 When I finally found a girl who loved the outdoors, and enjoyed fly fishing, I married her. Therefore it follows that throughout their childhood our kids spent many days, fly rod in hand, on a Montana stream.
I've found that the word "fun" takes on a whole different meaning when referring to one's grandchildren. So when our oldest son, Bill, suggested we join his family in an August outing along our favorite "Fish Creek," we swallowed the proffered gift, hook, line and sinker!
Frankly, I am no longer able to cope with a dawn-to-dusk fishing experience. Further, "our ladies" insisted that "the boys" eat a solid breakfast, and return in time for dinner. Still, plenty of fish danced at the ends of our lines, and the grandsons thoroughly covered the stream; its runs, rills, and beaches. Fortunately, I'd tied enough flies to decorate the branches of most of the bushes found along its banks. The boys discovered frogs and found a knife, stuck in a stump by a forgetful fisherman. Further, each "fisherman" gathered a sack of litter as we marched downstream.
I was in the process of navigating a moderately swift run when I noticed my guys were standing on the bank watchfully measuring my progress. Hunter, the older of the two boys, yelled: "How are you doing, Grandpa?" Naturally I responded: "Just fine!" Still he and "B-Man," scrambled down the bank to lend a hand. Their obvious goal was to help "Limpy" navigate the last of the slick rocks before him. Darn, I thought I had done a heck of a job of hiding those sore knees.
After a brief confab, we agreed it was time to call it a day. The kids pleaded "hungry"; my son spoke to the term "tired"; and I thought the term "Thank God!" fitting.
Finding an opening through the brush, the boys took off looking for yet another treasure or point of interest. Suddenly they hit the brakes and came to a screeching halt. Scooping up a couple of sturdy sticks they began digging around in the remnants of an abandoned fire ring. Hunter raced back, a slightly faded beer can in hand. His question: "Grandpa, have you ever heard of Highlander Beer? Following my positive response, Hunter returned to help B-Man further excavate their archeological find. As Bill and I watched their progress, I said: "You know, son, I thought that stuff would be long gone!" Hunter must have been listening because he asked, "What do you mean, Grandpa?"
He was shocked when I responded, "My buddies and I could very well have been the men who consumed those two cans of chili and six beers. We doused our campfire, and left the rest there to rot!" Horrified, B-Man queried: "Why, Grandpa?"
"It's just what we did in those days! Fewer people lived here. Every homestead had a "dump" somewhere on its property. In fact, my dad told me that the cans would melt, and I believed him!" Ruefully studying the container Hunter had given me, I finished by saying, "Obviously was I wrong. This can is over 40 years old, and hasn't melted yet!"
I'll remember those words, and that moment, for the remainder of my life!
Several months later my wife and I chose to take in the annual "Spring Water Spectacular" found below the Post Falls Dam. The outing provided an excuse to break out our new digital camera. I took several pictures along the trail and of the cascading torrents of water rushing through the gorge.
As we walked back to the car, we came upon an unforgettable, amazing scene! I took a picture, had it developed, and pasted it onto my computer's monitor! It's been there for over a year.
About a week ago my Bride asked: "What are you going to do with that picture?"
Then continued, suggesting I frame it!
Naturally I inquired: "Why?" She responded: "Well, it makes a huge statement in a little space!" She finished her commentary by suggesting a killer title for the work!
"GRANDPA, WHAT WERE YOU THINKING?"
Local journalism is essential.
Give directly to The Spokesman-Review's Northwest Passages community forums series -- which helps to offset the costs of several reporter and editor positions at the newspaper -- by using the easy options below. Gifts processed in this system are not tax deductible, but are predominately used to help meet the local financial requirements needed to receive national matching-grant funds.
Subscribe to the Coronavirus newsletter
Get the day's latest Coronavirus news delivered to your inbox by subscribing to our newsletter.
---
Subscribe and log in to the Spokesman-Review to read and comment on this story