News > Idaho
Highway funding bill clears House
Measure now goes to governor's desk
Sat., April 11, 2009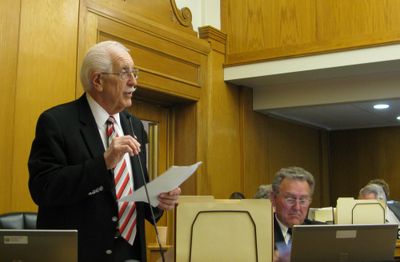 BOISE – The Idaho House has voted 39-29 in favor of an $82 million highway bonding program, sending the measure to Gov. Butch Otter and giving him a rare victory on a key piece of his transportation initiative this year.
The victory came after the House rejected numerous versions of Otter's plans to raise the state's gas tax, stalled proposed vehicle registration fee increases, and killed a rental-car tax in committee.
"I think we have given it a good try on nearly everything. Hopefully that's enough," said House Speaker Lawerence Denney, who opposed the bonding bill.
Denney hopes to adjourn this year's legislative session by the end of next week.
Otter's press secretary, Jon Hanian, said Friday that the governor was "very pleased" with the vote on the bonding program. "We think this is important – it's important for the state and the people of Idaho," he said. "This was a compromise, and it just goes to show what we can do together when reasonable people work together."
The governor had originally asked for $125 million in bonds next year, along with other measures to fund increased road maintenance. Said Hanian, "Obviously, there's still some work to do."
Rep. George Eskridge, R-Dover, the House sponsor of the bonding measure, Senate Bill 1186, urged support for the program. It uses a type of bonds called Grant Anticipation Revenue Vehicles, or GARVEE, that allow Idaho to borrow against its future federal highway allocations.
"By the end of this construction season, 130 lane miles of road will have been improved with the aid of GARVEE," Eskridge told the House. The bonds fund the "Connecting Idaho" program launched by then-Gov. Dirk Kempthorne, targeting large, unfunded but much-needed highway projects around the state.
Eskridge said that with this next installment, "another 35 lane miles of improvements" will follow, "on some of the most traveled and most deteriorated lane miles in our state." With inflation rates for construction materials, the projects will cost less if built with the bonds, Eskridge said, than if they were "pay as you go" projects built over long years.
Next year's installment in the bonding goes mostly to major freeway improvements in the Boise area, but a huge North Idaho project, the Garwood-to-Sagle freeway project on U.S. Highway 95, is next in the pipeline after the Boise projects are completed.
The House debate was mostly against the bill. House Transportation Chairwoman JoAn Wood, R-Rigby, was among those who spoke out against it. "If we're not willing to pay ourselves, why are we willing to indebt our children so that they can pay?" she asked the House. She said, "Debt is what has gotten this country into the serious trouble that we're into today, and GARVEE is the debt that is hurting Idaho."
Eskridge responded, "There's nothing wrong with responsible borrowing. … This state has taken on the GARVEE bonding in a responsible manner, and we set a cap." The state's GARVEE bonding still is far under the cap, he noted. He added, "What greater debt could we leave our grandchildren than roads that aren't appropriate and aren't safe for our grandkids to be driving on?"
Rep. Frank Henderson, R-Post Falls, was among the few to debate in favor of the bonding program. "The need to improve our highways is not going to go away. If we delay they will still be in the condition they are today," he told the House. "Costs are not going to get lower."
Rep. Phil Hart, R-Athol, said, "The money that we get from the federal government to fund our highways is not at all secure. … For us to take on more debt right now I think is really unwise. We ought to skip a year."
Eskridge argued that the bonding program will employ Idahoans and save money by building projects upfront rather than letting inflation erode the state's ability to afford them. "This will make a positive difference in Idaho's economy and our vitality," he said.
Local journalism is essential.
Give directly to The Spokesman-Review's Northwest Passages community forums series -- which helps to offset the costs of several reporter and editor positions at the newspaper -- by using the easy options below. Gifts processed in this system are not tax deductible, but are predominately used to help meet the local financial requirements needed to receive national matching-grant funds.
Subscribe to the Coronavirus newsletter
Get the day's latest Coronavirus news delivered to your inbox by subscribing to our newsletter.
---
Subscribe and log in to the Spokesman-Review to read and comment on this story