News > Features
In country, it's women, by a hair
Sat., April 11, 2009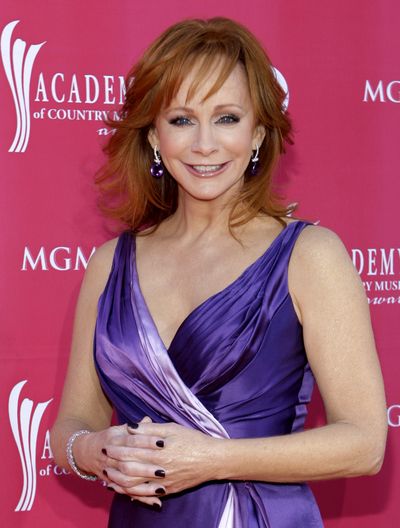 Reba McEntire says the women of country music simply put on a better show.
"When I watch the males, I love their singing, and their lights," she says. "But when the girls come on, you better know that they've come up with something new and innovative, and they're going to give you a show."
Last Sunday, Carrie Underwood (entertainer of the year) and Taylor Swift (album of the year) took home the Academy of Country Music's top trophies.
McEntire, 54, marked her 11th time hosting the telecast and debuted her new single, "Strange" – which may be her hardest-rocking, least romantic record to date.
"It's tongue-in-cheek," she says. "It's a little bit about, you know, 'I'm supposed to be in love with this guy and really heartbroken, but I'm not.' So, it's a tough-woman song."
As for her continuing cool factor, consider that Will Ferrell's "Funny or Die" Web site became "Reba or Die" on April Fool's Day, with pictures and videos from her career.
"When I saw Roy Clark and myself on 'Hee Haw,' I died laughing," she says. "Oh my gosh, (my hair) was jacked up to Jesus!"
A dive-in comedy
Speaking of FunnyOrDie.com, a new video features "High School Musical" heartthrob Zac Efron hosting a star-studded pool party that dissolves quickly when his rude uncle arrives.
Making appearances are Nicole Richie, Vanessa Hudgens, Justin Long, Lance Bass, Queen Latifah, Carmen Electra and Thomas Lennon ("Reno 911") as Uncle Hank.
The stakes are high
Comedy Central will roast Joan Rivers in a special airing Aug. 9.
Rivers, 75, jokes that the last time she was roasted was for a "two-for-one special: Joan of Arc and me."
Farrah to good condition
Farrah Fawcett is headed home for Easter after being released from a hospital where she was treated for internal bleeding.
The 62-year-old actress, who starred in the "Charlie's Angels" TV series, was diagnosed with anal cancer in 2006. The bleeding is not directly related to that, doctors say.
Godspeed to him
Liam Neeson is set to begin work on his first film since the death of his actress wife, Natasha Richardson, from a skiing accident.
Neeson will play Zeus, king of the gods, in a remake of "Clash of the Titans" opposite Ralph Fiennes as Hades, ruler of the underworld.
The longtime friends haven't shared the screen since 1993's "Schindler's List."
Quoteworthy
Woody Harrelson, explaining his fracas with a photographer at New York City's LaGuardia Airport: "I wrapped a movie called 'Zombieland,' in which I was constantly under assault by zombies, then flew to New York, still very much in character. With my daughter at the airport I was startled by a paparazzo who I quite understandably mistook for a zombie."
The birthday bunch
Actor Joel Grey is 77. Actress Louise Lasser is 70. Actor Meshach Taylor ("Designing Women") is 62. Actor Bill Irwin is 59. Singer Lisa Stansfield is 43. Rapper David Banner is 35.
Local journalism is essential.
Give directly to The Spokesman-Review's Northwest Passages community forums series -- which helps to offset the costs of several reporter and editor positions at the newspaper -- by using the easy options below. Gifts processed in this system are not tax deductible, but are predominately used to help meet the local financial requirements needed to receive national matching-grant funds.
Subscribe to the Coronavirus newsletter
Get the day's latest Coronavirus news delivered to your inbox by subscribing to our newsletter.
---
Subscribe and log in to the Spokesman-Review to read and comment on this story