Sports
It takes all kinds for CC Spokane track
Duo example of diverse backgrounds
Sat., April 11, 2009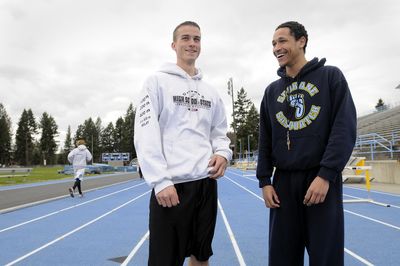 Nowhere does the notion of team get reshaped and diversified more than at the Community Colleges of Spokane.
Take the track meet the Sasquatch are staging today at Spokane Falls – WAOR II, the second installment of a Washington vs. Oregon brainstorm of CCS coach Larry Beatty. The Sasquatch have enlisted area friends Eastern Washington, Central Washington and Whitworth for a scoring affair against Portland State, Eastern Oregon, Linfield and Lane – spanning every level of collegiate competition from community colleges to NCAA Division I.
Scholarship limits have rendered the dual meet all but dead elsewhere. Beatty just assembles bigger teams.
As for his own, Beatty has been known to find idle athletes waiting tables in restaurants, welcome back veterans of the Iraq war and pull prospects out of P.E. class – as well doing the traditional high school recruiting. But even that yields some wildly contrasting stories.
The Sasquatch have enough good quarter-milers to put together one of their better long relay teams – with two of the key links being Marzell Jenkins and Mark Weller, whose routes to Spokane couldn't have been any different.
Jenkins, the State 4A runner-up at 400 meters from Everett's Mariner High School, has an impossibly checkered home and academic past, bouncing from one living situation to another and in and out of various schools until Mariner coach Dave McFadden launched a reclamation blitz during Jenkins' senior year. Even now he's in CCS' high school completion program, while also accumulating transferable college credits.
Weller, meanwhile, was home schooled until a year ago, when he began taking courses at North Idaho College. A 4.0 student, he was a multiple Idaho 1A champ last spring for Coeur d'Alene Charter Academy and figures to be done with his A.A. degree and off to another college by fall.
As sprint talents go, they are promising – and undeniably raw.
Weller ran 49.79 in winning the 400 at state last year as well as the 200 – "from a standing start," Beatty pointed out. "You don't see that very often."
Jenkins, meanwhile, has a 48.89 best from high school, made all the more remarkable by how the season began.
"The first time I did the 400, I ran 53 something," he recalled. "I'd just been way out of shape – when the season started I was like 198 pounds and I dropped to 150 at the end."
But his hard work wasn't confined to the track.
Trying to make up for lost semesters in the classroom, Jenkins took nine courses his final term in high school. McFadden would pick him up at 5 a.m. for an hour of on-line study. Then he'd take a bus to ACES, an alternative school, and at the end of the school day walk more than two miles back to Mariner for practice.
"I probably wouldn't have worried about school so much, but for people taking an interest in me and seeing the opportunity to get somewhere," he said – noting in particular McFadden and English teacher Bob Stoors who "gave me a break one time – he let me re-do an assignment. I had like a 59.9 average or something he said, 'An F is an F,' but when I re-did it it came out a B or a C and I just said, 'Thank you.' "
In the meantime, Weller was having to make his own academic adjustment.
"I remember the first day (at NIC), I just felt kind of silly not knowing what to expect," he said. "It was my first time in a classroom and I'm dealing with multiple teachers and all these deadlines. It was just a whole new environment, dealing with other kids and personalities."
At CCS, there have been more firsts.
"I came from a (high) school where it was a big deal to make state," said Weller, who led the Charter boys to the state title last spring. "I did very well, but coming here it feels like the majority of your teammates are state champions, as well, and it's a big jump. But I love it. It's the only way to get better."
Last laps: Washington State pole vaulter Kendall Mays of Spokane had a big breakthrough indoors – almost a foot improvement to 13 feet, 51/4 inches – but has been sidelined with shin splints and may redshirt the outdoor season. … Another likely redshirt is EWU thrower Erika Chaney of Spokane, who broke a leg throwing the hammer her first day outdoors this spring. … EWU's Paul Limpf broke the school's 31-year-old 10,000 record with a 29:45.89 clocking at Stanford despite battling cramps. He may give the distance another go at the Oregon Relays in two weeks. … Idaho has added another strongman to its stable of throwers, sophomore Eugenio Mannucci from Italy, a shot putter who topped 58 indoors and has reached 57-51/2 outside.
Local journalism is essential.
Give directly to The Spokesman-Review's Northwest Passages community forums series -- which helps to offset the costs of several reporter and editor positions at the newspaper -- by using the easy options below. Gifts processed in this system are not tax deductible, but are predominately used to help meet the local financial requirements needed to receive national matching-grant funds.
Subscribe to the sports newsletter
Get the day's top sports headlines and breaking news delivered to your inbox by subscribing here.
---
Subscribe and log in to the Spokesman-Review to read and comment on this story