Sports
Off-hand comment still haunts Zoeller
Sat., April 11, 2009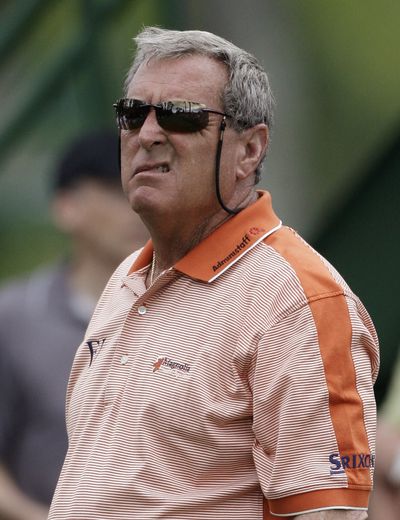 AUGUSTA, Ga. – The last Masters shot Fuzzy Zoeller will take was a 5-foot par putt on a breezy Good Friday. Nice that it rolled in.
"Thanks for the memories," someone shouted from the gallery. He blew them a kiss, gave daughter Gretchen – this week his caddie – a peck on the forehead, kept on the sunglasses that hid his own tears, and was gone for good.
Never mind the 76 on Friday, or the 11-over total that didn't come close to making the cut. He left the people cheering and laughing. He nearly always did.
"A lot of great memories, 30 years, a long time," Zoeller said later.
And about the audience that never left him, not even in the dark days?
"They understand the good stuff, the bad stuff, whatever. I appreciated it. Hope everybody's had fun. I've enjoyed my ride, I can tell you that."
You wonder one thing, though.
Has he been the same, since the 30 seconds that darkened his life?
Perhaps you remember that sound bite from 1997. The young Tiger Woods was on his way to his first Masters, and a gaggle of media gathered around Zoeller for a comment. Good ol' Fuzzy. Always good for a quote.
Zoeller waxed approvingly about Woods' skills and future, but then let loose the ugly joke that would abruptly change his universe.
"So you know what you guys do when he gets in here? You pat him on the back and say congratulations and enjoy it, and tell him not to serve fried chicken next year (at the champions dinner). Get it?"
And as he walked away, one more thing, "or collard greens or whatever the hell they serve."
Woods was rightly offended, but his camp made Zoeller twist in the wind unnecessarily for days before accepting his apology. Zoeller, loved for his irreverence and humor, was suddenly being nationally vilified.
It was a thunderously foolish comment from a jokester who didn't know when to say when. But he is 57 now.
What is the statute of limitations for an out-of-bounds sentence, when the man has undeniably been a master at connecting golf to the customers?
The happy act of Zoeller has come with a more somber tint since. There has sometimes seemed a vague cloud over his happy-go-lucky manners.
"I paid the severe price," he recently told Golfweek. "It was a joke that went bad, and I'll take it to my grave."
That came to mind this week, as Zoeller played what he said will be his final Masters.
His first, it should be noted, was 1979 and he ended up wearing the green jacket. He remains the only man in 74 years to win the Masters in his first try.
It came to mind Wednesday at the par-3 contest, when he pulled a 5-year-old girl out of the gallery to make one of his putts.
It came to mind when he walked up No. 18 for the last time, to a standing ovation.
"I like to see people smile," he said. "And maybe the next day you see them, and they have two or three other people with them."
Not many people have seen Zoeller cry. He lifted his sunglasses to show his eyes.
"They're bloodshot," he said. "But it's not from a vodka and tonic, I can tell you that."
The issue was taken to Gretchen. Did one moment prevent her father from being the same again?
"What stinks is it's 30 seconds out of his life, and I think a lot of people, the first thing they think of is not the U.S. Open he won or the Masters, but 30 seconds out of 30 years," she said. "You don't hear as many jokes out of him. There's something in the back of his head that says, 'Can I do this now?' But Dad will always be Dad. He'll always play to the crowd, he'll always make them laugh.
"So I'm going to say no to that."
Her father seems to agree.
"Life is not a bowl of cherries," Zoeller said. "But it's all been fun."
Not all of it at the Masters, maybe. But when the end came Friday, enough.
Local journalism is essential.
Give directly to The Spokesman-Review's Northwest Passages community forums series -- which helps to offset the costs of several reporter and editor positions at the newspaper -- by using the easy options below. Gifts processed in this system are not tax deductible, but are predominately used to help meet the local financial requirements needed to receive national matching-grant funds.
Subscribe to the sports newsletter
Get the day's top sports headlines and breaking news delivered to your inbox by subscribing here.
---
Subscribe and log in to the Spokesman-Review to read and comment on this story