Sports
Perry hopes Sunday is father's day
Co-leader wants green jacket for his dad
Sat., April 11, 2009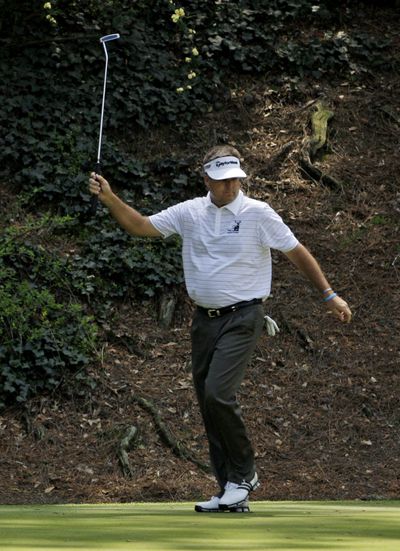 AUGUSTA, Ga. – There are moments, when the grass smells just so or he catches the whiff of cigar smoke, when Kenny Perry goes back in his mind to his old Kentucky home and his father's unrelenting life lessons.
No matter the game – golf or cards or Monopoly – Ken Perry, an insurance salesman from Elizabethtown, Ky., would defeat his son, Kenny, and then laugh at him.
He'd tell young Kenny, "I'm going to beat you till I die," not to be mean but to harden his competitive boy. Perry smiles at the memories, careful to explain the Perrys were and still are a loving family.
"All he was trying to do was make me tougher," Perry said.
Some days, Perry's father would sit on a towel, cigar in his mouth, and tee up golf balls as fast as his son could hit them, sometimes for hours, building a bond and a player who has won 13 PGA Tour events.
Now 48 with his youngest daughter older than the teenagers her father is trying to beat in the Masters this week, Perry still hears the same message he's heard from his father for years.
"Dad has always said, 'You need to win that green jacket.' He always calls and tells me," Perry said Friday afternoon.
He's halfway there.
Playing what he called one of the greatest rounds of his life Friday, Perry added a second-round 67 to his opening 68 to share the 36-hole lead with Chad Campbell at 9-under par 135 at wind-blown Augusta National.
Entering an Augusta weekend expected to be sunny, warm and tempestuous, the co-leaders are one stroke clear of Angel Cabrera and three clear of Todd Hamilton.
Tiger Woods, bedeviled by an uncooperative putter, is seven shots behind while Phil Mickelson is five back after several late birdies.
For the quiet Campbell, it was a challenge not to think about what could have been. At one point on the gusty day, he was 11 under par for the tournament and five shots clear of the field.
But as he did in his opening 65, Campbell gave back two strokes on the back nine, changing the look and feel of the tournament.
This is not, however, unfamiliar territory for Campbell. He led the 2006 Masters after 36 holes but, forced by weather to play 32 holes on Sunday, faded behind eventual winner Mickelson.
"Just being in that position before helps," said Campbell, who wasn't eligible for the Masters last year.
On Friday, Augusta National was more challenging because of the wind, which swirled through the tall pines. It made club selection more difficult and, consequently, made it harder to get the ball close to the hole.
It hardly fazed Perry, whose game and spirit have been on a sustained high since last year when he made an emotional commitment to playing in the Ryder Cup matches in his native Kentucky.
Perry, who plays golf with a funky swing caused by a neck injury years ago, owns and operates a daily-fee golf course in Franklin, Ky., where he lives, sometimes working behind the counter when he's not on a tractor.
He was criticized for choosing not to play in either the U.S. or British Opens last year, a choice that seemed to run contrary to his pursuit of a Ryder Cup spot. The criticism stung Perry, but he had a plan and he made it work, winning three times.
For three golden days at Valhalla Golf Club in Louisville, Ky., where he'd lost the PGA Championship in a playoff 11 years earlier, Perry was the emotional touchstone of the American team.
The image of him hugging his now 85-year-old father after the best week of his golf life is Perry's most prized professional possession.
When Perry talks, his Kentucky twang can be heard. When he says he wants to win 20 career events and a major championship, the conviction comes through.
There is little in Perry's Masters record to suggest he might win. In eight previous starts, he's missed the cut six times and never had a top-10 finish.
Local journalism is essential.
Give directly to The Spokesman-Review's Northwest Passages community forums series -- which helps to offset the costs of several reporter and editor positions at the newspaper -- by using the easy options below. Gifts processed in this system are not tax deductible, but are predominately used to help meet the local financial requirements needed to receive national matching-grant funds.
Subscribe to the sports newsletter
Get the day's top sports headlines and breaking news delivered to your inbox by subscribing here.
---
Subscribe and log in to the Spokesman-Review to read and comment on this story