News > Idaho Voices
Coburn motivated in return to mound
CdA senior gave up game-winning hit in 2008 state tourney
Sun., April 12, 2009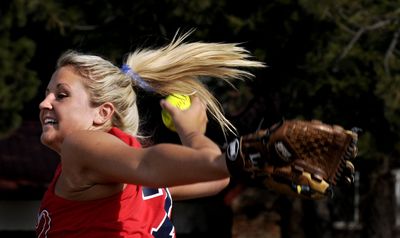 It's been nearly a year since the deflating loss at the State 5A high school softball tournament, and Coeur d'Alene pitcher Amber Coburn still tears up talking about it.
Coeur d'Alene and eventual state champ Eagle were scoreless after seven innings, setting up tiebreaker play. The Vikings scored a run in the top of the eighth.
Eagle had runners at first and third with two outs. Coburn had struck out the next batter seemingly effortlessly twice, and she had her in a two-strike hole when Viks coach Larry Bieber signaled for Coburn to waste a pitch.
Coburn hesitated, considering whether she should shake off the sign.
"I thought 'why am I throwing a wasted pitch'," she said. "Usually in a situation like that I'll shake him off. But he's the coach and he knows what he's doing."
Coburn hurled the ball exactly where she wanted to – high and away. What happened next shocked her.
The Eagle batter lunged at the ball, getting a piece of it and lifting it over the right fielder's head. Both runs scored, ending the game.
"The pitch was nowhere near the plate," Coburn said. "I had her on her toes. She was just protecting the plate, and she caught it on the end of the bat. I have no idea how she got her bat on it."
Said Bieber: "I was hoping she (the Eagle batter) would wave at the pitch. Amber threw a perfect pitch for that situation. It was way out of the strike zone."
Coburn's gut tells her she should have shaken off her coach.
"It was such a close game that I couldn't take that chance," she said. "(Bieber) has a lot of trust in me and if I had shaken him off we would have been fine with it. In that situation it was too tight of a game to shake him off. I should have thrown my high rise ball inside. She had swung at it every time. I have a go-to pitch every game and in that game my go-to pitch was my rise ball."
The loss put the Viks in a loser-out game against Inland Empire League foe Lewiston. The effect of the heartbreaking loss to Eagle carried over as Lewiston eliminated CdA 5-3.
Bieber talked Coburn out of pitching against Lewiston because he wanted her to be rested up for a run through the consolation bracket.
"That's one of the things that I really regret from last year," Bieber said. "We had a little sit-down, and I said we're going to save you to see Eagle again. She really wanted to pitch that game. But I talked her out of pitching. I should have let her pitch."
Lewiston jumped on CdA, putting the Viks in a 5-0 hole through two innings.
"Lewiston went on to play Eagle in the title game, and I know we could have done the same thing," Bieber said.
It's easy to understand why Coburn is motivated this season, her senior year. There's much to avenge.
She took a step toward that end two weeks ago at the Idaho Sporting Goods tournament in Boise. The Viks went 4-0-1 at the tourney, including a 1-0 win over Eagle. Coburn pitched a three-hitter, striking out 11.
"We wanted that game," Coburn said. "I pitched the best I could, and my defense was there for me. It was one of those things, personally, that I needed to get my confidence back against them."
"You could say that Amber was pretty pumped for that game," Bieber said.
CdA's record is 7-1-1 overall after splitting a league-opening doubleheader at Lewiston on Tuesday. Coburn, who has signed to play at Delaware State, is 6-0.
She's the fourth CdA pitcher to sign to play at the highest level in college.
At 5-foot-7 1/2, Coburn is the shortest of the bunch. But she packs quite a punch on the mound and at the plate.
It seems every Vik who has played for Bieber ends up with a nickname, and the same is true with Coburn. Except in her instance, it was former standout pitcher Jenna DeLong who tagged Coburn with a nickname her sophomore year.
Coburn hit a home run that was equally impressive in its flight and quickness in leaving the park. In fact, it's probably a good thing there are tall pine trees behind the left-field fence at Larry Schwenke Field because the line drive that Coburn crushed probably could have struck a passing car on Fourth Street.
"We call her 'Bam,' because when she hits the ball, that's what it sounds like," Bieber said. "I have her phone number listed under 'Bam' on my speed dial."
Bieber moved Coburn into the cleanup spot in the batting order this year. He expects the kind of production out of her that he's gotten out of past power hitters. Coincidentally, the three previous CdA pitchers who went on to college – Blake Hoorelbeke, Devlin Dougherty and DeLong – were also cleanup hitters.
Coburn has gotten off to a slow start hitting, but she knows the production will come.
"She can flat hit the ball," Bieber said. "When her timing is on, she has a great swing, great finish, and she gets to the point of contact in a hurry."
Bieber knows he'll get nothing short of brilliance from Coburn on the mound.
"Her strength is she has a variety of pitches and she has real good movement on the ball," he said.
Coburn, who plays for the Spokane Sliders, has added a screwball to her arsenal.
"I feel like I'm a lot stronger and my ball moves a lot better this year," she said.
Coburn has a couple of goals this year.
"I want to pitch every game as if it's my last game and pitch as well as I can," she said. "As a team we want to make it to the state championship game."
She knows the most difficult competition could come in the IEL.
"It's going to be really tough," she said. "It's going to come down to which team is ready to win."
Local journalism is essential.
Give directly to The Spokesman-Review's Northwest Passages community forums series -- which helps to offset the costs of several reporter and editor positions at the newspaper -- by using the easy options below. Gifts processed in this system are not tax deductible, but are predominately used to help meet the local financial requirements needed to receive national matching-grant funds.
Subscribe to the Coronavirus newsletter
Get the day's latest Coronavirus news delivered to your inbox by subscribing to our newsletter.
---
Subscribe and log in to the Spokesman-Review to read and comment on this story