Sports > Outdoors
Help yourself to smallmouth bass
Liberal catch limits in place
Sun., April 12, 2009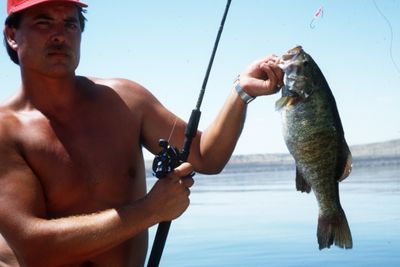 Forget the catch-and-release ethic when it comes to smallmouth bass.
The non-native fish are sporty on rod and reel, and fisheries managers in North Idaho and Washington encourage anglers to put some in their coolers.
"It's a full-fledged invasion," said Jim Fredericks, Idaho Fish and Game Department regional fisheries manager, "not just here but in the West."
Washington started dealing with burgeoning smallmouths by adjusting statewide rules starting last year. Anglers should note the difference in daily limits between smallmouths and their less prolific cousins, the largemouth bass:
•Largemouth – 5 fish, no minimum size, only bass less than 12 inches may be retained, except one over 17 inches.
•Smallmouth – 10 fish, no minimum size, only one over 14 inches.
Smallmouths are in the Spokane River drainage from Lake Coeur d'Alene to the Columbia, and they're considered overpopulated in many waters, including Lake Roosevelt.
Idaho is seeing similar problems
"The big crappies we used to find under the docks at Hayden Lake have largely been moved out by smallmouths," Fredericks said.
Hayden is the Panhandle's first fishery to get special rules to deal with smallmouths.
"Until recently, a bass was a bass in this region," he said. "But with smallmouths overpopulating, we've liberalized the catch limit on Hayden to six fish of any size, while we maintain protective rules on largemouth."
To help preserve Hayden's popular trophy crappie fishery – with slabs that run up to 14 inches – the daily crappie limit was reduced last year from 10 to six.
Starting this summer, Idaho researchers will be tagging bass in the Lower Coeur d'Alene River chain lakes. Anglers who catch a tagged fish will be rewarded with cash for reporting the tag information.
"We're trying to analyze the smallmouth and largemouth populations," Fredericks said. In our last big study in 1998, there were very few smallmouths in those lakes. Now we think they may make up to 30 percent of the species composition."
Local journalism is essential.
Give directly to The Spokesman-Review's Northwest Passages community forums series -- which helps to offset the costs of several reporter and editor positions at the newspaper -- by using the easy options below. Gifts processed in this system are not tax deductible, but are predominately used to help meet the local financial requirements needed to receive national matching-grant funds.
Subscribe to the sports newsletter
Get the day's top sports headlines and breaking news delivered to your inbox by subscribing here.
---
Subscribe and log in to the Spokesman-Review to read and comment on this story