News > Features
Many youngsters leave baseball by teen years
Mon., April 13, 2009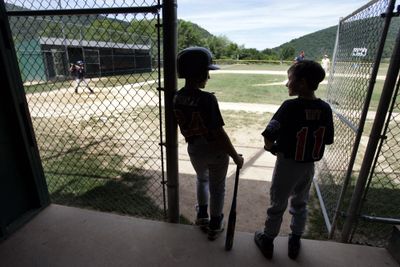 Nothing beats the start of baseball season, and I don't mean the big leagues. I'm talking about Little League kids picking up mitts and bats for the first time in months, getting to know new teammates and coaches, and looking sharp in clean uniforms – before the inevitable grass stains sully those white pants and their cleats get caked with mud.
There's nothing I'd rather do on a sunny spring day than watch my son play baseball. That first game always fills me with hope that this might be the best team ever, with the best coach ever, playing the best season ever.
There's just one problem. My son is 11, and before he even met his team this year, he announced that this would be his last season.
He's not alone in veering away from youth baseball as he nears adolescence. Two million kids ages 5 to 12 play Little League, but only 240,000 kids ages 13 to 18 play, according to Little League Baseball spokesman Christopher Downs.
Downs says the organization is working on retaining older players and involving teenagers in other ways, as volunteer coaches and umpires.
But maybe it's inevitable that kids' priorities change as they mature.
Sid Fernando, a coach in my neighborhood whose two sons play, says the game also gets more competitive as kids age. For one thing, the diamond gets bigger, with more ground to cover between bases and between the pitcher and batter.
Some kids can make the transition, but "you get a lot of kids, if they're not in the top level, they start to get pushed out," Fernando said.
I asked users of Kiwibox.com, a social networking site for teens and 20-somethings, why kids drop sports when they hit high school.
"I played a lot of sports in lower and middle school, but they were just too competitive in high school," wrote Chelsea Doyle, 24.
Rick McBride, who blogs about coaching at TheLittleLeagueCoach.com, says the best thing adults can do to keep teenagers playing "is to keep the game fun and simple. Notice I didn't say 'noncompetitive,' just inviting and friendly.
"Kids want to be part of something, they need to belong and be accepted," McBride says. "It is up to us as adults to create welcoming environments where they are not chastised or ridiculed. If they are not superstars, they can be encouraged, and positive reinforcement will build character and self-confidence."
My son's new coach does all that and more. At the first game, he gave constructive advice when the kids messed up, and cheered them on, without gloating, when they succeeded. They won, 11-6, and every kid went home feeling that he'd contributed.
And guess what? My son changed his mind about quitting baseball. I think he'd forgotten, over the long winter, just how good it feels to hit the ball, steal a base or pitch a strike.
Local journalism is essential.
Give directly to The Spokesman-Review's Northwest Passages community forums series -- which helps to offset the costs of several reporter and editor positions at the newspaper -- by using the easy options below. Gifts processed in this system are not tax deductible, but are predominately used to help meet the local financial requirements needed to receive national matching-grant funds.
Subscribe to the Coronavirus newsletter
Get the day's latest Coronavirus news delivered to your inbox by subscribing to our newsletter.
---
Subscribe and log in to the Spokesman-Review to read and comment on this story